We're giving away 5x Gossip prize packs, which is very exciting because The Gossip are a fairly amazing band, aren't they?
These prize packs are in celebration of the Gossip's latest album, Music For Men, and contains the Music For Men album & Music For Men t-shirt! Who doesn't love a good band t-shirt!?
If you're yet to hear the Gossip's Music For Men record then you should definitely enter, 'cause it's incredible. If you need more convincing (or just want entertaining), check out Isabelle's album review.
As for the t-shirts, they're made from black cotton and are what I would describe as a typical girls band t-shirt cut. Except for the design, I mean there's really nothing typical about this –
How To Win
1. Guess your t-shirt size
These t-shirts are available in 5 sizes – XS, S, M, L & XL – and the cuts are  little bigger than standard. For example, I enjoy loose fit tees and usually wear large American Apparel girls tees – however in Gossip sizes, the medium is the nearest equivalent and has room to spare. So I suggest that unless you prefer a big fit, ask for a size smaller that you usually wear.
2. Email your name to music[at]autostraddle[dot]com
Tell us why you want to win one of these prize packs. The winners are selected at random anyway, but if I have to spend hours queuing at the post office then it's only fair that you some work in too. And don't forget to tell us your t-shirt size! The competition ends on Sunday May 2nd, so get in quick!
3. Follow us on Twitter (@audiostraddle and/or @autostraddle).
Don't have Twitter? Become a fan of Autostraddle on Facebook! Don't have Facebook? We don't believe you, even my grandmother is on Facebook. You know you need more Autostraddle in your life!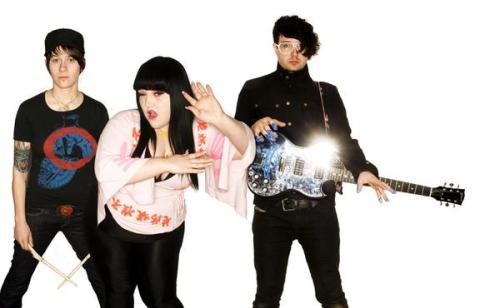 +