LISA M: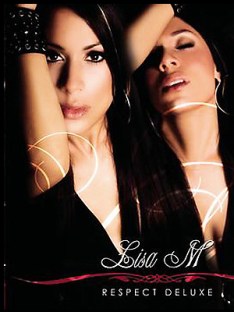 Lisa M Marerro is known as "The Queen of Spanish Rap" and one of the first female rap artists to debut in Puerto Rico. Her music fuses genres like pop, merengue, rap and reggaetón. ALSO, SHE'S A HOMO.
Our BFF blogger Blabbeando reports:
When Lisa M. Marrero updated her Facebook status on Monday at 3pm with the words "IM GAYYY!" I'm not sure what her followers thought. Maybe that it was a joke. Twelve minutes later, Marrero once again updated her Facebook status with the words "IM GAY." The news, as it were, were first aired by the hosts of a morning radio show and eventually reached print media when Primera Hora ran an article yesterday. By then dozens of supportive messages had been left after each status update.
What's striking to me is that she chose Facebook to come out. Not some magazine or newspaper. Facebook. It speaks to the fact that long-closeted gay and lesbian stars like Ricky Martin and Rita Indiana are forgoing the usual paths to coming out and doing it on their own terms. Cut the intermediaries, press handlers or publicists.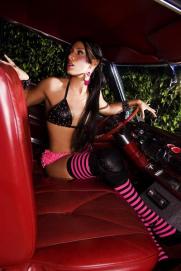 Lisa later wrote to her followers on facebook:
I want to give thanks to everyone for your support and for accepting me just as I am, my family always have loved me as I am they have given me all the love in the world what happens is that us artists and specially in our Latino market where we are indebted to a certain image before the public they keep us from our freedom to love.
You can get the full scoop at Blabbeando.
Lisa M. joins other out Puerto Rican lesbians including Headline News Anchor Jane Velez-Mitchell, comedian Marga Gomez, singer/songwriter/poet Lourdes Pérez, drag king Elizabeth Marrero, filmmaker Frances Negrón-Muntaner, politicians Rosie Méndez & Margarita López, poet Luz María Umpierre-Herrera, television producer Rose Troche, and Autostraddle Design Director Alex Vega!
This is one of Lisa M's best known songs, Hey Ladies:
LINDSAY LOHAN:

This hasn't been a great week for Lohan. She just got dropped from a movie because she's not "bankable" according to "a source." On Thursday morning, her Dad showed up at her apartment with cops, causing Lindsay to totally lose her shit on twitter, and also misuse the phrase "devil's advocate":
"I have no choice but to make this public, due to my sister's safety, as well as my own, 'my ex-dad' just WALKED INTO MY APT like the devil's advocate with officers," Lohan wrote on her Twitter page. "When will it ever end? It's been going on my whole life with him – hasn't he caused enough pain."
Lindsay Lohan's Mom says Lindsay is just fine: "Lindsay is absolutely, 100 percent, not [a bad influence]," she says. "Ali is amazing. She loves her sister. Would I let my daughter go anywhere that's dangerous? I mean, come on, Ali and Lindsay need to be protected from their ex-father. That's the dangerous situation."
Dr.Drew, who we think is probably the worst doctor ever judging by what goes down in Celebrity Rehab (seriously I could go on about the Tom Sizemore/Heidi Fliess situation — putting someone in rehab with THEIR FUCKING EX is literally the worst idea I've ever heard), is standing by his comments that if Lindsay were her daughter he would do "whatever it takes" to get her help. For his self-diagnosis of her issues, based on the word of pathological liar Michael Lohan.
And yeah, so… Lindsay Lohan went a little Tila Tequila Thursday night on twitter. Though honestly, anyone who's ever been aggressively attacked by lies on the internet even on a small scale can imagine that the kind of full-world assault Lohan probs feels when her obviously insane father does shit like this OMG WHAT HAS BECOME OF ME THAT I EVEN KNOW THIS IS HAPPENING
Anyhow, because reading backwards is even worse for your brain than Michael Lohan, a transcript is below, which we have also grammatically corrected for you. If you'd like to read LaLohan's tweets translated in a different format like twitter itself, perhaps we know someone who can help you with that.
As for the ridiculous TMZ bullshit "Concerned Father" interview, I must correct Michael Lohan when I say that Aliana is watched & accompanied by a guardian at all times. The guardian is very close to my family and is a POSITIVE influence in my life.
Yet again, we have my father making a cry for attention and another "reaching out" display, although we've stated that he is  NOT a part of our lives. Nor has he been for a while.
As for our well being, he's never cared about that before. Nor does he now. He hasn't paid child support for ten months now, but he can pay for flights?
The police had no probable cause breaking and entering into my home. It's the only place I find privacy. This is MY personal space.
Also, just an FYI? I sleep in a bed. It's a comfortpedic and it's fantastical! So really, it's rude to say I have no furniture.
At least I can laugh at my ex-con father. Anyone care to join in on the laughter avec moi? hehe.
My friend @lianilevi doens't drive 100 miles an hour. My Dad is the one who drove into a telephone pole!
Hello, I'm not up all night! Stop lying! Ali is in school! It's called "home school." It's not easy to be in public school when your father is publicly humiliating his own children and their mother. Nor was it easy for me [sic] when our father threatened to kidnap and kill us in front of our friends!
The only one in need of police protection here is me and Ali from our pathological, lying ex-father.
My mother is amazing. She's not anything like what Michael is saying. Without her I wouldn't have been able to follow my dreams and be as strong as I am today.
Slander & Defamation: A malicious, false, and defamatory statement or report: a slander against his or her good name.
Pathological Liar: A person who lies to the point of it being considered a disease or condition, an abnormally habitual liar. E.g., MY FATHER
NICKI MINAJ:
Nicki Minaj is in XXL magazine: "Clearly there's an opening, because females in hip-hop come so far and few between, but the winners make an open lane out of a closed lane. The winners just say, "I am," and it happens, and they don't do a lot of thinking and guessing and planning about what they can do—they just do it. And that's kinda like how I am." (@xxl)

JOHNNY WEIR:
Guys, my money is REALLY on Johnny Weir to be the May 5th come out boy now. Although because it's Cinco De Mayo, I'm considering putting my money on Gloria Estefan.
Wonderwall: We heard you're working on your first single, is that true?
Johnny Weir: Yes. I'm working with Lucian Piane [known online as RevoLucian]. He's RuPaul's producer. He put together a song for me called "Dirty Love," after he saw me skate in the Olympics. We're currently going over some lyrics and fixing things up a bit and after everything's finished in May I'm actually going back out to L.A. and starting to record it.
Wonderwall: Awesome. Can you describe your music a little bit?
JW: It's kind of techno-pop. A little bit Lady GaGa mixed with the Scissor Sisters mixed with Sam Sparro.
REALITY TV:
19 writers come clean about the shows we can't stop watching. (@the awl)
RIHANNA:
Rihanna's girlfriend I MEAN BEST FRIEND got a matching tattoo with her. (@ontd)
COMICS:
Archie Comics Welcomes a Gay to Riverdale (@gawker)
Holy Hotdog. Archie Comics — one of culture's most enduring portraits of wholesome Americana — is introducing a gay. A gay male Archie character. His name is Kevin Keller and he is blonde.
Now I know some of you fellow Archie aficionados might be saying, "But Richard, isn't Jughead kind of gay too?" And yes, you'd be right.
LA ROUX:
Meet La Roux: The Thinking Person's Lady Gaga: I find the title offensive but whatevs. Also remember when Robin photographed La Roux? (@gawker)
NERD CRUSHES:
Hottest Nerd Crushes: Maxim takes a shot at hot nerd crushes and picks a bunch of traditionally beautiful ladies in costume. Well, at least we agree on Jean Grey. (@maxim)