PRETTY PICTURES: Some homosexy photography from around the web:
CELESTA DANGER: Celesta Danger is a famous dykey photographer whose photos you've seen whether you realize it or not. Check out her Portraits of Women, taken between 1998 and the present, and roller derby of real ladies from, you know, the roller derby, taken between 2003 and 2008. She also likes to take sexy pictures of her hawt girlfriend Lynn.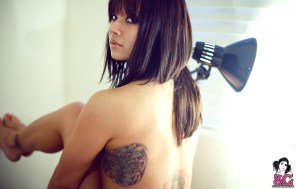 SUICIDE GIRLS: Suicide Girls photostream one shot from each SG photoset isn't enough. Or, at least we assume that's the philosophy behind SG's flickr account, where you get sneak peeks of what you can buy in full on the website. Sets include Gamer Girls, Hot Punk Girls, Hot Emo Girls, Sleeve Tattoos and "An Apple a Day."
AUTUMN: Autumn had a nerve-photoblog once. Now she has a Portuguese photoblog called "the accidental pornographer." Even if you can't read it, it's neat to look at.
EMILE: Parisian Emilie Jouvet: tough butchy girls in alleys & nightclubs, naked ladies and women together. She's also involved with Feminist Sluts: Too Much Pussy, a Queer X show & road movie.
"Her personal, artistic, and political work shows her friends and lovers in their intimacy, far away from the clichés of the standard gay representations.

Her models, strong Fems, Sweet Butches, wild Dykes, Feminists, Queers, from the underground Parisian and European art scene, travel between genders."
GIRLS GIRLS GIRLS: Flickr's got Girls Girls Girls which seems to be artsy nudes so you feel smart or whatever it is that you want to feel while you look at butts in the meadow.
AMOS MAC: Amos Mac Photography: The founder of ftm lifestyle magazine Original Plumbing and friend-of-Autostraddle documents queers, often in various stages of undress.
JILL POSENER: "I arrived in San Francisco in 1987 and immediately started acting like a kid in a candy store. I had never photographed women so in control of their own sexual identities and so eager to share their vision with the camera."
COMPLETELY NAKED: Completely Naked UK: "Completely Naked is a visual arts initiative. London based founders, Claire Ward-Thornton and Pau Ros created Completely Naked in November 1999. We explore representations of the human body and challenge social boundaries around personal identity. Our work combines an interest in culture, psychology and communication with design by engaging public audiences in exciting methods of interactivity and art."
KINKY LIBRARIANS:
Eight Percent of Librarians Have Had Sex in an Elevator: "Back in 1992, a librarian named Will Manley surveyed 5,000 of his colleagues about sex, both in their lives and in the library. Doing the survey basically got him fired, and the not exactly explosive—but frankly awesome—results have been kept sort of under raps since then. But now he's retired, and the whole thing is on his blog." (@nerve)
CRYSTAL RENN:
Crystal Renn is naked in French Vogue. (@jezebel)
SEX TOYS:
15 Unintentionally Perverted Toys for Children: Yes, Harry Potter's vibrating broomstick is included. (@cracked)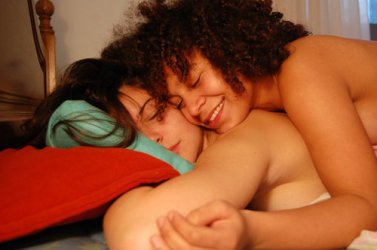 ANAL SEX:
Why Lesbians Should Teach Straight Women About Anal Sex: straight ladies go without condoms 38 percent more often than gay men do when doing it up the butt.
"Women lack that Giggity-spot called the prostate, so anal-loving lesbos know much more how anal sex feels as a woman than gay men ever could — I don't care how femme you are… lesbians aren't strangers to safe anal sex. They're encouraged to take the same precautions with whatever fingers, toys, and NOT dicks they use. A fresh condom on any shared asstoy keeps the bugs at bay, and active anal Annies know this."
DIRTY BIRD:
Medford City Councilors Upset About Public Access Show Called Dirty Talk Sex Advice: Many in the community are outraged over what they saw on the show entitled, "Dirty Talk: Live Sex Advice, Dirty Talk and Naughty Stories," on TV 3. The cable access station would release only the picture that was aired during the live call in show on April 8th.  It's a picture of two scantily dressed women kissing. In the corner is a squirrel with genitalia showing. (@wbztv)
HER FIRST TIME:
On Loving Women – "The women who turn me on are the opposite of everything that I once considered feminine but they are women in the strongest sense. They are curvy and vaginal and intensely creative and brilliant and absolutely fucking sexy." (@the c-spot)

LIBIDO:
A 2010 Study from the International Society for the Study of Women's Sexual Health found many young ladies have low libido. In 2008, 43 percent of a cross-sectional study of 18 and older females reported sexual problems, with 10 percent complaining about low sexual desire or hypoactive sexual desire disorder (HSDD), according to the study, Prevalence of Female Sexual Problems Associated with Distress and Determinants of Treatment Seeking (PRESIDE).
"It's not so much the lack of libido that characterizes the disorder, but the amount of anxiety it causes. Even though post menopausal women report less sexual desire, only about 8 percent are diagnosed with HSDD, because they are not distressed, according to the PRESIDE study."
Of course it should be noted that this study was sponsored by the makers of a potential female viagra.
GANDHI:
Fuck Oprah. Or don't. This new book about Gandhi is gonna be packed with deets about his sex life. (@straits times)
SEXY TUMBLR ALERT:
Sex is Not The Enemy isn't just for girls, which is why the f/f tag is so handy.
GREAT FIREWALL:
A Field Guide to Sola Aoi: The Pornstar who brought down China's great firewall. (@fleshbot)
BOUND:
Steamiest Movie Scenes No.5: "Spontaneous lesbian sex is steamy, but dominance and submission is where it's at." (@kxly)
SEX SCENE OR MURDER SCENE:
Judging by the expressions on the women's faces, can you tell if these photos from movies are murder scenes or sex scenes? (@trishwilson)