JENNIFER KNAPP: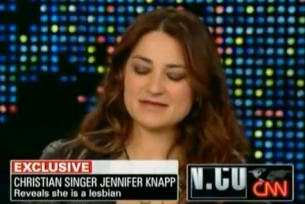 Christian singer Jennifer Knapp came out as a lesbian last week, after eight years out of the spotlight. Friday night Larry King had Jennifer Knapp on his show, along with Pastor Bob Buford and Ted Haggard. We were told Clay Aiken would be there, but perhaps someone was yanking our chain.
Thankss to Krrru who alerted us to the full video of Jennifer Knapp's appearance on Larry King Live being available on the internet (yeah, we tried to tape what we thought was the re-run of it last night for y'all and it turned out to be Willie Nelson talking about weed) on Truth Wins Out, which is one of our favorite websites.
Part One: Jennifer answers some basic questions about her relationship with her "mate" (Larry King's word), discovering her homosexuality, and the genre of 'Christian music.' She also touches on how although evangelicals aren't a fan of the Yes Homo, many other denominations are totally down with it.
At around the 7:50 mark, we're inexplicably subjected to Katy Perry's "I Kissed a Girl," but then it turns out that its inclusion isn't 'cause it's the only "lesbian song" CNN producers have heard, but 'cause Jennifer & Katy were friends! And seeing Katy, a former Christian singer, be successful and be out there touring, helped Jennifer get back on her feet and back into the industry.
Jennifer was in Sydney, Australia when Katy came through on tour: "I was just sitting there at home getting fat and lazy, and I had the fire burning in my belly, and I was so jealous just seeing that… and then Pink came through and was doing her tour, it was really hard to see something that I really loved and I was sitting in the background thinking it's too hard, people won't like me…"
Part Two: Larry King & Jennifer Knapp discuss topics including, "is sexuality a choice?" and "Is Jennifer Happy?" Then Larry brings out Pastor Bob Botsford to tell everyone how much Jennifer Knapp's sexuality breaks his heart. Clearly he's a little bit oversensitive. Anyhow, someone remind him about poverty and world hunger, yeah?
Pastor Bob describes Jennifer as being "caught in a sinful situation," which is an amazing band name, someone take it. The Sinful Situations? How hot is that! Pastor Bob thinks sexuality is a choice and that "we shouldn't make decisions based on feelings, we should make decisions based on facts." Right! FACTS! Like that "G-d invented marriage." Like Thomas Edison! Also, that's the opposite of the Autostraddle mission to "make all decisions based on feelings." Facts are all lies from the patriarchy anyhow.
Jennifer wants to know why her sin is worse than other sins. Why can't she be the one condemning HIM on national television, she asks.
Jennifer acts so sweet and diplomatic and peaceful even when Bob is giving me anti-gay panic rage. Jennifer Knapp is almost like, oh, I dunno, a perfect example of G-d's love on earth!
In addition to the eight years he spent privately praying for Jennifer, Pastor Bob has also spent time praying for Katy Perry, but 'cause he doesn't know her personally he hasn't had a chance to go on teevee and talk about it. UNTIL NOW!
Part Three: Bob says he's here because he loves Jennifer. Jennifer suggests he get her phone number and they can talk about this in private instead of on his blog and in his YouTube videos.
Jennifer Knapp: I have spiritual leadership in my life. The Pastoral council of those who are dear to me, who understand the scripture as sacred text —
Pastor Bob: I don't think they do Jen–
Jennifer: Do not interrupt me. You are not that man in my life. [BAM!]
Pastor Bob: I agree — I am not saying that I am your spiritual authority–
Jennifer Knapp: But you do not know me, and you don't have the right to speak to me in the manner in which you have publicly.
Pastor Bob: I do have a role to stand up for the truth–
Jennifer Knapp: In your congregation and for your community. But I ask you to not do that and not to say that you are doing that on my behalf.
Pastor Bob: I am here as a representative of Jesus Christ.
Jennifer Knapp: That's fantastic.
Then Larry King brings out Ted Haggard via split-screen, gives us a little recap of Ted's shocking sex scandal (more on that in our article Evangelicals, Rapists, Tramps & Thieves: Why Anti-Gay Leaders Love to Sin, Are the Sinners) and asks Ted for his perspective. Ted sort of plays the middle, saying they both have good points and that he "appreciates what Jennifer is saying and what she's going through, and she's on a spiritual journey like all of us are… the important overall message is that we emphasize personal relationship with G-d… " and says that homosexuality is a sin but everyone sins so you know, what can we do? Let's go to Long John Silvers!
Part Four: TED FUCKING HAGGARD, who has "survived scandal" and "no longer has homosexual thoughts" is still all up on our motherf*cking split screen! He's so good at the fancy dancing around the issues, but unlike per ushe, he doesn't make me want to throw stones at him.
Ted Haggard: I believe that the bible is the word of G-d and it's inspired and inherent and I believe Jesus was very clear and the Scriptures were very clear when they say that the command — the command that covers 'em all — is to love the Lord your God with all your heart soul mind ans strength. love your neighbor as yourself. So love is the predominate thing, G-d is love, the scripture says, Jesus displays how to do this and Jesus warns religious leaders strongly that we must not use the scriptures to point our figners at other people without letting the fingers point at us as well.
Larry King: Is that true in your opinion Bob?
Pastor Bob: Absolutely. I agree with that completely, Larry.
Larry King: Then why are you pointing a finger at Jennifer?
Pastor Bob: Well Jennifer is in a position of great influence and a lot of people look to her life and I don't want her example or lifestyle —
Jennifer Knapp: You don't want young children in the church the young teenage girl that's sitting in your congregation who says gosh i think i might have to choose between my sexuality and my faith. You want her to choose faith.
Bob: I do. I want you to choose faith.
Jennifer: You want her to deny any part of her process to go through the process of shame without truly discovering — let's say that she doesn't wanna choose to be homosexual? At what point does that become an honest decision because you've guilted her into it — "don't be like Jen."
Bob: Well, I'm just coming back to the Bible. And clearly G-d has an opinion on this issue. And I'm just wanting to stand up for the truth —
Jennifer Knapp: And I'll repeat to you what i said to you backstage, that the next time you want to talk about an example of what you actually mean to teach to your followers, please use the words, "This is the way that our congregation and how we're going to talk about homosexuality within our church. And don't use my name as a substitute for the word "homosexuality."
Bob: As Ted said, I want to be a light in a dark place, and there's a lot of justification now and let's just open up our arms of grace and welcome Jen back into our community–
Jennifer: When was I gone? Where did I go?
Bob: Well for eight years in Australia —
Jennifer: Because I wasn't in YOUR church?
Larry King: It can't be a sin unless it's chosen.
Jennifer Knapp's new album, Letting Go, comes out May 10th. You can catch up on her her earlier work here.
---
+
The rest of the Sunday Funday is awaiting you on page two:
GLAAD, Rosie vs. Huckabee, Gabourey on SNL, Archie's gay friends and more!
Pages: 1 2See entire article on one page