CHRISTIAN MUSIC NIGHT:
Larry King Live has quite the lineup tonight. His primo guest is Christian singer Jennifer Knapp, who came out last week, revealing that she's been in a relationship with a woman since 2002. From the CNN website:
Exclusive!  When she walked away from her successful Christian music career in 2003, fans scratched their heads and wondered why? Now, the popular songstress is ready to talk about her comeback…and her coming out!  It's been a polarizing topic of discussion within the Christian music industry and by fans.  Can you be both gay…and a Christian?  Hear from both sides of the issue Friday!
But that's not all. According to QueerSighted, Larry King has also booked Clay Aiken and our least favorite human being, Ted Haggard, as well as Pastor Bob Botsford of the Horizon Christian Fellowship. Bob has a blog. Let's see what Pastor Bob Bostford has been talking about recently in his recent blog post about Jennifer Knapp:
… there's no shock to me saying that most Christians who speak against homosexuality are more motivated by hate than love. And as careful as I preface my remarks, sadly there will still be a crowd who cries "foulwp_postsand jump to their own conclusion that I'm a hate filled, homo-phobe, preaching bigot that is forcing my perspective down a tolerant culture's throat. With all my heart, I'm not…
The truth is, every human being is precious to God. In fact so precious that He sent His only son Jesus to suffer and die on a cross to free us from a life of sin. The truth is that God abhors any form of sexual sin, be it premarital sex, adultery, prostitution, or homosexuality…. So I say in love, Jen get out.
Lovely. It sounds a bit scary — putting a newly out human up there with Ted Haggard, who thinks homosexuality is a tendency you can learn to deny via therapy, and Bob Botsford, who allegedly has been praying for Jennifer for like eight years, 'cause he has known about the girlfriend for a long time. We didn't even know, so.
In the video, Jennifer talks about coming in and spars with Pastor Bob.
THATS' GAY:
That's GAY takes on the assholes who approve of job discrimination against queers.
DEBT:
This makes me feel better about my own personal debt problems: "Only 58% of [Generation Y-ers] pay their monthly bills on time, says one firm, while another says that 43% of them are building up "too much" credit card debt. (The "too much" threshold is not explained here. But those late fees can't help!)" Though it's easy to write these kids off as slackers, I'd suggest that sending kids to overpriced colleges and promising them gainful employment upon graduation only to have the economy crumble in the meantime, might be the real culprit.(@the awl)
WEED:
in honor of 420 (tuesday), The Daily Beast has American's 40 Highest Cities! Eureka California is stoned all the time, Manhattan comes in third and San Francisco fifth. Also, Buzzfeed has the most awesomely disturbing photos from 420. (@dailybeast, buzzfeed)
AFGHANISTAN:
In Northern Afghanistan, an ancient tradition of Bacha Bazi or "boy play" has re-emerged. Hundreds of boys are bought from poor families, dressed in women's clothing and taught to sing & dance for men who rent the boys out to their friends: "Najibullah Quraishi, an Afghan journalist, investigates this practice, still illegal under Afghan law, talking with the boys, their families, and their masters, exposing the sexual abuse and even murders of the boys, and documenting how Afghan authorities responsible for stopping these crimes are sometimes themselves complicit in the practice. "
FEMINISM:
While we're drafting our email to Jezebel about how we want to team up and get some people together and officially begin the fourth wave, they've sent Irin to see Jennifer Baumgardner, Amy Richards and Debbie Stoler talk about Feminism & The Future.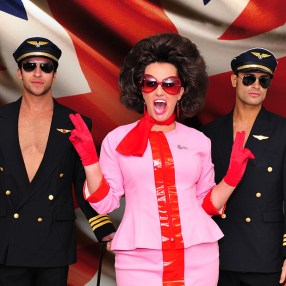 JET BLUE:
On May 14, JetBlue will be chartering "an exclusive rainbow powered flight," from San Francisco to Long Beach, for $79, to celebrate (and capitalize on its sponsorship of) Long Beach Gay Pride. (@jetblue)
GO MAG NIGHTLIFE AWARDS:
Grace the Spot has a recap of the Go Magazine Nightlife Awards that was attended by lesbians from all boroughs of Manhattan this week, including Autostraddle! It was AWESOME and if you missed it, you must attend Go Magazine's next gathering. You must! (@gracethespot)
NYC LGBT CENTER:
The NYC LGBT Center has replaced the tiny burned flag with a building-sized rainbow cape. (@advocate)