KENTUCKY: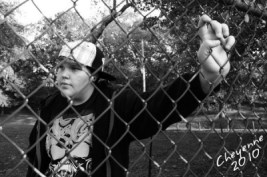 Ashley Sams, 18, and Corinne Schwab, also 18, as well as a 17-year old friend whose name has not been released due to her juvenile status, posted bail yesterday on charges of attempted murder for trying to push their lesbian friend, Cheyenne Williams, off a cliff.
Sams and Schwab are charged with kidnapping and attempted murder. Williams' mother said the attack was a hate crime, motivated by the fact that her daughter is openly gay.
But the detective handling the case said he would not characterize the alleged attack as a hate crime. It appears the incident started as a prank but escalated to the point Williams was frightened and sustained minor injuries, said Detective Joie Peters.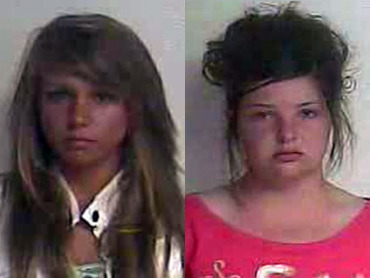 Furthermore, Cheyenne's mother says that the victim won't return to Jackson County High School this year: "Dee Johnson said she is concerned her daughter, Cheyenne Williams, wouldn't be safe if she returned to finish her senior year. Even if the girls who allegedly attacked Williams weren't back at school, some of their friends would be, Johnson said."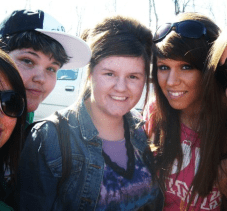 However, reports are conflicting: the four girls were close friends, and Cheyenne (or "Chey") had been out for some time. Debate is heated on whether or not the incident is a hate crime or if it's just a "prank gone awry."
School officials said the "Day of Silence" anti-violence event Friday, promoted by the national Lesbian, Gay, Bisexual & Transgender Alliance, did spark some controversy on campus. While some students wore stickers in support of the observance, others protested the event by wearing stickers that said "Gay is not the way." It wasn't clear which side of the debate the three suspects were on.
Cheyenne signed a sworn criminal complaint saying that she was abducted on Friday by the three girls. Other reports claim that the girls were just going tanning.
Based on Williams's statement, a local prosecutor issued arrest warrants for the three suspects.
"The charges were initially brought without a police investigation," Kentucky State Trooper John Hawkins told Associated Press reporter Roger Alford.
(@kentucky.com)
DON'T ASK DON'T TELL:
The White House does not plan to repeal Don't Ask Don't Tell this year. The press secretary told reporters Wednesday that Obama will give the Pentagon until Dec. 1 for their study on the issue, which as one intrepid reporter noticed, won't give Congress a lot of time to pass, well, anything. Said Press Secretary Gibbs: The President has a process and a proposal, I think, that he believes is the best way forward to seeing, again, the commitment that he's made for many years in trying to — changing that law." (@huffington post)
This little gem of knowledge comes on the heels of the GetEqual protests and Lt. Dan Choi's civil disobedience. And now it turns out that park police kept the press away from Choi's demonstration at the White House gate, which of course defeats the whole purpose of civil disobedience. Choi's protest didn't make it into major news outlets or the AP. What's the point of "hollering" if no one hears about it? Gibbs has said the White House had nothing to do with it and the park police screwed up. Either way, a Washington Post editorial recently advised the DADT protestors to shift their focus: "Change the scene of action from the White House to the Capitol. Repeal of don't ask don't tell requires congressional action. And nothing says 'Listen to me!' like civil disobedience in the office of the Speaker or the Senate Majority Leader." (@washingtonpost)
Obvs, Gibbs' announcement of Obama's plan flies in the face of the timeline we all thought we had, which repealed DADT in 2010. Queerty wants to know if Joe Solmonese of the HRC openly lied when he said DADT would be repealed in 2010. (He's sketchy no matter what, I say.) Some people are saying the White House had previously shut down the notion that we would see a repeal this year. That would make Solmonese's declaration in February pretty suspect.
The Advocate has a look at the different perspectives on how exactly that meeting went down. Some other anonymous people (gotta love Washington) say the White House didn't shut anything down, they were just reluctant to commit to anything at all. Well, that's much better! (@advocate)
GAY PARENTING:
Rosie O'Donnell brings Mike Huckabee on her show to talk about weight loss… just kidding, that's just what she told him she wanted to talk about, at about the five minute mark she transitions to a much more interesting topic… gay parenting. (@queerty)
HEALTH CARE:
Reporting a violent crime can be hard enough, but it can be even tougher for gay, lesbian, transgender and intersexual victims. Being outed, being ridiculed, the fact that most health care professionals assume a patient is straight — all these factors make it hard for LGBT people to seek the proper help.
Victims may go without adequate care — or justice — when they are viewed through "straight goggles," Jenkins said. "That's … when you assume everyone you meet is heterosexual until they tell you otherwise," she said.
That prejudice can stand in the way of services for victims who already may be isolated by unique threats and stigmas, said Hildegard Koenig, a victim's advocate with the Utah Domestic Violence Council.
"They could lose their jobs, they could lose housing, they could lose their children because they don't have legal rights," Koenig said. (@sltrib)
WESTBORO:

Westboro went to Boulder Colorado and nobody wanted to hang out with them, but like a lot of people came out to h8 them, including Mike Manning from The Real World! These days, counter-protesters always seem to outnumber the Westboro folks, which warms my heart. (@kdvr)
Also, in The New York Times, people react to the stroy of Harold & Clay: "Sonoma County's separation of two elderly gay partners, Harold Scull and Clay M. Greene, and its sale of their belongings has drawn attention from around the Bay Area. Last month, a legal complaint was filed by Mr. Greene, the survivor of the couple. It alleges callous and unlawful behavior on the part of the officials who separated the men — Mr. Greene, 78, and Mr. Scull, who was 89 when he died nearly two years ago. It accuses the county and its employees of elder abuse and fraud."
LINDSAY GRAHAM:
Jon Stewart's latest GayWatch looks at Lindsay Graham. Some ralliers in South Carolina called Graham a homoseckshul and questioned why he wanted to reform immigration law.
ELECTIONS IN THE UK:
The U.K.'s conservative party has been trying to woo LGBT voters, but as elections draw near in Britain, the Tories are embroiled in fresh GLBT controversies. (@edge)