DADT PROTEST DAY:
President Obama is not impressed with the gay rights protesters who repeatedly interrupted his speech last night at a fundraiser for Senator Barbara Boxer, as seen in this video:
+
(You can see a shorter version of the speech over at Mediaite.) Obama said:
"When you've got an ally like Barbara Boxer and you've got an ally like me who are standing for the same thing, then you don't know exactly why you have to holler because we already hear you," Obama said to the protesters. "It would make more sense to holler that at the people who oppose it."
In addition to that, Dan Choi consequentially  and five other vets chained themselves to the White House fence, one month after Choi and his comrade were arrested for a similar DADT protest. These were a few of the feelings Dan Choi had last night while he was chained to the White House fence (and the GetEQUAL protesters stormed Obama's speech in Los Angeles) (no word yet on how he was able to tweet while handcuffed to a fence– kids these days!):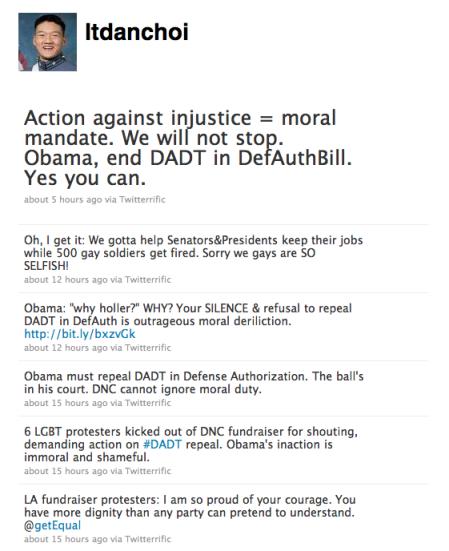 But not everyone is impressed with the protesters. We follow HuffPo contributor Ryan Davis on Twitter, and his feelings about the incident are quite the opposite of Dan's:

Is it our duty to put pressure on the president until he follows through on his promise and repeals Don't Ask Don't Tell? Or are we failing to understand difference between being heard and passing legislation?
We gays/lesbians/bis/queermos have always had this idea that the way we present ourselves is an important factor in gaining equality — the more people who know us personally and are familiar with us, the more ground we gain. The more we're able to convince people that our families are like theirs, the easier it will be to get legal validation.
Where do the actions of these protesters fit? How are they impacting our public image? Are they showing America that we won't put up with being sidelined, or are they setting us backward by playing into negative stereotypes?
MORE DADT:
The Air Force reversed a decision it made to not expel Lt. Robin R. Chaurasiya under Don't Ask Don't Tell, even though she admitted to being a lesbian. The ruling originally said Chaurasiya shouldn't be discharged because she was trying to use the policy to get out of the armed forces. But after she spoke out against DADT and told her story, the Air Force wants to discharge her. (@latimes)
ARKANSAS:
An Arkansas judge has overturned the state's ban on adoption by gay or unmarried people. Pulaski County Circuit Judge Chris Piazza said in a two-page ruling that people in "non-marital relationships" are forced to choose between becoming an adoptive parent and sustaining that relationship. (@ap)
WEIR:
Johnny Weir said cute things at an Equality California event. His remarks could be construed to be about just the gay community, but he might also be talking about liberals.
+
DEATH INVESTIGATION:
Two men are being held in the death of Srinivas Ramchandra Siras, an Indian professor who was originally thought to have killed himself after he was caught on tape having sex with another man. Siras, who hailed from Maharashtra and taught Marathi, was placed under suspension by AMU Vice Chancellor P K Abdul Aziz on charges of homosexuality at his house inside the campus after a sting operation by a television channel which exposed him having sexual relations with a rickshaw puller. (@ndtv)
DIVORCE:
Gays might have a hard time finding a place to get divorced, says the Associated Press. Gay and lesbian couples who turn to the courts when they break up are getting mixed results across the nation. A Pennsylvania judge last month refused to divorce two women who married in Massachusetts, while New York grants such divorces even though the state doesn't allow same-sex marriage. A Texas judge recently allowed a gay couple to get divorced, but the Texas attorney general is appealing that ruling. The new hearing is scheduled for tomorrow. (@ap)