Today a rally was held in Washington DC by the Human Rights Campaign to urge the White House to take immediate action against Don't Ask, Don't Tell. Kathy Griffin was speaking at the event because she is famous and thinks gay people are funny. She gave a speech, made some apparently kinda off-color jokes, and then Dan Choi took the stand, told everyone they were marching to the White House, and thus they went! It was like the Pied Piper!
So while everyone inside the Capitol building was probs arguing about how best to ensure I never get my teeth cleaned for free, outside the White House Lt. Dan Choi and Capt. Jim Pietrangelo chained themselves to the fence and got the whole crowd totally riled up!
According to a source exclusive to Lez Get Real, Dan Choi planned this:
An unnamed source has given LGR a heads up that Lt. Dan Choi apparently plans to chain himself to the White House fence in an attempt to pressure President Barack Obama into issuing an executive order ending Don't Ask, Don't Tell. Apparently, Lt. Choi plans on doing this again and again until DADT is repealed by President Obama.
According to Tweets from Robin McGehee at GetEqual (see stream below) reporting from the Kathy Griffin – Human Rights Campaign "Don't Ask, Don't Tell" rally, McGehee, who is traveling with Lt. Dan Choi, asked Human Rights Campaign President Joe Solmonese if Choi could speak at the rally and he rebuffed her, telling her it was Kathy Griffin's rally.
Robin McGehee was also arrested. When Dan and Jim were put into the police van, the crowd apparently cheered a lot! They must be in jail now. Don't drop the soa– oh wait nm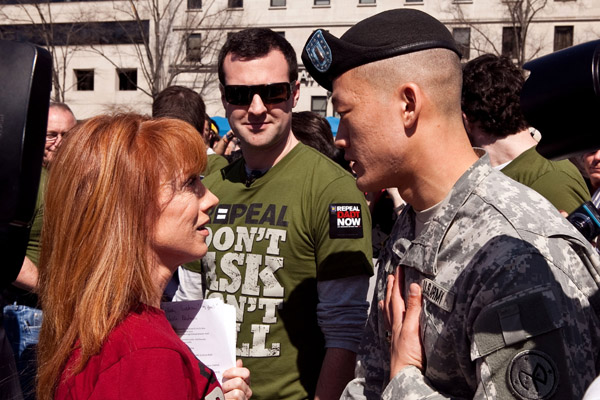 You can get the entire story at Queerty. Americablog and Towleroad also have solid coverage of the event.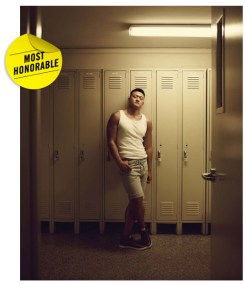 As you know if you've been at Autostraddle for a while, we've been following Dan since pretty much Day One, because he was on our girlfriend's teevee show (Rachel Maddow), and it's pretty interesting to see how he has evolved as a human being and an activist. And he's only 28, y'all!
When we met him in May, he was charming and friendly; shaking hands with anti-gay protesters and telling them Jesus loved them, making out with his boyfriend & laughing. At the National Equality March in October, he was decidedly angrier– and rightfully so! The naive optimism that perhaps we all felt had clearly left the building, and the New Dan Choi was ready to kick ass and take names. That's what it feels like, after all, to have to fight so hard for something that seems just so obviously the way things should already be.
That day he took the stage with duct tape over his mouth and the next time he saw us was at a Task Force dinner in Miami, when he asked Brooke (our COO) if he "seemed angrier now." Because he felt angrier.
And rightfully so.
Dan did get his job back in February and was reportedly back on active duty. But he could not ignore his people!
Could this get Choi kicked out of the military? According to our friend in the military (we have been instructed to take this dude's word with a big chunk o'salt idk), "depends on the severity of the crime. could be punished by a rank reduction or brig time or pay w/holding. could be discharged. if you're in the military, you technically can't be part of a group protest, especially against the government." The answer could be on this webpage, which is complicated.
What's particularly incredible about this is that the call for more extreme action and civil disobedience has been almost directly contradicted by the actions of the HRC, who prefer more conservative and polite methods of political resistance. Obviously they didn't know what Dan had in store… but did any of us?
Whenever radical action is criticized, I think back to the piece Vicki wrote for Autostraddle about her experience as a Lesbian Avenger in the 90's:
As I've gotten older and had kids, I'm a bit more conservative than I was then, but I still appreciate the efforts of radical groups — we need both ends of the spectrum and the efforts of radical groups pave the way for more conservative groups.
Ultimately, we need more than the HRC as our community's voice, and we need the radical groups out there to agitate people and hold the more conservative elements accountable. We've gotten tentative and the radical edge will challenge our nice & reasonable behavior and our politics to propel us forward.
What do you think? Is civil disobedience the way to go? (ETA: A commenter pointed out – Please don't let the debate be what kind of action we need, we need them all..let the debate be which of these actions am "I" going to take? — and we agree completely with that on all counts.