Last year when Autostraddle was only two weeks old, our dear music lover Stef reported live from SXSW for you, and well, you really liked it so you will all be happy to know that Stef is back for SXSW 2010: The Captain's Log! Live from Austin, Texas, South by Southwest 2010!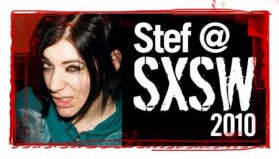 Once a year, the music industry gathers from the far corners of the universe to convene in the Live Music Capital of the Universe, sunny Austin, Texas.  This event, known as South by Southwest or SXSW for short, is part festival, part showcase, part seminar and many parts ridiculous.  The purpose of SXSW is essentially threefold:
1. to discuss new ideas and approaches in various fields of music, from digital distribution to marketing to artist management
2. to showcase new artists and figure out who will be the hot ticket for the upcoming year
3. SPRING BREEEEAAAAAKKKKK!!
As a depraved human being who eats, breathes and lives for rock'n'roll, SXSW has historically been mostly the latter for me.  This is my third consecutive year, and each time I find my mission statement focuses slightly less on discovering new music obsessions and slightly more on locating the open bars and making out with cute strangers. That said, this year's schedule is full of absolutely amazing acts and I'm ready to experience as many of them as possible and share the experience with you, just as I did last year.
i. Lap of Luxury/Back of the Venue
On Wednesday I arrived in Austin feeling a bit frazzled from my 6 AM flight.  I met up with my darling friends Jill and Mildred, and thus began our great Texan adventure. After discovering we had accidentally checked into a really swanky hotel complete with a king-sized sleep number bed (hello ladies), we took off almost immediately for the first act of the day, Roky Erickson with Okkerville River at the Galaxy Room. Roky's hardly a new act – as the brainchild behind the 13th Floor Elevators, Roky was hugely influential on psychedelic rock in the late 1960s – but we figured it would be a mellow start to our day.
SXSW Survival Tip #1: If an amazing artist's super-intimate set sounds too good to be true, guess what?  It also sounded that way to like ten thousand other people who also enjoy that band. Roky sounded great, but we couldn't see a damn thing.
I started getting a little antsy in such a big crowd, so brave young Jill and I left Mildred behind and escaped to Beerland, where the Muffs were already well into an inspired and kickass set.  Like Roky, the Muffs hardly qualify as a new band, but it had been several years since I'd heard about them and so I was curious what they were up to.  Their new stuff is just as brash and fun, frontwoman Kim Shattuck is still a badass guitarist and they reminded me of the band every girl should want to be in when she's 16 years old.  I'm a sucker for tough girls with instruments, especially those who play well. And really I want Riot Grrrl to come back, goddammit. Are you with me?
My pictures didn't turn out so well because I was stuck with an iPhone camera and Beerland was dark, so here's a video instead!  Vintage Muffs!
+
ii. Southern State of Mind
Next up on the schedule was an artist very familiar to Autostraddle, our good friend Hesta Prynn whose solo project I've been following closely.  I've been a fan of Hesta's (real name: Julie Potash) ever since her rap group Northern State released their EP Dying in Stereo in 2003. She was my first Autostraddle interview at SXSW last year, during which we formed a new band (riot grrrl, obvs) called Tyra Mail, in the great spirit of our favorite show America's Next Top Model.  This year Hesta took some inspiration from ANTM for her own project, as she had clearly undergone a Ty-Over:
In addition to her new weave (oooohhhh gurl), Hesta debuted new songs from her forthcoming record, opening the show with a swaggering, half-rapped track called "You Windin' Me Up."  The new songs were more guitar-heavy, but still followed in the style that Hesta describes as "post-genre" – a 90s-influenced, vaguely electronic collection of styles that borrows from the best parts of electroclash, indie rock and hip-hop.  I was proud to see how far she'd come from 2009's SXSW set. Last year's rooftop showcase was well-enough attended and well-enough received, but this year I had to wait in line to get into this freakin' thing. Although the set had a few minor sound problems, the band sounded tight and professional. I foresee amazing things for our darling Ms. Prynn in the coming year.
I split almost immediately after Hesta's set, hoping to catch Zoë Keating at the Central Presbyterian Church. Disappointingly, I only got to check out a few minutes. I first heard of Ms. Keating when she was second chair in a chamber goth cello band very close to my heart called Rasputina, but she's also worked with Imogen Heap, the Dresden Dolls and a host of other wonderful musicians.  Her solo work is fantastic – layers upon layers of cellos run through pedals and other electronic elements, casting beautiful and oftentimes disturbing shadows on the walls inside one's brain.  I would have loved to have caught her full set, but I did capture this cute picture:
Incidentally, the church is one of my favorite places to see a band in Austin.  The high ceilings make solo musicians sound gigantic.
iii. St. Patrick's Day Hipster Zombie Apocalypse
So hey, guys! Guess what? It was St. Patrick's Day!  This meant that everybody was just a little bit drunker.  It was particularly messy on 6th St, sort of like a hipster zombie apocalypse, so we bailed and headed east to check out the Todd P party at Ms. Bea's.  Todd P is an independent promoter in New York who's credited with helping to break many popular indie acts, including the Vivian Girls, who were allegedly throwing a secret show later that night.
We didn't see Vivian Girls.
We saw these guys.
They could have been anyone.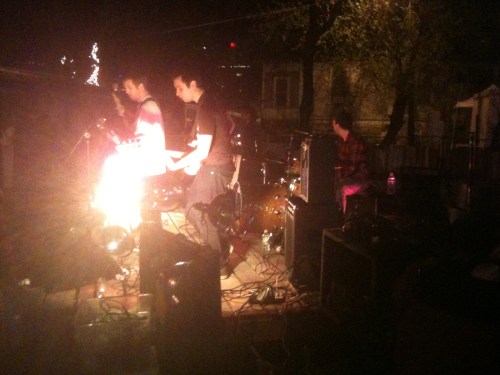 At this point, we started questioning why we had left Brooklyn to come to Austin to find out about music coming out of Brooklyn. We took off, seeking further adventure.  A peek into Red 7 led us to a metal band from South Carolina, described eloquently by a passerby as "thinking they're Cannibal Corpse 'n shit, but actually sound[ing] like balls."  We opted to head back to the hotel to recharge – and lucky that we did, because we learned that our fancy hotel will be providing us with a $25 voucher for food, drinks and/or room service for each day of our stay!  We learned about this at 11:45 PM.  By 11:46, we were ordering double whiskeys at the bar.
SXSW Survival Tip #2: Never turn down a free drink. Ever. I mean, what did you even COME here for?!
iv. And the Best Band of the Day
Today's last order of business was to check out my friend Christoph's band the Depreciation Guild at the Wave.  With his identical twin brother Anton on drums and their moppy-haired friend Kurt on guitar and vocals, the Depreciation Guild were easily today's most adorable band.  The two guitarists built up a huge wall of distortion and reverb, held together by Kurt's melodic vocals and chirping synths in the background.  I suppose they'd be best described as shoegaze, but there was an accessible pop element to the songs that kept them from turning into guitar pedal wankfests (as some bands are prone to).  They might have been my favorite band of the day, which was a pleasant surprise.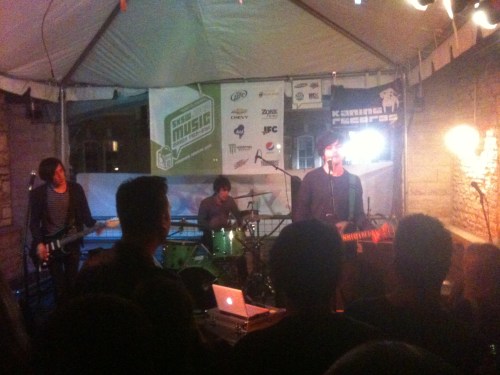 Also, dudes, check it out: TWINS!
My plans to check out Kid Sister and Serena-Maneesh were sadly thwarted by scheduling conflicts, but honestly I was so beat that I didn't really mind.  Tomorrow we hope to finally track down Oh No Ono, Vivian Girls, Tanlines and many more…
+
+