LADY GAGA: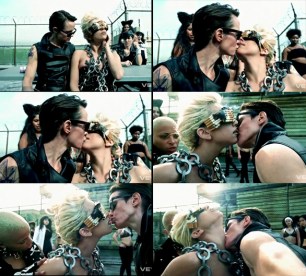 Lady Gaga was interviewed on The Kyle and Jackie O Show in Australia in an interview they're promoting as "Gaga's gay revelation." Apparently no one let them know that Gaga has been an out bisexual for some time now? Their fact-checkers must be worse than ours! (We don't have any).
Gaga said Telephone was supposed to be a commentary on consumer culture and American culture and was an opportunity to use homosexual themes in a commercial environment. Also, the story of the Telephone video could've been told to "Happy Birthday." Regarding the most controversial themes of the video, she brings up S&M and violence and says that's not really what the fuss is about:
"It is my personal belief that this video is not getting so much attention for those [violent] themes because I've used those themes in my videos before, haven't I? It's because it's with Beyonce and it's because there are so many homosexual themes, and transgendered women in the video. Some people believe that being gay is a choice, and it's not a choice. we are born this way. It has one foot in the art community and one foot in the commercial world."
Lady Gaga's ex-boyfriend is suing to get $20 million from her 'cause he says that he made her everything she is and bla bla bla. Someone punch him in the face.
ELLEN DEGENERES:
A shy and super-cute Constance McMillen appeared on The Ellen Show today. Ellen said that she'd never have had the guts to do something like that when she was Constance's age, and how brave Constnace is. Big words coming from a lesbian who was pretty brave herself when she wanted to bring her sexuality to a sitcom! Constance's Dad was in the audience, I am serious if I was a random boy in her class I would be scared to fuck with Constance because he looks like he could kick my ass.
This is how the show was described:
Constance McMillen on Ellen Today: A school in Mississippi just canceled their prom because one of their gay students wanted to bring her girlfriend. That makes me sad. Prom should be for everyone, and schools should be teaching acceptance rather than intolerance. I hope these administrators will learn how their decision has hurt not just the student and her girlfriend, but all of the students at the school who simply want to enjoy their prom. Let's work together to make this a world full of kindness and compassion so that no one is punished for loving another person.
CHERRY BOMB:
Start at 2:40 — that's where we get to talk about kissing Kristen Stewart. But this time it's funny and you'll see why!
PRETTY-PRETTY!
Thank you, Feministing! Stop Calling Pretty Girls Ugly If Tina Fey, Lea Michele and America Ferrera are "ugly," what hope is there for the rest of us? Knowing Lea IRL I was actually legit confused when GLEE began and I realized she'd been cast as the "ugly duckling" character. WTF? (@feministing)
JESSE JAMES:
Jesse James and the Fallen WomanStop slut-shaming Michelle McGee (@womanist musings)
I like Sandra, from the interviews I have seen with her – she seems like a woman that I would really enjoy sharing a beer with; however, the Madonna/Whore binary that this story is creating in her defence is harmful to ALL women.
As usual, when a celebrity man cheats, the slut shaming of the mistress is the result. McGee is routinely referred to as a skank, ugly, and a ho. People have attacked not only her behaviour, but her very being by commenting on her tats, as though they are a marker of depravity. Her motherhood has been called into question, thereby; affirming the saintly construction of motherhood which is harmful to women.
GLEE:
An actor with a spinal cord injury is guesting on GLEE this season — and this is his story. Also, perhaps predictably b/c America LOVES overkill, they want to make a Glee stage musical. Lea Michele could be back to her home turf after all! (@community server)
NOT SO LOST BOYS:
The boys from Hook – Where are they now? (@celebuzz)
SEX ADVICE:
Sex advice from Joss Whedon fans (@nerve)
WRINKLE IN TIME:
A Wrinke in Time is going to be adapted for a movie! (@coming soon)
WE CAN DO IT:
Daryl Stephens, Wilson Cruz, Quincy LeNear & Deondray Gossett Pose for "We Can Do It!" Campaign. (@living out oud)