Tonight Lady Gaga & Beyoncé's much-anticipated music video, "Telephone," premiered. Eh, it was fine. Kidding. It was no Oops I Did it Again, but on the other hand – oh that fierce bitch Gaga did it again. It was awesome! Wanna watch it again? Oh good, us too!
The monumental task of discussing the world premiere of this landmark artistic achievement, we felt, would be best observed in two parts. We're splitting it up into a recap and a roundtable of opinions from our team of Lady Gaga experts.
Lady Gaga & Beyonce – "Telephone" – The Music Video Recap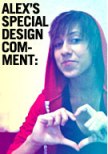 By Alex Vega, Design Director and Lady Gaga fan since May 2008

This music video obviously took a good amount of time, care, drugs, and rock 'n roll to make. It's an epic nine and a half minutes long. I honestly believe that Gaga has singlehandedly revived the art of the music video. She's the closest thing to a "Michael Jackson" we have doing new stuff right now. I've been really careful not to say something like that until I believed it was 100% true.
With that said, let's make a sandwich. Just kidding, let's relive this awesomeness!
So we begin in prison, where Gaga has been detained for crimes she committed in 'Paparazzi':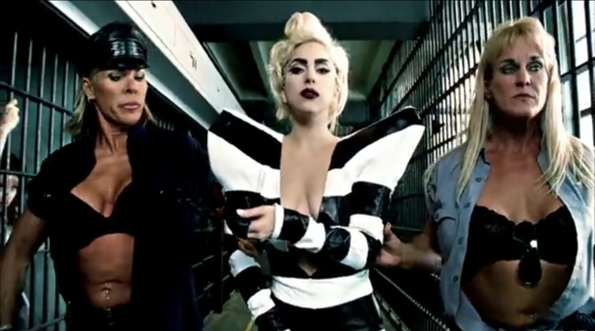 These guards are so serious… seriously homosexual.
One of the two best lines in this video, the next one involves cheeseburgers.
Anyhow, well Gaga has all these shackles on, let's go to the jailyard. Hay! I wonder who's going to be in the jailyard. Maybe a bunch of lesbians OH MOTHER OF GOD.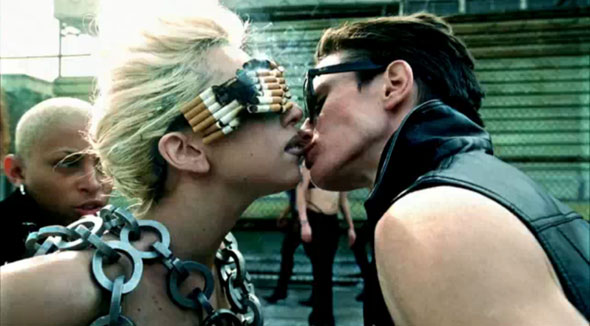 Attention, we have cigarette glasses. And homo-sexy moment number one.
This happened! This happened in front of your eyes and you weren't even expecting it! Lady Gaga made actual sex noises for you and for once, she wasn't searching for the camera while it happened.
There's a lot of cameos in this video, but nothing tops old-school Gaga/Stefani Germanotta.
*UPDATE* I was informed by many that this is actually Gaga's sister. HOT. I was wondering how the resemblance was so uncanny.
Oh Gaga, how you make my head hurt… hurt so good.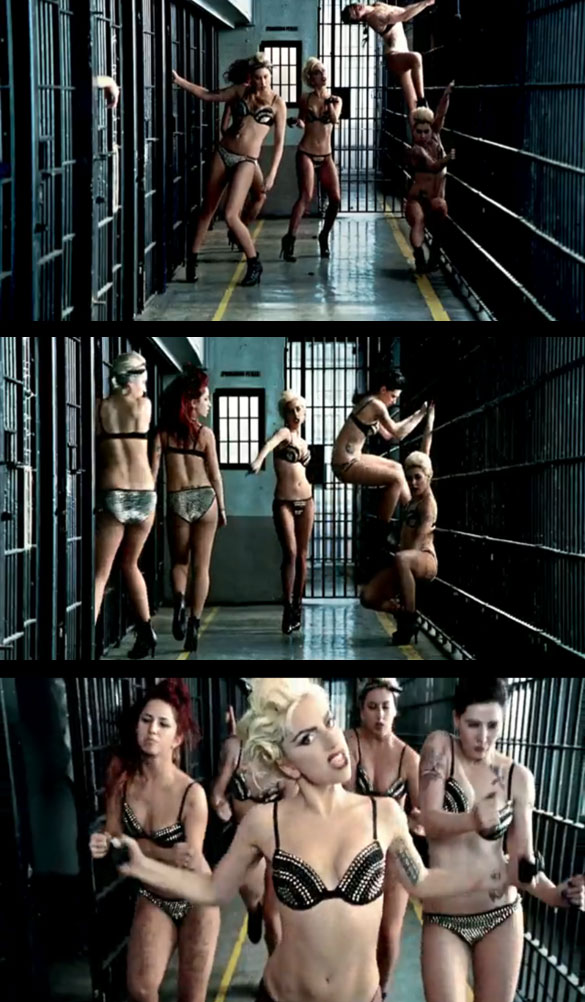 Then the music kicks in and we have this awesome jail-house dance routine (above). Um, you're welcome.
I mean, THANK YOU GAGA. I'd get down on my knees and thank her for this entire music video.
(Also, Gaga you lookin' GOOD, GURL. Our friend Craig who's been Gaga's trainer is doing a new show with Jackie Warner called Thintervention or something. Looking forward to that. Just saying.)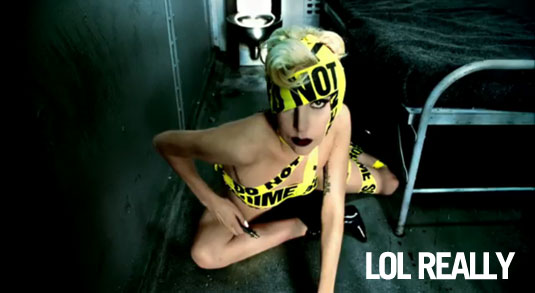 Hey Girl, Hay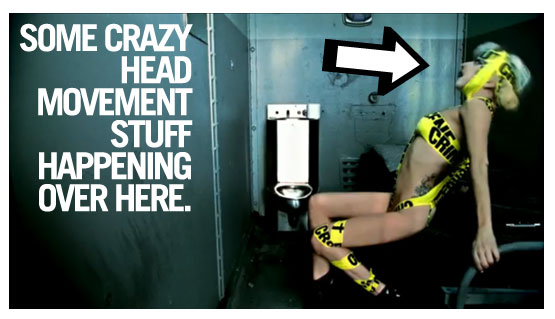 Beyonce bails Gaga out of jail, and picks her up in the Pussywagon. Y'all might remember this from one of the coolest movies ever, Kill Bill (volumes I and II). TARANTINO!
Speaking of Michael Jackson, Gaga does such a cute little dance when she's walking out that's very Michael Jackson-esque. Anyone catch that? Adorbs.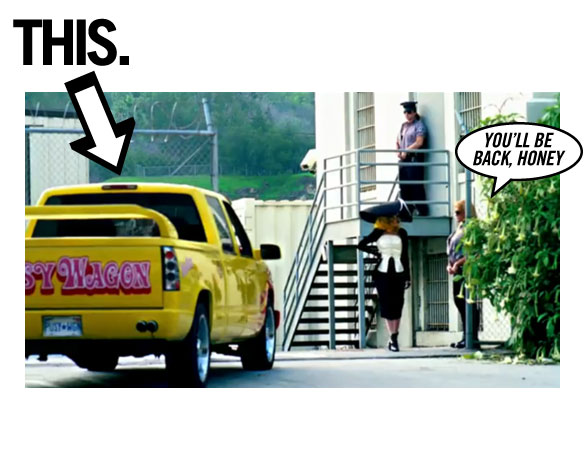 (Homo-sexy moment number 2.)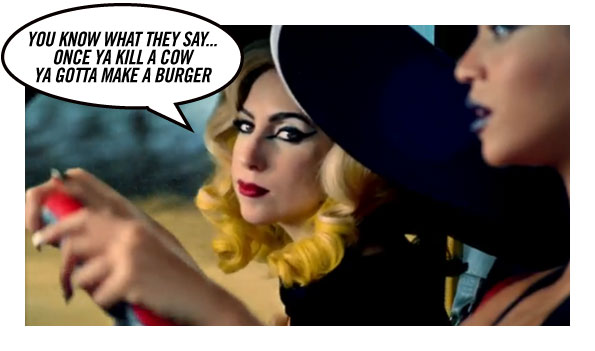 Did I skip the whole Beyonce singing part? I did! I'm sorry. [Autostraddle Editor] Riese really liked that part it was actually one of her favorites and she said it made her think of sweet sexy girls taking photos of each other in a moving car, which is both realistic and still famey.
I like to think that Beyonce's part requires her to bust through a wall, Kool-Aid Man style, even though that's not what actually happened. Gaga's taking pictures with a Polaroid camera because she's now the creative director of Polaroid. Thank God that stuff is coming back. She can push a product if she wants to.
Look it's Tyrese!
And we all know his ass is dead cause he's mouthing off and Gay-oncé don't stand for that nonsense.
Meanwhile we have dancers using lettuce/cabbage and bread as telephones:

Just saying.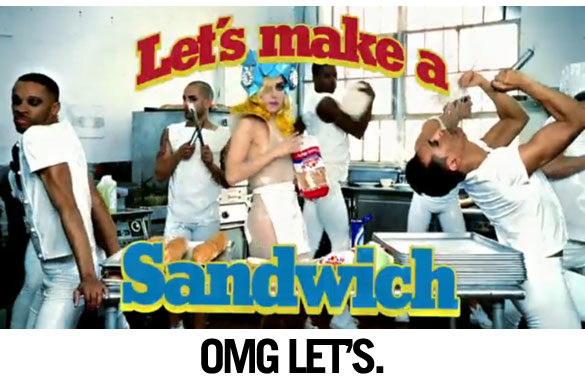 There's a kitchen dance break (as there always should be). I must learn this dance immediately for mine and Stef's next ukulele/dance interpretation. Gaga is wearing a dress like the one she wore on Ellen. Also I don't know if you noticed this, but her hair is a phone. Phone = Hair.
SPOILER ALERT: Tyrese finally dies and so does everyone else, including Justin from Semi Precious Weapons:


Death by honey. HONEY B — GET IT!
Continued on the next page…
Pages: 1 2See entire article on one page