Eek you guys it's been over two weeks already since I last wrote! My previous post sparked a crazy awesome amount of feedback and conversation that I wholeheartedly enjoyed watching unfold. You guys seriously amaze me every single day.
First order of business: Chopin's 200th birthday was March 1st and was definitely worth celebrating. If you don't know who Chopin is I will just tell you that he is THE MOST AMAZING composer of classical music of all time. I'm a dork when it comes to classical music; it just makes me feel so many things! My piano teacher at Columbia (one of the best piano teachers I have ever had) decided to put together a little concert to celebrate the legend that is Frederic Chopin. I played a piece that I had eagerly learned when I was 14 but made sure to keep in my repertoire all these years; not only because my grandmother requests I play it every time I see her, but because playing it reminds me why I am alive. Seriously.
So just in case you are interested in feeling lots of emotions, here is a recording of the great Pollini playing what I have deemed "My Nocturne".
+
Yes I am trying to convert you all to being Chopin lovers. Also his music WILL help you woo the ladies…I swear!
Ok so as you listen to the Nocturne (have you pushed play yet, have you??) I will begin to relay my thoughts on the past couple of weeks. Starting with a question: Did you ever get to attend a school dance with a same-sex date? And I don't just mean as friends but as a for real, obviously together date? Well I never did until last weekend.
I'm a sucker for tradition. I grew up thinking about what my prom dress would look like, what my wedding dress would look like, where I would get married, etc. After I came to the conclusion that "oh goodness, I'm really gay,wp_postsI was afraid that I would never be able to truly experience such traditions.
Although my core beliefs seem to go against such heteronormative societal customs, I honestly don't really care…I went to both of my proms and pretty much have already designed my wedding dress. Unfortunately I never had the chance to go to a school dance with a girl as my date.
+

My Date Was a Girl! A Real Lesbian Girl!

Luckily I was fortunate enough to meet a girl who happened to go to a university that was having a university-wide school dance. I was able to go as her date and not feel at all ashamed, embarrassed, scared, or anxious. Going to a dance with a girl might not have been the dream that my ten year old self had, but it was the dream my 16-year-old self had and luckily an experience that my 19-year-old self was able to enjoy.
On a completely unrelated note…

COLLEGE IS HARD

I miss being a big fish in a little pond and not a little fish in an everyone-is–ridiculously-smart-and-hard-working pond (not that my high school was lacking in talent or intelligence, it just wasn't part of an Ivy League University).
"These women are why I wanted to go to the school, why I felt I belonged, but also why I am suddenly freaking out about my abilities for success."
It has taken me a while to figure out why everything isn't just easily coming together for me academically. It used to be that if I applied for a position in a club, some sort of fellowship program, or wanted to volunteer for an organization—well all I had to do was apply and get the job. I had confidence in my skills; I worked hard and I felt as though I simply deserved these things.
I read a book, I understood the book, I took a test on the book, I got an A.
I had the Florida public school grading system figured out by the time I was 10 and knew exactly what to do; everything went according to plan. But after I was accepted into my top choice college, my work ethic began to wane. What do I have to work towards now? What is my goal?
I was hit hard by reality this week when I didn't receive a position that I really wanted and actually worked quite hard to try to get. I just didn't fit the part and while I understand the decision, I'm not used to not being rewarded for my efforts.
Barnard is full of such incredibly hard-working women who not only do well academically, but also often do well socially, have leadership positions, jobs, internships, get regular exercise, eat well, act, dance, sing, and attempt to save the world all while looking really, really good. These women are why I wanted to go to the school, why I felt I belonged, but also why I am suddenly freaking out about my abilities for success.
Later in the week I attended a career fair not knowing what to expect. My resume, I realized once I got there, was a complete mess. It didn't even say that I went to Barnard College and listed only my school address even though I was looking for summer work to do while at home in Florida. I choked on my words when talking to the different representatives. When a Summer Camp head asked me if I had experience, I somehow completely forgot that I'd been a camp counselor before!
I've been complaining for a while now about the seemingly inhuman work ethic of my fellow classmates but have come to realize that I need to quit my whining and start working hard again. What do I want to do with my life? I tend to tell people that I don't know, but in all honesty I'd like to be a mix between David Sedaris, Whitney Houston (pre-crack/Bobby Brown) and Ginger Spice. I'd also like to win some awards, I don't care for what, I just want trophies. Barnard apparently does not offer that major. So I've decided to suck it up, start working hard, learn things, apply for jobs, get my resume intact, and try hard to be less cynical.
It's Like Being Elle Woods, Right?

Unfortunately my cynicism is still a bit of an issue. For example, I convinced myself for an entire week last week that I was going to become a lawyer. I saw that the Columbia Law School has the only Center for Gender and Sexuality Law in the country and decided "well hey, I can do that!"
Then I heard Judith Butler speak at the law school.
While I thoroughly enjoyed the lecture and love me some Judith Butler, I couldn't help but wonder why everyone had to use such large words and ask such overly complicated ten minute long questions. In my mind being a lawyer would be like this: I wake up, put on my powersuit and lipstick, take my name-engraved briefcase to the firm where I'm a partner via shiny car, I walk in, point to the evidence, declare, "that, Mrs. Judge, is why my gender non-conforming client is right and that bad person over there is wrong.wp_postsI then win my case and get paid lots of money.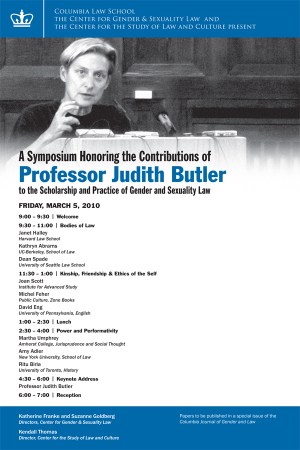 Apparently this is not how law works (I asked my lawyer dad).
So what I've learned in the past 14 days is that there is probably a good chance I won't become a lawyer. But hey, I got to go a traditionally heteronormative school dance with a girl as my date and celebrate Chopin's birthday with one of my favorite pieces to play. I've been hit by reality but I'll make it. Bring it on Barnard/Columbia/World…I'm going to dominate you one Spice Girls song at a time.