QUEER PROM:
Predictably, Constance McMillen has been tormented by her peers at Itawamba Agricultural High School since the 18-year-old high school senior returned to school. Prom was cancelled after Constance requested permission to bring her girlfriend as her date and wear a tux, was denied, and subsequently the ACLU stepped in at which point the school just decided to cancel prom altogether, which is so passive-aggressive and irritating and a fighting technique traditionally employed by immature psycho ex-girlfriends.  (sidenote: props to Constance for already having an outfit picked out, I defo did that shit last minute.)
The teenager said she reluctantly returned to school this week after deciding that prolonging her return would only make things worse.

"My daddy told me that I needed to show them that I'm still proud of who I am," she told The Associated Press.
Sidenote, this is her Daddy. I am pretty sure you don't want to mess with this guy! Also look at Constance's cute girlfriend there all like "peace, y'all!"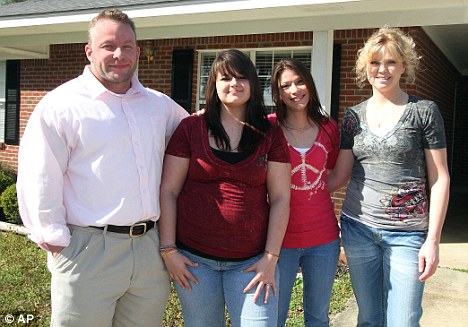 Constance told the press: "It's a small town in Mississippi, and it's run by an older generation with money — most of them are more conservative."
Meanwhile, in New Orleans, restaurant owner Sean Cummings has offered to transport students from Itawamba Agricultural High School in Fulton in buses to the city and host a free prom at one of his properties.
Hey have you seen our queer prom gallery we're creating because we want Constance to be in it? You should check it out… and also, you should submit if you took a same-sex date to prom! Be visible, be cute!
It's real, girls do take girls to prom and it's nothing people should be freaking out about!' Also, the comments are interesting — did every lesbo bring a gay boy to prom? Perhaps.
Over at LezGetReal, fans are calling for Ellen to throw a prom for Constance: "Hey fans of Ellen, there's a school in mississippi that has cancelled prom altogether rather than let a young lesbian student bring her girlfriend to the dance, I say let's all ask Ellen to organize a prom in that town where students can bring whomever they want as their date!"
Constance was on CBS News this morning:
Would you like to contact any of the fine people in charge of this mess? Well, The Stranger has that all for ya — and a lot more. Their coverage of the event has been excellent. [Go tell The Stranger about our queer prom gallery, kids!]
Then shoot an email to these peeps:
Superintendent Teresa McNeece – tmcneece@itawamba.k12.ms.us
Principal Trae Wiygul – twiygul@itawamba.k12.ms.us
School Board Member Eddie Hood – a082315@allstate.com
School Board Member Jackie Nichols – jnichols@itawamba.k12.ms.us
School Board Member Harold Martin – hmartin@itawamba.k12.ms.us
School Board Member Clara Brown – cbrown@network-one.com
School Board Member Tony Wallace –  twallace@nexband.com
60,000 people have joined the facbeook group "Let Constance Take Her Girlfriend To Prom." Be one of them!
SCHOOLING IN TEXAS:
The Texas State Board of Education is having a three-day conference assessing the state's social studies curriculum. Texas is the nation's second largest purchaser of public school textbooks so this decision is important. SO important that somehow they've invited a bunch of evangelical Christians to participate in this monumental decision!
But elsewhere in Texas, Houston's mayor is turning the city into a gay hot-spot.
JOHNNY WEIR:
Stars on Ice doesn't want Johnny Weir on their tour anymore 'cause he's not "family friendly" enough. As we know, that means BECAUSE HE'S GAY. (@phb)
GENDER BENDING IN THE BATHROOM:
Standing Up Like a Man: "This brilliant invention, obviously thought up by a female genius who hates public toilets as much as I do, is basically a piece of surprisingly thin paper rolled up like an ice cream cone. The cones lie flat until you are ready to use them; a mere squeeze opens them up to their full potential." (@salon)
GENDER PROGRESS:
Australia is the first to recognize "non-specified" gender. (@pinknewsuk)
CHAZ BONO:
Anderson Cooper talks to Chaz Bono about the year since his gender transition.