Then: Big-ass dance break!
Except this dance I can't perform in public cause it has these weird moves like this: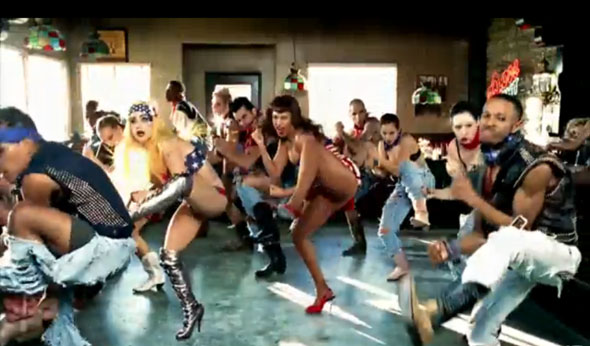 Also I love how patriotic she is.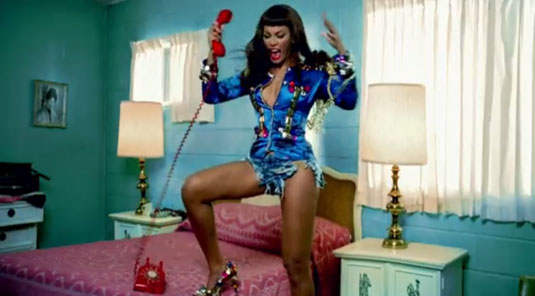 At what point do you think Beyonce was like "what the sweet Jesus is happening"? Her look is very Gothic Sexy Sgt. Pepper in some sort of basement hotel or something, it's like she lives in her parent's basement, but she's also very beautiful and fancy. But it also seems like a hotel, you know?
Then Gaga turns into a cheetah. I think she just bought this outfit recently and was like, I need to find a place to wear these things, and then her safari got cancelled, and here we are: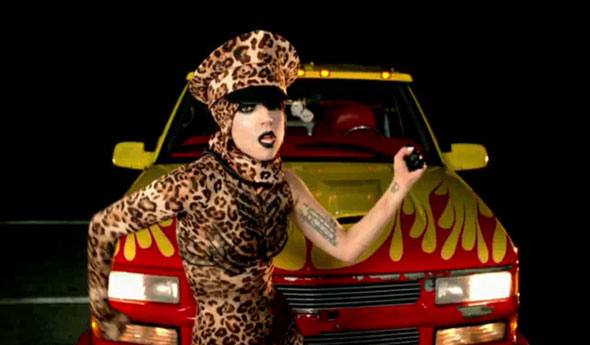 Then Jai Rodriguez (Queer Eye for the Straight Guy) pops up — cameo #3 or #4 I lost count! It looks like he has moved on in life from giving advice in a useless category to reporting news flashes!: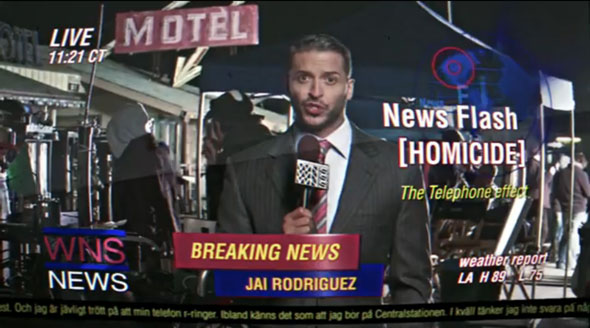 Then this happens. There's some symbolism here, anywhere you look:
The end! Girl Power! Currently the car is still chock-full of girlsex vibes.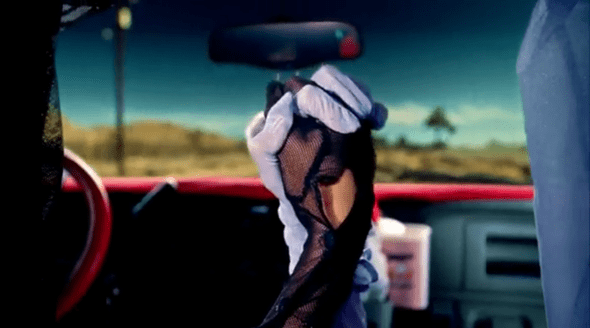 ---
Part Two:
Lady Gaga's "Telephone" Music Video – The Team Weighs In:
+


STEF, CONTRIBUTING WRITER AND GAGA SPECIALIST
"Gaga's made people excited about music videos again, which is no easy feat. Homegirl is changing the game."
So let's say you're Lady Gaga and you have a basically unlimited budget to make a video for a song that's super catchy but kind of ridiculous. If I was in this situation, I'm pretty sure the first thing I would do is call Quentin Tarantino and ask "HOW MUCH FOR THE PUSSY WAGON!??!" God bless you, Gaga.
My list of things I loved about this video begins with the cigarette sunglasses and ends with my brand new secret fantasy to refer to Beyonce as "Honey B." It's enough for me to ignore all the product placement, which was a little much. The best thing of all was observing everyone's giddy anticipation of the video's premiere, followed by a huge round of discussion in every possible Internet medium. Regardless of "Telephone's" reception (heyyyyo!), Gaga's made people excited about music videos again, which is no easy feat. Homegirl is changing the game.

CRYSTAL, MUSIC EDITOR
"one of the best music videos I've ever seen in a long while."
I just spent 9.5 minutes with my jaw firmly secured on the floor. Then another 9.5 because I just had to go back and make sure that everything I saw really happened. I would have loved to have been there the day Gaga called up Beyonce on her telephone and was all, "Hey Beyonce, Honey Bee, B-train, I got this idea… You're gonna put on a limo driver's hat and pick me up from the prison in the Pussy Wagon and then hand feed me some fast food. Then I'm gonna make a sandwich and rock Axl's bandanna and then we're just gonna take out the whole fucking diner. Yeah?"
Before now I've never really gushed over Gaga, but in terms of concept, art and film direction, costumes – this is one of the best music videos I've seen in a long time. And I don't even really like the song. What she's done here has left absolutely no doubt in my mind that Gaga will continue pushing us outside our comfort zone and challenge and change pop music and pop culture as we know it. I'm ready for it.
TAYLOR, TECH EDITOR
"I appreciate the sheer volume of weird shit happening"
Wow! This starts like those MSNBC West Virginia lezbo prison specials I love! CIGARETTE GOGGLES! Those must be like drunk goggles except they make you feel like your heart is gonna explode instead of feeling drunk? Unsure. Now this is Jackie Brown. Whoa, and then this Tarantino thing went to a really weird literal level- Pussy Wagon, Tarantino dialogue…why is this happening? I feel weird and like it doesn't work. I don't particularly like this song but a) I appreciate the sheer volume of weird shit happening/am pleased she kissed a dyke b) I want a baguette phone and c) DID BEYONCE JUST FEED LADY GAGA A CHURRO? <3 CHURROS

KELSEY, VIDEO ASSISTANT
"Like getting Wes Anderson to direct Thong Song"
I really like the video – stylistic, etc, but I still don't think that it goes all that well with the particular song. It's like trying to get Wes Anderson to direct the music video to Sisqo's "Thong Song." Actually, after watching the video for Thong Song, I'm pretty impressed. See: Thong Song.
What's awesome about Gaga's videos is that they really set the bar so much higher for musicians. That's something that I really appreciate. That, and the fact that she took a simple "club" song, and turned it on its head, making everyone rethink their fav jam. Now I can't help but think of that really butch hottie whenever I hear this song. It's like she made it JUST for the gays. Smart.

ROBIN, PHOTOBLOGGER
"I feel like I'm high, but I'm not"
1.  That was the dyke-iest thing I've ever seen.  So obvs, super hot.
2.  Best styling I've ever seen in a video, ever.  A+ Haus of Gaga.
3.  I've never seen so much product placement in one video before.
4.  I feel like I'm high, and I'm not.

KATRINA, EDITORIAL ASSISTANT
"Gaga escaped the Russian mafia with their toxic vodka and sexy potato sack dresses."
First impression: IS THAT A SUNGLASS OF CIGARETTES?
Simultaneous first impression: Everyone in Gaga's videos is so HOT.
Second impression: Toxic + Gwen Stefani + something seizure-inducing.
Conclusion:
The Fame = the masses murder the pop star
The Fame Monster = the pop star strikes back
This follows the trajectory laid out by the Paparazzi video. First Gaga is destroyed by the public that loved her. She 'dies,' dances in a wheelchair, makes out with some twins, and is then resurrected, her sins forgiven by the adoring public. All is well, we assume. The score is settled with Gaga. But something is different: SHE'S A FREE BITCH, BABY, and now that she's escaped the Russian mafia and their toxic vodka and sexy potato sack dresses, she's out to exact her revenge. Oh, and Beyonce is there to remind you that Gaga ain't the only fierce bitch in town. Holla!
Double conclusion: THE DRESS OF GUNS IS REAL

RIESE, EDITOR-IN-CHIEF
"She keeps re-imagining the same words in new contexts."
I continue to appreciate how Gaga keeps performing her songs in different contexts, sometimes even changing words in her live performances. She keeps re-inventing the same simple words over and over. There's always new angles for her, which indicates a kind of genuine artistic integrity. Furthermore I appreciate her decision to make out with a butch jailyard hottie.
Beyonce was so Foxy Cleopatra in this thing! I think her part was perfect, although I also wondered if when she got the script, she was like "what the hell?"
I could actually handle the product placement because I thought omg, that's happening and it's gonna be on the TV, this dyke makeout! Okay okay Virgin Phone I'll buy you, but also at the same time was like really gaga, really? But also, artists need to make money so that's okay, even though she is a superstar.
But also: can you believe all these products that allowed themselves promoted in such taboo contexts? A prison guard using a dating site, escaped murderers using a Polaroid camera, a dyke makeout interrupted by a Virgin cellphone? I bet Focus on the Family will have a lot of feelings about this.
COREY, MUSIC BLOGGER
"Awe."
Shock. Awe. A lot of drooling. You can see the obvious Tarantino influences. Reminds me a lot of Grindhouse.

DJ CARLYTRON
"Fucking Brilliant."
Oh my god you guys. That was the craziest fucking thing i've ever seen: Kill Bill meets The Paparazzi Video meets 800 product placements meets Beyonce meets Thelma & Louise meets dyke porn… I think?
Lady Gaga keeps turning pop culture on its head. It was fucking brilliant. Gaga goes to jail for the events that transpired in the "Paparazzi" video, and while she's waiting for Beyonce to spring her from the big house, she engages in lesbo porn. Then some Kill Bill shit happens — complete with the The Pussy Wagon!! — and after killing everyone in site (including tyrese!) they drive off, Thelma and Louise style!
The web version isn't gonna air on TV, which will be sad 'cause it'll be less exciting if not wholly displayed. Either way… it's fucking wild.
this video was brought to you by polaroid, monster beats, wonder bread (??) and the HAUS OF MF-ING GAGA.

EMILY, MUSIC BLOGGER
"LET'S MAKE A SANDWICH"
OMG WHAT EVEN
THIS IS THE GREATEST
1) CIGARETTE GLASSES
2) GIRL-ON-GIRL MAKEOUT
3) "I TOLD YOU SHE DIDN'T HAVE A DICK"
4) ONCE YOU KILL A COW, YOU GOTTA MAKE A BURGER
5) LET'S MAKE A SANDWICH
6) PUSSY WAGON
7) TO BE CONTINUED
BEST 9 AND A HALF MINUTES EVER
---
+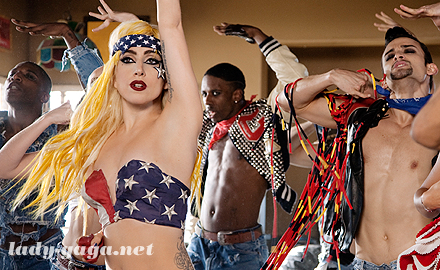 And you? What did you think? Here's what the press release said we should say:
Helmed by famed music video director Jonas Akerlund and rich with Gaga's unique dance stylings, iconic costume and unworldly hair and make-up, this gritty, erotic nine-minute video is a true cinematic masterpiece. The video for "Bad Romance" has racked up more than 140 million online views and the epic eye candy of "Telephone" is sure to follow suit!
"Telephone" is Gaga's latest gift to the digital universe, so post it, review it, discuss it!
Pages: 1 2See entire article on one page