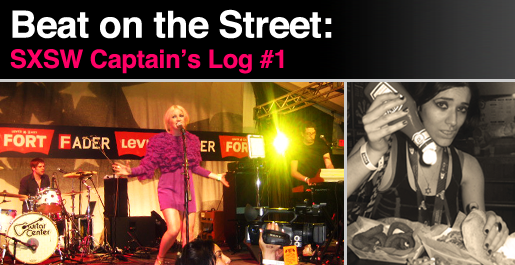 Hey guys!  I am writing to you from sunny Austin, Texas.  Finally. I don't really want to start this post off with negativity, but it took me about twelve hours to get here – including a six-hour unintentional layover in North Carolina that has led to my travel companion being stuck in NC for TWENTY FOUR HOURS.
But I'm here now!  And I believe that both Kirsten and my luggage will probably arrive sometime within the next day or so!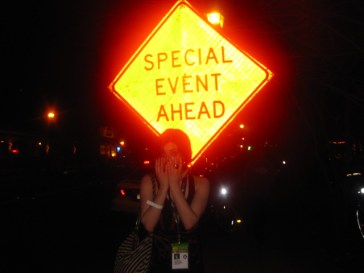 Our hotel's really nice, with a pretty kick-ass view of the festivities: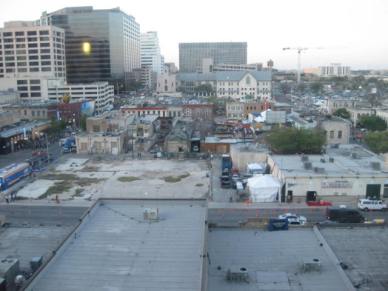 ++
I'd wanted to arrive in time to see Normandie and a Jarvis Cocker seminar, but the unexpected Greensboro and Charlotte layover caused me to miss both! However, I did read the Wikipedia entry on Greensboro while I was there; did you know Cat Power lived there once?  And um, Dolley Madison, the wife of former president James Madison?
Little Boots in Serious Heels
After I'd arrived and I'd gotten myself sorted, it was off to Austin to see the sights! Our first stop was the Levi's/Fader fort, a gigantic makeshift stage/store/open SoCo-and-beer bar with music that hangs from trees.
We were there to see Little Boots, a precious little human being named Victoria Hesketh who writes intelligent dance music with an insane little Lite Brite-esque table synth called a tenori-on.  Little Boots has received major hype without putting out an album, mostly for the ubiquitous, Kylie Minogue-style infectious song "Stuck on Repeat."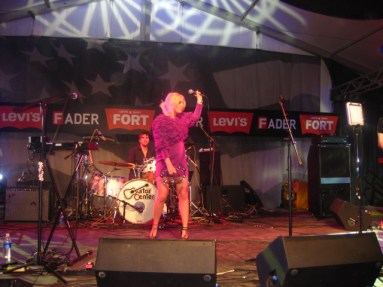 It was probable that this sort of music could be disappointing live, but this show actually beat expectations and blew me away.  Little Boots was great, although I was fixated on wondering how difficult it must have been to dance in the serious heels she was wearing … In any event, the dance party was SICK.
Please excuse my photos, as I am still learning how to best use my camera settings for live photography.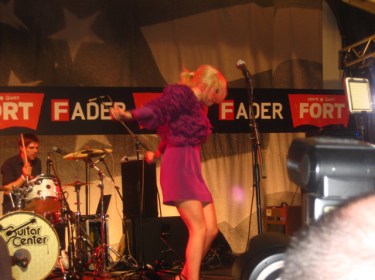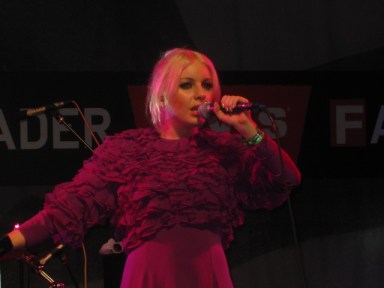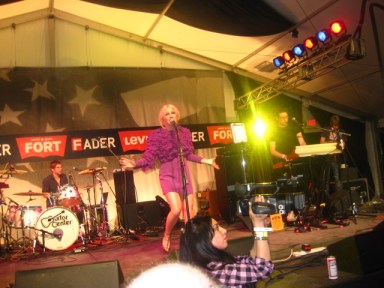 Weirdo Dance Party
Then Sara and I went to Ms Bea's Yard for the Todd P party, which is basically a bunch of weirdos listening to bands play in various spots on a patio.  We saw the Pains of Being Pure at Heart, who I like a lot despite their band name – they remind me of the Smiths without the Morrissey factor, if you can picture that.  Their singer is so sweet and sincere it almost hurts, and I wish I was 15 so I could listen to their songs and cry in my room, cos my room when I was 15 was better sound-proofed than my room now.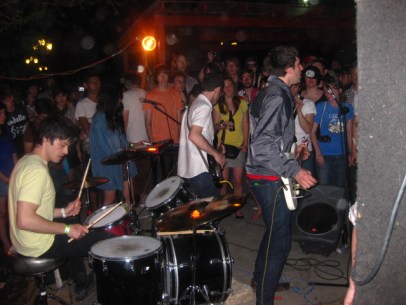 Oh, Sara says she found a band called The Box Elders who are really awesome – Sara says they sound like The Ramones but better, which is dubious, and she was drunk when she told me that.  Anyway, we ran into the Box Elders in a parking lot and they said they're playing the cake shop in NYC soon.  This guy in the band was wearing a coat made out of that silver flame-retardant stuff that firemen wear.
Then a band called Telepathe played… I think I saw The Blow open for them about two years ago, which makes sense because they sound a lot like The Blow.  We didn't stay long because it was really loud and I'll be honest, I was starving.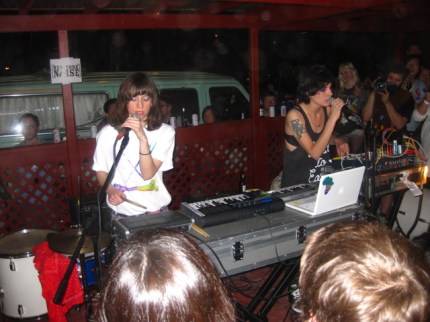 Know what they have in Texas? HALF POUND HOT DOGS.
++
A Happy Accident
Anyway, we wandered for a while until we happened upon Those Darlins playing at Club DeVille – a happy accident, cos I'd been meaning to see them play for a while.  They're a three-girl, one-dude country rock band from Murfreesboro, TN, and they sing amazing classic country songs about DUIs and the men who break their mama's heart.  Adorable.
That place was my favorite because they had whiskey.
The One Where I Went to An Horse For You
Anyway!  After that we wanted to go see School of Seven Bells but there was a line around the block and they were only letting people in when people left, so we gave up and I went to go see An Horse at Maggie Mae's rooftop.  I heard some of you guys like An Horse, right?  I do not understand their name and never will.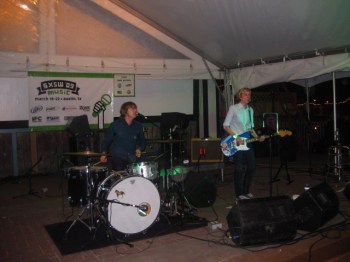 Yeah.  That happened.
Hesta
Anyway, I was there to see Hesta Prynn of Northern State performing her solo stuff!  And then she was there!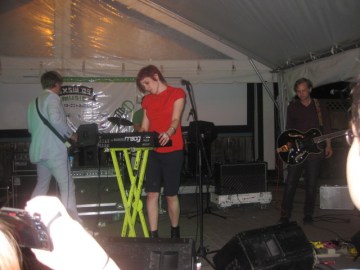 If you're a Northern State fan, you'll probably be only partially surprised by the rock direction Prynn's solo project has taken – it sounds a lot like the less-hip-hop songs off the last Northern State album, really.. I'll have more on this subject soon as I'm taking off to interview Hesta in about two hours.
More forthcoming – today I'm actually here in the daytime, so I should have about six times as much to report …

… and six times as much to drink.