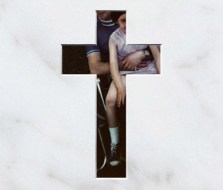 JUDGE NOT LEST YE BE JUDGED:
Those guys that are super-concerned about gays ruining the institution of marriage have been very busy abusing children and protecting abusers from prosecution! Some are asking if the Pope ought to resign in light of a recent scandal showing that while Archbishop of a German Diocese, the current Pope presided over and therefore enabled a known child sex abuser known as "Father H." Pope Benedict is supposed to deliver a pastoral letter on the sex abuse scandals either tomorrow or Saturday.
Furthermore, reports The Daily Beast, "in the last several weeks, parishioners from the Netherlands, Austria, Switzerland and the pope's home country of Germany have come forward by the hundreds to report alleged abuse." Over $1 billion has been paid to victims of abuse in the U.S., and Dioceses in Ireland have already earmarked over $1 billion for the victims of its clergy. Velvetpark has a look at recent church abuse scandals, also citing the study which determined that between 1950 and 2002, 10,667 people made allegations of child sexual abuse within the church.
In Ireland, the people have asked Cardinal Sean Brady to resign in light of new evidence that Brady participated in a massive cover-up for child sex abusers, including presiding over an oath of silence signed by two victims of Father Brendan Smyth, ages 10 and 14, in 1975. Brady then enabled Smyth to move around to other dioceses and counties for the next 20 years where he continued to abuse children before he was eventually incarcerated in 1994. He died in prison in '98. Brady says he won't resign unless the pope asks him to.
Isn't that so weird? Because just this week, the church not only has prevented a child of a lesbian couple from attending pre-school but they've also enabled a Catholic adoption agency to prohibit adoption of kids by gay parents. UK Gay News reports: "The Lesbian and Gay Christian Movement has condemned today's decision in the High Court to allow Catholic Care's appeal for an exemption from the sexual orientation regulations."
THIS HAS BEEN HAPPENING FOREVER. You should all see Deliver Us From Evil, where a man who literally raped BABIES was protected by church leadership and we believe is still roaming free, talking to cameras in public parks about being attracted to children:
Here, Jon Stewart takes on the hypocrisy of a church that can't handle children of lesbian parents in pre-school, but sure does protect its sexually abusive clergy.
Why does this matter to us? Because all this cover-up and sexual abuse is so ridiculously hypocritical, you can almost hear your future grandchild's jaw drop to the floor in disbelief when you tell them of a time when this shit was just allowed to go on, and no one said anything loud enough to change it.
Check out Bishop Accountability dot org for more info.
Also, GOOD Magazine has an awesome map of where different kinds of Christianity dominate within the United States.
RACE:
"It seems that it sucks to be a black woman these days. Or at least that is what the media wants us to believe." In It Must Suck to be a Black Woman, Clarissa H. Matthews takes on Precious/Good Hair and the pity party she feels is being thrown by the media for black women. She points out contradictory research and questions who is being polled for many recent news stories about black women, anyhow.
[Mainstream America] care[s] so much [about the welfare of black women] that they are peeking into our bedrooms with pity. Black women have been complaining about a lack of mates since we first saw this continent, but now that producers of nightly news shows have discovered our suffering they need to help. On one show, producers scoured the nation to find a location with the most attractive black women they could find with the sorriest love stories they could tell — Atlanta. Then to help them out, they put them in a room and asked Steve Harvey to give them advice.
That's thoughtful, but who puts a bunch of desperate women who want a hot man in a room with Steve Harvey?
Only someone who wants to see a black woman suffer.
Her conclusion, about the strength and success of black women that is being ignored in favor of frightening, pessimistic stories ('news creators… just do not want to see First Lady Michelle Obama, at almost six feet tall, married, educated, rich and I assume STD-free.') and the nuance behind the headlines, is fantastic. Read it. (@clutch magazine)
TWITTER:
Jezebel examines an article that postulates that Twitter is inherently feminine due to the "dear diary" nature of the medium. (@jezebel)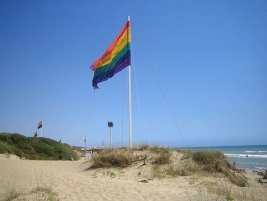 LGBT CENTER IN LONG BEACH, NEW YORK:
A new LGBT Center in Long Beach, New York is getting off the ground and looking to spread the word. The first meeting will take place next Wednesday, March 24. Visit the Facebook event page for details.
DINAH SHORE:
With two major events gearing up for their biggest year ever at Dinah Shore, it can get a little confusing! (That's why Alex made us this handy Guide to Dinah Shore!) Heather Cassell has the scoop on Girlbar and Club Skirts Palm Spring plans and history in Women Gear Up for Dinah. (@bay area reporter)
CLINICAL TRIALS:
Some clinical trials explicitly exclude gay & lesbian patients, particularly studies about sex & sexual dysfunction. So that's why they never found a cure for lesbian bed death? HAHAHAHAHAH JKJK, this is very serious business. (@physorg)
STUDENTS ARE WISE:
Students are very bright because they all know that gay marriage is coming, it's just a matter of when. (@chronicle of higher ed)
TUMBLR:
"As in the zine world, activists and weirdos alike thrive in their Tumblr microcommunities, posting photos of signs that read "Feminism Is for Loverswp_postsor collages of child stars." (@thinkprogress)
GAY GIRLFRIENDS:
A man has written into Nerve's Miss Information advice column suspecting that his girlfriend is gay . (@nerve)

LESBIAN PROM PHOTO GALLERY:
Did you take your girlfriend to prom? Help us reach our goal of 100 queer prom/dance photos and send us pics!