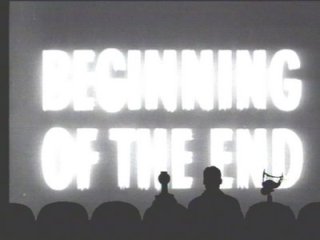 by riese & alex
So, A;ex and I [Riese] have spent two weeks watching documentaries about religion (most of them also include issues addressing sexuality) and have officially determined that if indeed the apocalypse is nigh, it is SO not our fault.
Here's why: They've got priests, protected by the Roman Catholic Church, sexually abusing infants. They've got the church all up in our laws, preventing the living spouses of 9-11 victims and police officers shot in the line of duty from collecting their partner's pension. They've got evangelicals collecting luxury cars because Jesus apparently wasn't serious about that humility thing. They've got amusement parks recreating the crucifixion hourly. They've got a massively influential religion built on a story about a talking snake, an evil apple and a woman impregnated by a holy ghost. They've got a young Jewish boy told to cure himself of homosexual urges by snapping a rubber-band against his wrist every time he has an impure thought. In short, they've got some really fucked up shit happening in God's name.
We're now fully prepared to not just suspect religion's sinister influence on civilization but to yell at everyone about it, WITH EVIDENCE.
When A;ex wasn't yelling at me for still believing in G-d [I swear the concept of G-d doesn't have to be as weird as these religious fanatics say it is!!], we learned a lot of stuff.
So here's how this is gonna go. We're gonna tell you what each movie said about why religion has problems as well as their issues with various facts & stories from religion's Holy Books. Also, we'll share the most fucked up OMFG moments and … oh yeah! George W. Bush makes A LOT OF CAMEOS. Be prepared.

Directed by Daniel G. Karslake

Through the experiences of five very normal, very Christian, very American families — including those of former House Majority Leader Richard Gephardt and Episcopal Bishop Gene Robinson — we discover how insightful people of faith handle the realization of having a gay child. Informed by such respected voices as Bishop Desmond Tutu, Harvard's Peter Gomes, Orthodox Rabbi Steve Greenberg and Reverend Jimmy Creech, FOR THE BIBLE TELLS ME SO offers healing, clarity and understanding to anyone caught in the crosshairs of scripture and sexual identity.
The problem with Christianity is: Misreading the Bible fucks families up real bad. The consequences range from children being ostracized from their families to children feeling so alienated & miserable about their situation that they kill themselves.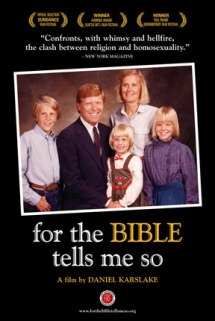 Footnoting & Fact Checking The Bible: Using the bible to justify hatred and bigotry isn't a new technique; the Bible's been employed for the subjugation and subordination of various minorities (black people, women, etc) since forever!
"Literalists" (who are always capitalists) aren't paying attention to what the bible says, just how it reads.
"Abominations" (a term which doesn't refer to innately immoral acts but rather to ritual requirements) don't just include "a man lying with another man as with a woman," but also:
-Eating shrimp or rabbits
– Planting two different seeds in the same hole (haha!)
-Wearing linen & wool together (howevs navy blue & black is a-ok)

-Ejaculating onto the ground rather than inside of a woman (spitting or swallowing is not covered as far as we know).

The Bible was written at a time when procreation was the goal and therefore partnerships that don't make babies violated cultural norms. Now we have too many people so probs gays should take over before we run out of oil & wheat & water & stuff.
OMFG MOMENT: Mary Lou Wallner, who rejected her lesbian daughter who eventually killed herself because of this rejection, tells activists, "My daughter is dead because of the untruth I was taught by the church."
George Fucking W Cameo: "Marriage cannot be severed from it's cultural, religious and natural roots."
Hope! It's encouraging that all but one family eventually turns around, even politician Richard Gephardt!
A;ex says: These parents admit that they just didn't know that much about homosexuality, and couldn't separate that concept from the act of sex itself. As I watch and hear the parents' reaction to their kids coming out, the solution seems like such a simple answer to me: education. The older generation, the parents in this case, are so uneducated on homosexuality. The 100% basic problem at the bottom of all of this is ignorance and misunderstanding. There are so so SO many misconceptions and not enough emphasis on the history of homosexuality and the SCIENCE behind it. A lack of education & knowledge produces this fear & hate.
On a scale of 1 to 10: Show this one to your parents (A;ex: "I did! And they liked it!") It has a pretty uplifting ending we promise!
Preview for "For the Bible Tells Me So":
"The Bible is the word of God through the word of human beings, speaking in the idiom of their time, and the richness of the Bible comes from the fact that we don't take it as literally so that it was dictated by God."
-Desmond Tutu

Written and directed by Amy Berg
Deliver Us From Evil is the story of Father Oliver O'Grady, the most notorious pedophile in the history of the modern Catholic Church. Completely lacking in moral fiber and devoid of any sense of shame or guilt, O'Grady used his charm and authority to violate dozens of faithful Catholic families across Northern California for more than two decades. Despite early warning signs and complaints from several parishes, the Church, in an elaborate shell game designed to avoid liability and deflect criticism, lied to parishioners and local law enforcement, while continuing to move O'Grady from parish to parish.
The Problem with the Roman Catholic Church is: So imagine you're a dude who likes little kids, and you know that's evil 'cause it IS evil. Then you find out about this cool job where not only can you become INSTANTLY HOLY and well-respected by large groups of sheep people, but ALSO you're required to take a vow of eternal celibacy. That's right, not only do you get out of marrying an adult woman (and thus having to bang her/spread the seed), but this way perhaps Jesus will help you to suppress your unnatural urges!
Yeah well … he won't. But should you begin molesting children, your fellow clergymen will do their very best to suppress that information! The jury's out on if God is real or not, but … desire and testosterone? That shit is real. And if you keep it inside, it can emerge in really insidious ways.
See, the church has this uncanny knack for hiring & subsequently fostering the development of child molesters. In turn, these anointed molesters will ruin children's lives, destroy families, and — ironically — inspire atheism, moreso than faithfulness, amongst their parishioners.
Footnoting & Fact-Checking the Bible: Mandatory celibacy wasn't Jesus's idea. It was added to the books in the 4th century to ensure Churches got to keep their clergy's money rather than seeing it passed on to sons & daughters.
Mandatory celibacy wasn't Jesus's idea. It was added to the books in the 4th century to ensure Churches got to keep their clergy's money rather than seeing it passed on to sons & daughters.
OMFG MOMENT: Father O'Grady raped boys and girls including a NINE-MONTH OLD INFANT. Both O'Grady's testimony and taped interviews with the Bishop show that the church was aware of O'Grady's crimes and despite this he was just made pastor of another parish. Rather than persecute him, they just moved him to another church where he'd commit the same crime over and over and over. He's still on the fucking loose, y'all.
George Fucking W Cameo: Pope Benedict XVI was accused of conspiracy to cover up sexual abuse in the United States. At the Vatican's request, President George W. Bush granted the pope immunity from prosecution.
FYI: Over 100,000 victims of clergy sexual abuse have come forward in the United States alone. Experts say more than 80 percent of sexual abuse victims never report their abuse. 10% of graduates of St. John's Seminary, who provide most of the priests on the West Coast, are pedophiles. Since 1950, sexual abuse has cost the US Catholic Church over one billion dollars in legal settlements and expenses (not including the Los Angeles settlement).
On a scale of 1 to 10: Monumentally disturbing. Father O'Grady speaks unapologetically to the camera while his victims cry about lives lost. A well-deserved Oscar winner.

Directed by Jim de Seve

When Mickie's wife of thirteen years, police officer Lois Marrero, is killed, Mickie is honored as her surviving spouse but denied all pension benefits.When Sam, an Oklahoma rancher, loses his beloved husband of 22 years, long-estranged cousins of his late spouse try to lay claim to everything Sam has. As Mickie and Sam's lives are put on trial, they are forced to confront the tragic reality that in the eyes of the law their marriages mean nothing. From an historical trip to the Middle Ages, to gay hippies storming the Manhattan marriage bureau in 1971, Tying the Knot digs deeply into the past and present to uncover the meaning of civil marriage in America today.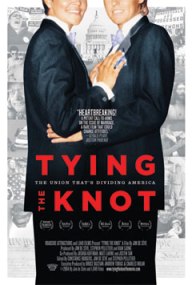 The problem with Christianity is: In clear violation of the separation of church and state, our country's marriage laws are based on Christian values. These regulations have serious, life-destroying effects on gay people, particularly when a partner dies and — in what seems to us like a SUPER CLEAR VIOLATION OF JESUS'S FEELINGS ABOUT GREED — simply because they can, family members wrestle inheritance away from their deceased relative's life partner. Yeah that's right, we said "life partner."
Footnoting & Fact-Checking the Bible: Marriage has changed many times to reflect society's new values and has constantly been a political battleground, constantly shifting to fit each era, economy, culture and class. It had no religious significance even in the Catholic Church until the Middle Ages and wasn't declared a sacrament until 1215.
OMFG Moment:
James Dobson: "I don't believe that homosexuals really want to marry. I think they want to destroy marriage and re-create it according to their own interpretation to get all the benefits but without the commitment that means so much to children."
Larry King: "If they wanna destroy it, why do they wanna be married?"
George Fucking W Cameo: "Our nation must defend the sanctity of marriage."
A;ex says: We used to have a law banning contraceptives… just FYI.
You can watch the full movie of Tying the Knot on Logo Online.

NEXT: Religulous and Trembling Before G-d …
Pages: 1 2See entire article on one page