CAT CORA & ELLEN DEGENERES & CONSTANCE MCMILLAN:
Cat Cora & Ellen DeGeneres are the latest celebs to speak out in support of Constance McMillan. Ellen will be having Constance on her show on Friday and and Cat Cora told the press:
"I was that girl from Mississippi one time," the Wingfield High School graduate (Chef Cora) said. "I hate seeing things that reinforce negative attitudes about Mississippi like this." Cora was in Washington last week cooking dinner for President Obama and the Greek prime minister. She said she would like to make a personal appearance at the prom. "This is the 21st century. This is a time for us to unite and support each other," she said. "This isn't just for (McMillen's) civil rights. This is for all Americans' civil rights, whether they know it or not."
Ellen DeGeneres announced on Twitter: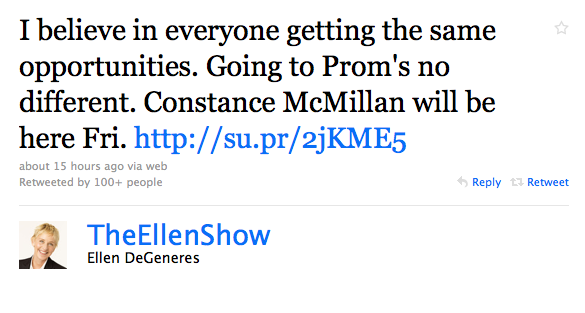 THE REAL L WORD:
Buckle up for this (potential) train wreck: The Real L Word is set to debut on Showtime on Sunday, June 20 at 10 p.m. (@latimes)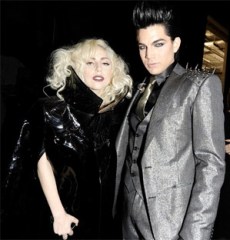 GLAMBERT & GAGA:
Clearly it's too good/strange to be true, which is why everyone is doubting the recent announcement made by Entrepreneur Luke Loy that Adam Lambert & Lady Gaga will be performing together at a launch party for his new product line, Leias Hair Care, in Jefferson City, West Virginia, on April 24th.
Loy, who sounds in his quotes like a delusional idiot, says he was able to book Gaga & Lambert through J&L Entertainment and Tri-State Promotions and that they have booked thet park for a week to set up "sound" and "lighting." The local paper has been unable to get confirmation from Gaga or Glambert's people, and says that Loy has refused to publish proof (such as contracts) because there are bank routing numbers on the papers. And "blur" and "whiteout" and "masking tape" have not been invented yet apparently.
However, Gaga is not scheduled to perform anywhere else on April 24th as far as we can tell, so who knows?
The town's parks & rec department website is written almost completely in Comic Sans and Papyrus and the haircare site where tickets will allegedly be sold currently sports a "mountain range" header.
ETA: According to commenter Quinn, Glambert is already scheduled to perform in London on April 24th. HMMMM.
Also speaking of Gaga; check out 'Telephone' Director Takes It Frame By Frame.
LESBIAN SCI-FI:
Twenty years ago the choice to have a lesbian lead would've been greatly deliberated. Not anymore. For director Clay Liford, it wasn't a choice made in the writing room, but during casting — unable to find the right man for the lead role in his sci-fi film Earthling; he cast a woman, swapped the sexuality of the other romantic lead and went boldly onwards. (Interesting 'cause The L Word's original name was Earthlings) Sounds like a fun movie! (@queerty)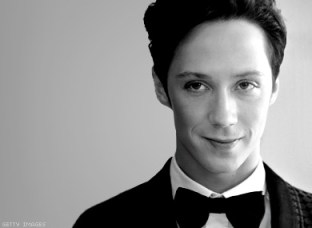 JOHNNY WEIR:
In a new Advocate piece titled The Trouble With Johnny Weir, writer Andrew Harmon details his repeated failed attempts at getting an interview with Johnny Weir despite getting quite a few text messages and examines his life & career:
"There are many people who see Weir as a hangnail to be picked at and ripped off. Their reasoning isn't easily teased apart: Weir's diva sensibility and annoying coyness about his sexuality are matched only by his exquisite narcissism. I'm continually impressed by how he infuriates detractors — gay or straight, skating fan or foe — on so many levels, though my current frustration with him doesn't quite match their rage." (@advocate)
TINA FEY: Tina Fey's Night Out with Esquire: "I got an e-mail [from Esquire] with a list of the potential setups, and my e-mail back was like, Well, I need to decline being handcuffed to a bed. I won't straddle anyone. I won't make out with a cop. There are certain things, I totally get them as a premise. And they're all good fun, and if I were a young single model, they would be appropriate, but, you know, I'm a mom. And my kid's going to find this someday. I don't want to be handcuffed to a bed in Esquire. What are you nuts? I'm not going to make out with a cop that I'm handcuffed to. I got to get my kid into kindergarten." (@esquire)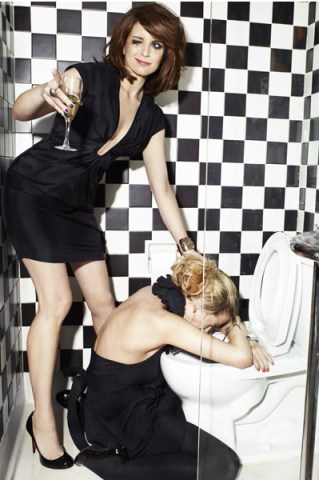 JULIANNE MOORE / AMANDA SEYFRIED:
In gay-for-pay news, Julianne Moore and Amanda Seyfried talk about their sex scene in the upcoming film Chloe.
Seyfried says: "The risk factor came with the fact that the nudity could potentially create some damage with my American audience," she said. "I had to do it. It was clearly the riskier choice but I think the better choice." Seyfried says she's glad she took the risk, calling it her most memorable moment on set. "The love scene," she said. "I'll never forget that."   (@monstersandcritics)
JENNIFER COOLIDGE:
In preparation for her Dinah Shore debut, Jennifer Coolidge talks bonding with Jane Lynch while playing a couple in Best In Show:
"It sort of did feel like we were lovers when we got to the kissing scene because we were hanging out all the time. We had this great night in Vancouver where we went to this restaurant and a taxi dropped us off and it was in the middle of this rainstorm and we couldn't get a taxi to get back. Jane and I had — literally it was like a monsoon — and we had to walk back over this scary bridge and I feel like we really bonded in that moment trying to make it over this bridge with lightning bolts coming at us left and right. It did feel like she was my lover." (@shewired)
GLAAD:
Check out Joy Behar's acceptance speech from the GLAAD Awards where she was honored this past weekend for her exposure of gay and lesbian issues on her HLN talk show. This one is pretty good for her digs at Barbara Walters, Eric Massa, Sarah Palin, and John McCain. Joy also gives credit for her success to the gay clubs in the West Village.
ELLEN VON UNWERTH:
Wanna see some sexy girls acting homoerotically in a field? Ellen Von Unwerth wants that for you, too, in the video she directed for Kenneth Bager's "Fragment One – And I Kept Hearing":
ELLEN & PORTIA:
Portia is happy she's not an American Idol judge. "If I was up there, looking into the eyes of those young kids, I would probably be a pushover. I would be like a water-downed version of Paula [Abdul]. All I would be doing is applauding and telling them that they were magnificent all of the time." @people)
HRC GALA:
Bridget McManus interviews celebs on the red carpet at the HRC gala honoring Portia de Rossi and Kathy Griffin. Bridget snags interviews with Kathy G, Mike Manning (Real World: DC), Michelle Clunie (Queer as Folk), Meredith Baxter and comedian Suzanne Westenhoefer. (@afterellen)
ANTM: fourfour recaps America's Next Top Model: "Even though Fiercebook makes so much more sense as a pun and concept, MyFierce is awesome because there is no better way to announce that you are over than to align yourself with MySpace in 2010."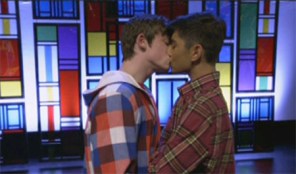 UGLY BETTY: This week's episode of Ugly Betty features Betty's nephew, Justin's first kiss with a boy! Initially unsure about the kiss at first, Justin overhears his mother Hilda giving some relatable advice to his aunt Betty about being happy with who you are and coming up with a "whole new story for yourself." Awwww.
TEEVEE: Don't forget to check out Scribegrrl's recap of We Like to Watch: Television 2010 – What's Happened So Far. (@autostraddle)
KATHY GRIFFIN:
Kathy Griffin is in Washington D.C. today with HRC to speak at a rally at Freedom Plaza in a grassroots effort to repeal Don't Ask, Don't Tell. (@eonline)
Also, check out our review of Alice in Wonderland — Katrina & her girlfriend Lauren go to the movies and have deep thoughts about the feminist merits of the new film.