Hey everyone – STOP HATING ON ALICE IN WONDERLAND!
I'm sorry, the use of all caps is a little harsh, I know, but I feel like I should be screaming it. Despite complaints of a weak plot masked by overdone graphics, the highlights of this movie far outweigh the lulls: it's not the typical Tim Burton double overdose (Wtf, Corpse Bride?), the casting was stellar, and Burton's re-imagining of Lewis Carroll's original characters made for an entirely new dynamic.
Oh, and of course, it was super feminist.
My girlfriend Lauren will be tag-teaming me on this review.
LAUREN: As far as the negatives go, I'll admit the plotline was a little trite – Oh no, Alice! Wonderland is not as you left it! In fact, you must save us all! I mean, we unfortunately already saw that weird sequel to The Lion, the Witch, and the Wardrobe. Silver lining: this one totally wasn't secretly about Jesus! Er, Aslan. But considering that Wonderland is already a rehashing of an established story, Burton and Woolverton and didn't do too poorly. (The movie's plot was based on an inspired interpretation of the Jabberwocky poem, found in "Through the Looking Glass.")
Alice in Wonderland, in fact, does much better, it provides relevant (albeit at times hyperbolic) social commentary about oppressive government and the necessary banding together of the community around the hero….ine.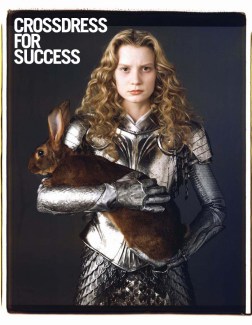 Not to mention how hot it was watching a female knight in shining armor slaying the big bad dragon.
KATRINA: The writing started out a bit weak, and Alice's rebellious nature seemed a bit contrived. The script was littered with a ton of nudges to the ribs, and I just felt like Linda Woolverton was sitting next to me in the theater being like "Eh, get it? She's not cut out for marriage to this ginger guy with indigestion? See what I did there? How she doesn't have a proper outlet for her unconventional ideas?" And to that I was like, "Shh, Linda Woolverton, can't you see I'm on a date?"
The whole thing turned around though, upon the arrival of the cranially endowed Red Queen, as portrayed by the irresistibly quirky Helena Bonham Carter. The depth added to her character more than compensated for any lack of original storyline. When it comes to the plot, why mess with perfection? In this case it's better instead to add a new dimension to what already exists. And that's exactly what this writing of the Red Queen does. Not only does Bonham Carter add an extremely human element to the the Red Queen, she applies an extremely female interpretation of a generally ambiguous character.
I mean, she's evil, but she's not just evil. I read the story to be that she's just a big-headed woman in a regularly-sized headed society, insecure about her physical imperfections. Sure she's got the power and the Jaberwocky and that guy with the heart-shaped eye patch who's probably currently being cast for Lady Gaga's next video. But more than that, she knows that, as a woman, society judges her value largely on her appearance, and she is motivated primarily by jealousy of her sister, which is appropriate, because Anne Hathaway is just lovely.
LAUREN: Here's my 1st TimBurtonwtf wondering: why the hell is Anne Hathaway always caught right in the middle of the "Bad Romance" pose?
KATRINA: Dude, yeah, did Anne Hathaway just get really tired filming this movie?
LAUREN: Don't call me dude.
KATRINA: Baby, did Anne Hathaway just get really tired filming this movie? Her character was totally a pleasure. She was largely without flaw (if not also without depth), except for the fact that her arms insisted on retaining that weird always-bent-at-the-elbows-limp-wrist pose. It was charming at first, but then it evolved into a little awkward, and it just seemed like a strange directorial call that didn't really contribute to the character at all.
LAUREN: Nonetheless, Hathaway remains the charming, talented eye candy she always has been.
KATRINA: Also, I don't know if I've been watching the "Telephone" video too much, but I could have gone for some lesbian undertones between Anne Hathaway and Mia Wasikowska.
LAUREN: You're too gay.
KATRINA: I know.
LAUREN: So, I'm gonna let it slide that the plot line is a little less than original, 'cause I think it's pretty important to portray things like feminism, opposition to oppressive forms of governing, and exposing the "crazy" revolutionaries for what they truly are: free thinkers in an autocratic society.
KATRINA: Yeah I think that was a great calling out of the progressive culture from Burton. An entire society is being oppressed, and the few who realize it have become so disenchanted by the absence of their leader that they have become immobilized. And more than that, they are rendered mad.
Depp's Mad Hatter is the disillusioned revolutionary, nursing a dormant flame while simultaneously longing for the use of his trade. The March Hare reflects our own views on the 'radicals' of this society, characterizing them as stone-throwers who smash windows, arbitrary of cause. And while this may be true of the March Hare, one must admit that, even though his tactics seem unprovoked and reckless, there is a truth in what he is saying.
In response to the idea that the trio is basically all on drugs (and the Hatter in some sort of opiate-induced dementia); yes, although I feel like most people I know who share an intimate relationship with drugs are the most interesting & intelligent but also the most irreconcilably frustrated people that I encounter. As Alice's father says, all the best people are mad (and flawed).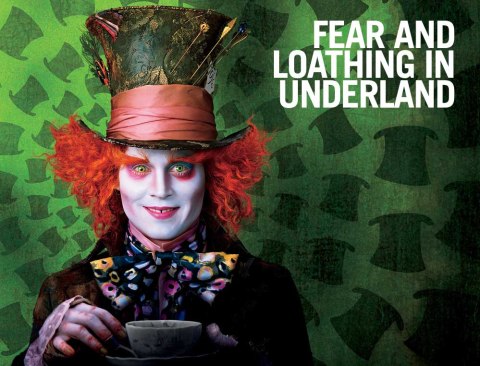 Perhaps it's a more narrowly pointed version of the idea that alice in wonderland is just a big drug trip anyway. I feel like it's especially appropriate for the movie, as the whole thing is just sort of escapist, but maybe it's like escapism within escapism? Like Alice escaped to another reality, but even that reality is still too difficult for some people to bear.
"It's not that Depp disappoints, he simply recognizes his role in the story."
LAUREN: Which is where the awesome casting comes in. Yes, absolutely everyone talks about the Burton/Depp connection, but in Alice in Wonderland it's different. Burton normally relies on Depp to be his leading man – no homo – but this time Depp plays much more of a supporting actor. Regardless of his official title in the movie, there is no arguing that there is most decidedly one leading actor, and that is Mia Wasikowska. Depp gracefully dances around Wasikowska's bold performance, all the while maintaining an interestingly intelligent interpretation of the Mad Hatter. Unlike all the detractors that have chided Depp for a disappointing performance, I counter – when is the last time you saw any male actor as well paid as Depp successfully act around a much younger female lead?
KATRINA: It's not that Depp disappoints, he simply recognizes his role in the story. This is Alice's return to Wonderland, it is her story of redemption, and she is the catalyst upon which their liberation depends. There is no power struggle – men and women are working together, but it is not necessarily the man who has to take the lead. This comes from a dynamic that was clearly present on the set. Here we can see fiction translate into reality – it's not just the Mad Hatter supporting the heroine, it's a renowned leading actor disregarding ego or social pressure and allowing the real hero – this time a woman – to claim her power (without a romantic motive for the first time in Disney history, may I add — it even passes the Bechdel Test and rarely even acknowledges power-related gender norms).
"There is no power struggle – men and women are working together, but it is not necessarily the man who has to take the lead."
LAUREN: And Wasikowska does not disappoint. Her breakout performance proves her to be more than capable of leading such an impressive cast, with names as big as Johnny Depp, Alan Rickman, and Helena Bonham Carter behind her. She nails Alice's trademark dreamy amble, and adds a certain mental toughness to her not seen in the original version. Wasikowska ventures through Underland (turns out Wonderland was a bit of a misnomer) in quite the same way the original Alice did: with little purpose but to explore, with a sense of courage only obtained through stubborn persistence that she really is in a dream. And true to form, the characters reveal themselves to her – she meets all the familiars: the hookah smoking caterpillar (why are you trying to be a caterpillar, Snape?!), the evil Red Queen, the Mad Hatter, etc. And a couple of new faces, a tiny mouse with a definite case of small mouse syndrome, and the lovely White Queen.
The Verdict
You've heard the rest. Stunning graphics, charming characters, it's hard to look sexy/make out while wearing 3D glasses, etc. etc. Our advice: go in it for the message, not the story. Alice in Wonderland is the perfect movie to lose yourself in, but there's something so much greater to be gained in examining how closely Alice's world mirrors our own. Alice ends the story wearing "men's" clothing, captaining her own ship into profitable & unexplored horizons. And by that, we mean imperial extension into China. But we'll let that slide.
Sure, in our case, it's usually girls in vests running late for dates instead of rabbits, but this movie is a step in the right direction, where women can be heroes and revolutionaries can be real – and you won't have to fall down a rabbit hole to find them.