Welcome to "I'll Have What She's Wearing," when we pick a queer lady with hot style and ask her how she got so fly.
Meet Miss Lola (A.K.A Mary). Miss Lola is perhaps the coolest person I have met in college and most certainly the smartest. She has been fierce since way before Tyra stole the word—there's really no better word to describe her. And although small, she's not one you'd ever miss in a crowd; she's the one wearing a tiny flower print dress and an oversized Northface jacket. This South Florida native is here to discuss piercings, floral, an alternative to shampooing, and the clothes that just magically appear in her closet.
So tell me a little about your style.
A South Florida Lolita. Laziness meets flower print. I wear lots of baby dresses, but not necessarily for any feminine effect -it's all about function! Looking cute should be a consequence, not an intention. And if you're like me and wake up 20 minutes before class, throwing on one article of clothing can satisfy your deepest desires to be lazy, despite a busy lifestyle that restricts leisurely behavior. Be lazy; wear dresses! Come on, Homer Simpson would have my
back on this.
Do you have a favorite piece (or pieces) in your clothing collection?
Most recently, I've come to the conclusion that I should simply switch my major from History to Winter Apparel, concentrating on Northface. As a Filipino-born South Floridian, I never had the privilege of wearing functional, comfortable, and cute winter clothes. I now fill my Northface pockets with every necessity (Burt's Bees, cell phone, college ID, iPod, lollipops, pens, post-its, forks, spoons, etc.) and can no longer see myself living without it. Spring will be beautiful, but I will have a hard time parting with my favorite jacket and the hat I regularly use to mask bad hair.
Where do you get your clothes?
Ooo, this is tough. I don't, um, shop? My clothes come to me. I've had them, I've been given them, and they just generally appear in my closet without my realization.
Do you have a style icon?
Nudists. I think they offer valuable points in the discussion of fashion and style. Also, Henry David Thoreau: Distrust any enterprise that requires new clothes (from Walden).
What would you never be caught dead in?
Not opposed to most articles of clothing, but I have constantly struggled with turtlenecks. Trust me, I have tried. But my neck is short! I always find myself ripping off the sweater and cutting off the neck portion halfway through the day. So if you ever see me in one, I'm probably trying to win a bet. Or a girl who likes girls in turtlenecks.
Is there anything you would never wear but like seeing on other girls?
Obnoxiously high ponytails. I feel like there's a proportional correlation between how high a girl's ponytail is, how much it wags side-to-side, and how mischievous a girl behaves. I don't know, I cannot explain this phenomenon more than that it's hot, I like it, but I hate it on me.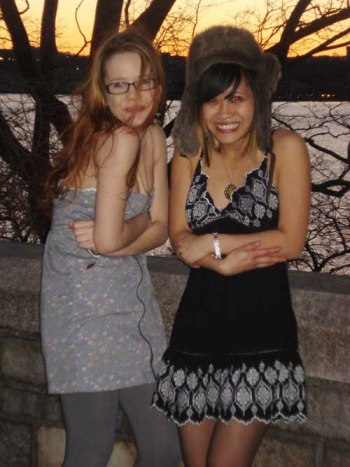 Let's talk about hair!
Oh, my hair… what a life. For one, this is the longest my hair has ever been since 7th grade. I've had my sides buzzed to a mohawk, one side shaved/other side long, a pink tail, a grown-out bleached-blond tail, a close-cropped pixie cut, pink highlights all over, blue and pink stripes, and now I have bleach-blond stripes and a blah haircut.
I'm bored, give me new ideas!
Did I mention that I don't use shampoo? I have been on the no-poo method for almost three years. Essentially, I use pure baking soda as shampoo and apple cider vinegar as conditioner. Just imagine never paying $6 for shampoo every four weeks or having to wash your hair every four days… yeah, that's me. I think you can trace the pattern of laziness now…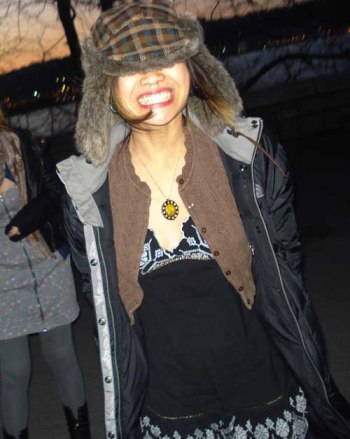 So you have a couple of piercings…would you like to tell our fabulous readers where they are and why did you get them?
I have my septum pierced, ears stretched to a 00g, and one of those piercings you'd only see if you saw me naked. I think they're all beautiful! I really like how they can be visible or invisible whenever I choose  (the ) and that I effectively have more options for 'accessorizing.'
If you had a lot of dollar bills, what would you buy?
Jewelry for my piercings! I always manage to lose my plugs. Now I am left with five pairs and sad ears.
How has your style changed since moving from sunny South Florida to chilly NYC?
I… still wear the same thigh-length dresses, haha. Except I throw on thick tights and socks, a sweater, my Northface, snow shoes and a winter hat. Winter apparel is so neat! Every layer has a function to keep you warm, but also adds more depth to the look. Plus, intense winter gear tends to balance out the overt 'femininity' of my outfits and I like that masculine/feminine + intense/casual aesthetic. However, I am opposed to the extra time I spend on winter mornings to layer up. And the cold, ahh!