Autostraddle has now gone three months without a TV Editor (though we enjoyed one thrilling false start) which means you poor creatures haven't had anyone to talk to about your favorite programs except yourself. We feel bad about that, we really do, and we'd like to make it up to you.
Therefore today, Scribegrrrl (pronounced out loud as "scribegirl. or like, scribeg'rrrrrrl or whatever") an experienced television writer responsible for masterworks like this page of The L Word Episode 311 recap & many other things, is going to cover what we missed. A.k.a., everything except Skins. Without any further ado…
We Like to Watch:
A TV Roundup at a Random Point in the TV Season
by scribegrrrl
+
Is this thing on? Well, no — not if it's a TV. Lately, clicking the brave little TELEVISION link on this site has probably left you feeling empty, alone, bereft. As hollow and abandoned as an Avatar fan on Oscar night. But I'm here to tell you that yes, some of us do still watch TV — and even like it! Come, let us begin to fill the giant TV-shaped hole: here are some flickering highlights of the last couple of months of TV, in no particular order.
---
+
30 Rock
If you haven't been watching 30 Rock, there's not a lot I can say, because this show is so totally insider-y and so quick-wittedly self-referential, it's going to implode someday. And that's why I love it.
Recent highlights include the sleepwalking (and sleep–pizza-ordering) nod to Paranormal Activity; guest star Julianne Moore's crazy Boston accent; and Liz's root canal procedure (and subsequent loopiness). If you didn't see the last few minutes of the root canal/Valentine's Day episode, stop depriving yourself. (In this clip, Liz is flying high on post-surgery meds and mashes up her ex-boyfriends with the Jamaican hygienists at her dental office. But don't try to make sense of that; just watch!)
+
A lot of the jokes on 30 Rock are fleeting and don't make much sense outside the trippy meta-context of the show. But one scene will stay with me, in a scarred-for-life sort of way. Jane Krakowski and guest star Jan Hooks, playing dependent daughter and manipulative mother, did the most awkward duet since "Afternoon Delight" on Arrested Development. They sang "Do That to Me One More Time," made famous by the Captain and Tennille.
+
Do that to me once again!
---
+
Lost
It's the final season, so of course Lost is taking the opportunity to be even more convoluted and confusing. Now there are mind-blowing flashes sideways in addition to the continually cryptic flashes forward and back. Plus after watching Juliet (Elizabeth Mitchell) die in last season's finale, we had to watch her die OVER AND OVER AND OVER again in "previously" clips and flashbacks. Way to overwrite my fond memories of her in her "Motor Pool" jumpsuit!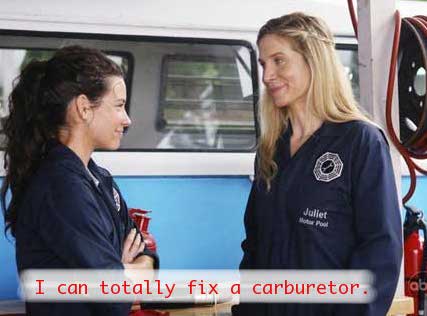 Lately the highlight for me has been mad, murderous Claire — now seemingly possessed by dark smoke-monster forces. Unfortunately, I keep getting the urge to yell, "Maybe the dingo ate your baby!" a la Elaine Benes.
+
Like many, I'm beginning to question my investment in all the years and twists of Lost. Unless they all end up driving a convertible into the sky, accompanied by the sweet strains of "We Go Together," the ending probably isn't going to be very satisfying.
---
+
Desperate Housewives
Mostly I cannot stand this show. The voiceovers are creepy, everything's unnaturally taut or unnaturally manicured or unnaturally shiny (and that's just the electrical wires, the lawns, and the mailboxes, ba dum ching!), and the storylines are usually just boring. But oh, Dana Delany.
There she is kissing her stripper roommate. (How else would two women hook up on Wisteria Lane? I mean, nobody can be expected to resist a STRIPPER.) This is really all you need to see:
Oh, and THIS. (The ol' oops-I-spilled-something-on-my-shirt-and-thus-must-disrobe trick has been working since The Hunger.)
+
The most recent episode was a little less promising, but still good — stripper Robin isn't going to let suburban Katherine wiggle her way out of this attraction with excuses about being drunk or straight or DESPERATE or whatever.
---
+
Nip/Tuck
No way! Long-suffering Lizbian finally got some action! Sure, Liz then stupidly freaked out about her new lady love's special talent (hint: it rhymes with treenail freejackutayshun), which made the lady love freak out about gayness in general — this is Nip/Tuck, after all, where women can never be happy and often can't even be human. But hey, it was hot for a minute there.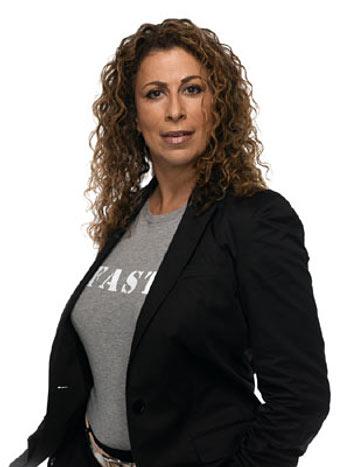 Then, in the very last episode ever ever ever, fucked-up Sean and egomaniac Christian finally made Liz a partner in the plastic surgery biz. She may never be happy personally, but professionally she's even more of a catch. Meanwhile, Julia (Joely Richardson), the other "lesbian" on the show, ended up married to a dude and brooding about her brood. Touché. And cliché, and fuckyouRyanMurphyché. You've almost redeemed yourself with Glee, but that's really only because Jane Lynch is mighty and cannot be felled by half-assed writing. Never mind that the last hugs-around-the-dinner-table scene of Nip/Tuck actually made me tear up a little. *sniffle* Stupid show.
---
+
Damages
The snoozy second season set the bar pretty low for this season of Damages. But even without that, the storylines have been much more interesting. Of course, I really only watch for Glenn Close generally and flirtatious scenes specifically — like this one, in which Patty drunk-dials Ellen (from the office at 4 in the morning, while eating Oreos and drinking!):
+
Damages: If the preceding clip disappears, try this one. Note: DO NOT SELECT A QUALITY; just press the play button twice!
+
Who can resist a classic cat-and-mouse game? If there's a God, Patty and Ellen will end up in bed together before the show meets its demise — which I fear is probably really soon, so never mind, God.
Oh, but at least we get Lily Tomlin this year, wearing a fright wig and delivering unintentionally campy lines. She's ready for her close-up!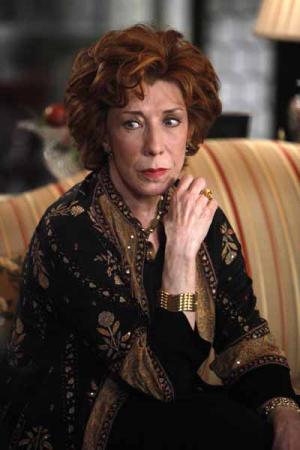 ---
+
NEXT:
Grey's Anatomy, American Idol, Parks & Recreation,
Better Off Ted, Modern Family and more
Pages: 1 2See entire article on one page