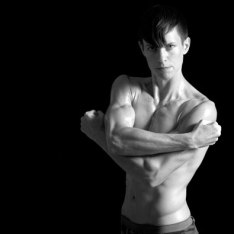 LADY GAGA LESBIAN MAKEOUT:
Out Magazine talks to 'Lady Gaga's "prison yard girlfriend," Canadian performance artist and personal trainer Heather Cassils. Prior to shooting, Cassils knew that Gaga was bringing performance art elements into her work, which she appreciated though she wasn't a "huge fan per se" prior to the video. Her makeout role was decided on the spot, howevs: "Gaga called me over and asked me to portray her girlfriend and said, "OK, you're going to be my prison girlfriend, and you're going to come to me, and I'd like you to touch me inappropriately." [Laughs] We just kind of went from there."
Other highlights:
What was Gaga like on set?
She was extremely professional and very, very funny. After we did the [kissing] shot, she screamed across the yard to me, "I think you got me pregnant!" [Laughs] She was also very present and real. She took the time to ask people what they did for a living and who they were and where they were from. She was a very genuine, grounded person.
OK — let's get to the juicy stuff: What was the kiss like?
I think we did several takes — to be honest, it was a little bit of a blur because it happened so quickly. On the first take, her cigarette sunglasses were steaming a little bit, but by the third or fourth take we were both inhaling a lot of secondhand smoke [Laughs]. It was kind of intense. And it just kind of happened naturally because she didn't really give me explicit instructions to kiss her — it just felt like a natural thing to do. In fact, I sniffed her like a kind of aggressive beast. And as we got closer, she actually put her tongue in my mouth. She just went for it. [Laughs] It was really good.
It's a fantastic interview and worth a read:
Tell me about your feelings about depictions of queer women in popular culture.
I've been in shoots before, and I've worked with other artists, and there's this thing where they try to femme anybody up — especially when it's mainstream media. And there's this expectation that you're either going to fit on one end of the spectrum or the other, so I really appreciated that I literally showed up on set and was allowed to go just as I am. My body is a complete construction. I feel there's a lot of pressure, even in the queer world, to go trans or whatever and take these real extremes, and I don't really think there's anything wrong with that, but I do think there's a lot you can do with your own body.
She talks about trans identity and representation, the reaction to Gaga's bisexuality and alleged penis, her own performance art, and so much more! Really, read it!
TEGAN & SARA:
Tegan & Sara did an interview with Mother Jones about Lilith Fair, songwriting, and their cute thoughts about Adam Lambert's song What Do You Want From Me: "It's meant to be big and bombastic, but as a songwriter, I'm really amazed." (@motherjones)
TILA:
Continuing the world's somewhat sadistic fascination with Tila Tequila, the LA Times profiled the reality TV starlet after her fiancee Casey Johnson's death. The portrait of Tila is a far cry from the one we got in December before Johnson died. The Times profile is full of the usual background information, sprinkled with a handful of fascinating observations and ridiculous quotes. For example:
It was a late, very rainy evening in January, and the 28-year-old reality television star and tabloid mainstay — born Thien-Thanh Thi Nguyen — had not had a good day. Only a few moments earlier, she'd opened the door to her home to find that her dog, Onyx, had chewed up a pair of her Lucite heels. She chained him to a stripper pole. With a Swiffer mop from the kitchen, she tried to brush aside the pieces of chewed up shoe, but the Velcro mop affixed itself to her rug instead. "I don't know how to use this thing," she said, tossing it aside in frustration.
To recap for you, Johnson died in early January, sending Tila into a tailspin involving incoherent tweets and pregnancy rumors. Her publicist quit soon after. SallyAnn Salsano, producer of A Shot At Love, told the Times: "If I had a crystal ball, this isn't what I would have seen for her… I actually think she's just on a desperate hunt for love. That was really all she ever wanted."
CHLOE:
The movie "Chloe" premiered last night in New York. It stars Amanda Seyfried and Julianne Moore, who reportedly have a hot love scene together. (@dnainfo)
TELEPHONE:
So this crazypants guy continues to be super paranoid about pop culture. He thinks Lady Gaga's "Telephone" video is really just a way to subliminally brainwash all of us to do shit for the Illuminati.
"The hidden meaning of the video actually depicts the elite's contempt for the general population, hence the scene of ritual murder of average Americans in a diner by mind-controlled slaves. Don't know what the hell I'm talking about? Keep reading."
You really should read this whole thing. It's fascinatingly awful and has sentences like this: This "deeper meaningwp_postsfound in Gaga's video relates to mind control, a covert practice used by the military, the CIA, religious cults and the Illuminati elite. It is used to program human beings to become mental slaves and to execute specific tasks. (@vigilantcitizen)
Basically, this guy thinks he's in the Josie and the Pussycats movie:
No, no, wait, she's really just trying to hurt America's kids! Sandy Rios of the Culture Campaign flipped her sh*t on Fox News over the video, saying:
"And this time we have to speculate on whether she has a male member or not or whether it's been cut off or not. And then they do a mass murder at the the end. And then we've got Beyonce' and GaGa as gay lesbian lovers. It's disgusting Megan! I wouldn't under any circumstance allow my children to buy Lady GaGa cd's or listen to them and I would explain to them why. This is just poison in the minds of our kids." (@livingoutloud)
Whatever, they're both wrong, she's clearly just pushing the gay agenda.
SKINS:
So episode 7 of Skins was super weird, and now people are lodging legit complaints about the show's content. We think this ep could discourage already skeptical mentally ill people from getting treatment or from trusting their regimen of meds. (@digitalspy)
LAMBERT:
Speaking of Adam, he's been on tour in Japan this week. (@hollywoodgossip)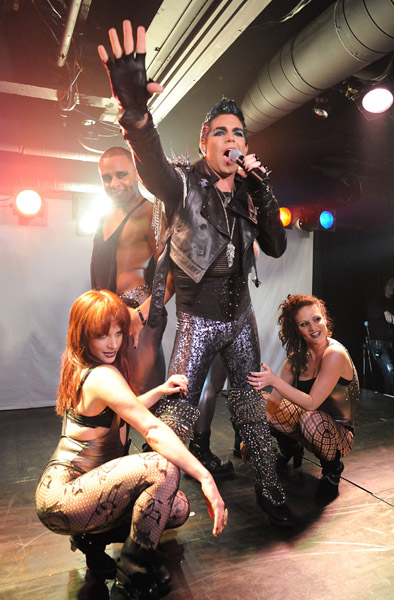 And Camilla Gray of Uh Huh Her has started rehearsals with him as well!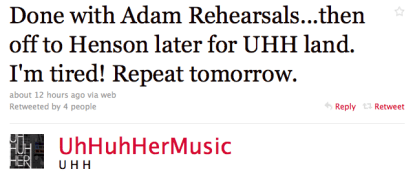 THE BACHELOR:
Femonomics has raised concerns over the fact that The Bachelor franchise is the whitest show on TV. But Racialicious isn't sure that's an entirely bad thing. Having a more people of color on the show could be a nice change of pace, but there are a lot of ways it could go wrong. "Imagine if we had, say,  a Korean bachelorette.  I doubt we would make it through a single episode without references to said bachelorette's exotic beauty and delicate hands.  Or what if we had a bachelor of colour pick a white suitor? We'd have another disastrous portrayal of white beauty being selected over nonwhite." It's an interesting argument on the pros, cons, and realities of non-white portrayals on the teevee. (@racialicious)