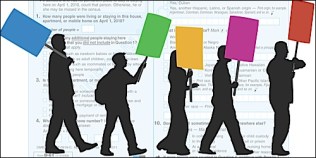 QUEER THE CENSUS:
It's Queering the Census time! Get your free queering the census sticker and find out more! Although same-sex couples and their families will be part of the 2010 Census data collection this year, GLBT members who live alone cannot declare their sexual orientation. This sucks because maybe if people found out how many lesbians actually exist, more companies would put their advertising dollars into lesbian media JUST SAYING.
From the San Diego Gay & Lesbian News:

Be counted: Census 2010 to tally LGBT couples: The U.S. Census Bureau wants an accurate count of everyone in the country – but there's no question in the survey that asks if you are lesbian, gay, bisexual or transgender,wp_poststhe NGLTF said in a statement.
"You read that right: LGBT people are basically invisible in the survey that is supposed to reflect the diversity of America's population – and that's a big problem. The data collected impacts issues critical to every American – like our health care, our economic stability, and even our safety. And when LGBT people aren't counted, then we also don't count when it comes to services, resources … you name it."
DADT:
THE TIME HAS COME, says David Patraeus. They are finally desperate enough to let gays & lesbians stick around.
PATRAEUS: I believe the time has come to consider a change to Don't Ask, Don't Tell. But I think it should be done in a thoughtful and deliberative matter that should include the conduct of the review that Secretary Gates has directed that would consider the views in the force on the change of policy. It would include an assessment of the likely effects on recruiting, retention, morale and cohesion and would include an identification of what policies might be needed in the event of a change and recommend those polices as well.
BEASTIALITY:
Rachel Maddow vs. The Man Who Thinks Gay Marriage is Sorta Like Bestiality. Why is it that no one ever introduces the most logical argument ever when this debate happens?
Tinkerbell, our imaginary pet chihuahua, made this acute point in an Autostraddle Roundtable in 2009:
Hello Homosexuals, it is Tinkerbell. As a dog I do not have many rights, for example I cannot join the army, vote, or smoke the ganja. I also have special privileges like I do not have to work, also my love for Littlefoot my boyfriend and for Kelly Clarkson. What I do not enjoy is people saying a woman marrying a woman will lead to a woman marrying a dog. I do not want to marry a woman. I am very little, and she would crush my bones. Humans have human laws and dogs have dog laws, human laws should be equal for all humans and they can be equal for all humans without involving dogs. What is wrong with you people. Love Tinkerbell.
GAY SENIORS:
People are coming out younger and younger these days, as evidenced by the number of recent photos in our queer prom gallery. But there are also more people coming out as queer or trans in their old age, now that society is more accepting of different sexualities and genders. The AP looked into the oft-ignored issue, and it's really sad, but also amazing.
"For the first time in my life, I'm not putting on a show," said Farthing, who eventually had sexual reassignment surgery and changed her first name to Chrissie. "It seems like I've been out on a cloud all my life and now I'm not. I'm me."
Outing yourself late in life can be complicated after having lived through times when being openly gay could get you arrested, put in an institution and given shock treatments. It's snarled in a lifetime of trudging along through society's view of normalcy and the resulting fear of being ostracized by children and grandchildren. And it's marked by a nagging doubt that all the heartache, all the potential for it to go wrong, may not be worth it with one's years numbered.
"When somebody comes out at the age of 20, they have their whole life ahead of them," said Karen Taylor, the director of training and advocacy for SAGE, a national group that works with LGBT seniors. "There's a real sense of regret and loss for somebody who comes out later in life, even when talking to them and they say the decision was the right one."
If that article doesn't convince you of the importance of coming out, or that being gay isn't a choice, I don't know what will. (@ap)
DAN CHOI:
When we met Dan Choi in May, he had a super-cute boyfriend. But it appears they have broken up, and he is back on the market and has a cute butt. I dunno, read Queerty! (@queerty)
PROP 8:
We're still awaiting the verdict on the federal Prop 8 trial, but in the meantime, you can read this great piece from Matt Coles of the ACLU, which talks about the what could happen after Judge Walker makes his decision and what those possible outcomes will mean. Seriously, this guy goes into all the possible circumstances like he's making a March Madness bracket or something.
No matter what happens, it looks like change (or not) will take a while: The odds are that once the case does end in District Court, it will head to the U.S. Court of Appeals. There are 13 "Circuitswp_postsin the Court of Appeals, and the one covering the westernmost states is called the Ninth Circuit. The Ninth is the slowest of the Circuits, and cases usually take two years and sometimes longer to get through it. If Judge Walker strikes down Prop 8, and it does go to the Court of Appeals, it is very likely that his decision will be stayed—meaning it won't take effect—while the case is on appeal.
In Coles' second article on the topic, he goes into depth about what might happen if the case gets to the Supreme Court. Keep in mind that would probably take years, and there's a good chance the Court wouldn't hear the case. Coles thinks that if Prop 8 stands in the Ninth Circuit, the Supreme Court wouldn't hear it. If our side has even a small victory, the Court would probably hear it, he says. Really, you should just read both of these in their entirety. (@huffpo)
And if you want to refresh your memory on the original trial, we had some really great articles about the legal issues behind the case, as well as daily recaps of the proceedings.
COLORADO:
The lesbian parents of the two kids booted from a Catholic school in Colorado have spoken out: "There are divorced parents, children of parents born out of wedlock, non-Catholics and non-practicing Catholics. Their eligibility has not been questioned. There seems to be a subjective rating system of which sins are more unacceptable. …Perhaps our biggest objection to the school's decision is that we think that it is wrong to punish a child for who the child's parents are," the couple stated. "We do not think this reflects what Jesus would have done."
CALIFORNIA:
A lesbian couple was granted a marriage license in California because one partner, Danielle Severson, a trans woman, is still legally classified as a man. The California attorney general told the county issuing the license to go by the birth certificates of the two applicants. So I guess that's a roundabout victory for the queers? Won't it be nice when things like gender don't matter? (@khsltv)
NEPAL:
You can get gay married on Mt. Everest now! I guess they want part of the gay tourism market. It sounds cute, but you're still only fake married in most of America, so. (@nytimes)
CONSTANCE:
Look, a cute video in which Constance tells you to stand up for who you are and what you believe in: