BROOKE:
One of the most important issues facing our community right now is a perceived lack of financial capital. Money talks. Until queer women are viewed by others (as well as themselves) as having a sizable pocketbook, we will never be able to leverage ourselves into having and maintaining a strong voice in the social, political or cultural arenas.


ROBIN:
Knowledge is power! Sex education is extremely undervalued and under taught in this country and I think a change in how we approach gender and sexuality, both in our schools and in our homes, would make a huge difference in helping children grow up to become self-aware and progressive adults. My opinion on this topic is based on my own experiences with sex education, or lack thereof.
First off, my family was never comfortable talking about sex. I didn't learn anything about sexuality or my body at home aside from the basic idea that in order to create a biological human baby, a man must insert a certain unspeakable appendage into a woman's body (but only in the context of a loving, sound, "heteronormal" marriage). This scenario sounded so awful that it served as decent birth control for me from ages 8-12. After that, I was left to my own devices.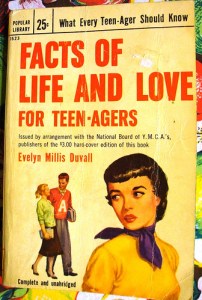 In middle school I underwent the classic coming-of-age sex ed experience: boys and girls were divided into separate classrooms to clinically discuss how babies are made and the sessions focused mainly on a vague chart of male sex anatomy. I assume the school felt a young woman didn't need to learn anything about her own body, that instead our learning should focus on the greatest of all human feats—baby-making (again, only between a man & his wife)—and then we should be able to figure out the rest. Oddly enough, the gym teacher was our lecturer and I'm pretty sure she was a gay lady.
In high school "sex ed," we were told to walk around the classroom and write down the names of five classmates of the opposite sex. After I'd finished asking five boys how to spell their last names and was waiting, confused, for the point of this exercise, the teacher explained that writing down these names represented that we had had sexual relations with these people. As if that wasn't disturbing enough, we were informed it's 'cause we didn't use protection and one person in the class had AIDS and now we all had it! Then the bell rang and it was time for Social Studies.
As if that wasn't disturbing enough, we were informed it's 'cause we didn't use protection and one person in the class had AIDS and now we all had it! Then the bell rang and it was time for Social Studies.
I walked out of there with so many questions—What the heck is AIDS? What protection is available? What if you're GAY?!!? How do gay people use protection?— and looking back now at the sex ed I was getting while going through puberty and entering adulthood I feel almost physically ill. Isn't there a better way of informing students about HIV/AIDS and teaching them about a healthy sexual life? I was confused and unaware of my sexuality until about age 22, when I started figuring it out. That was six years ago.
My public high school required all seniors to take a class called "Family Living," though all anyone seems to remember from it is that my friend Kim had to get married. Luckily I missed out on the underage heterosexual wedding planning fun 'cause I was learning about "Modesty" in a sex-seperated classroom at a Christian boarding school in St.Louis, MO.
Anyhow, you'd think a Northern New Jersey public high school would be more progressive by now, but they still offer it (wording slightly changed):
"Family Living is a one marking period unit stressing analysis of contemporary and traditional attitudes and values as they relate to family life. The emphasis of this course is placed on masculine and feminine roles, the nuclear family, lifestyles and marriage law."
The lack of sex ed not only contributes to problems like teen pregnancy and STDs, but also does damage to the LGBT community. Children can't develop self-awareness or understand their sexuality/gender identity while constantly being taught to ignore your urges, set aside your questions and slap on a smile & a wedding dress. Teaching "gender roles" is damaging and not teaching children about all the glorious forms of sexuality is even more dangerous. Kids need to know that they're not alone—that they're okay, normal and beautiful no matter how they identify. If they felt comfortable with themselves, they would be able to be themselves at school and with their families.
World thought on the LGBT community would change a great deal if previously homophobic kids (of course this is a LEARNED behavior from homophobic parents/friends/teachers) were taught about love and sexuality in the same breath. If these kids were taught about a healthy way to explore their own sexuality and given a platform to be able to ask any questions they please, they'd come home and say "well, my teacher taught us today about LGBT issues and here are the facts…"
I believe strongly that homophobia is more easily changed in the hearts of the young and progressive. As time goes on and correct and proper education prevails over wacky religious rhetoric, children will grow up in a world where they will be impressively self-aware. They will teach their parents and bosses and friends about sexuality, gender and true equality. I already see it happening.


TINKERBELL:
Hello Homosexuals, it is Tinkerbell. As a dog I do not have many rights, for example I cannot join the army, vote, or smoke the ganja. I also have special privileges like I do not have to work, also my love for Littlefoot my boyfriend and for Kelly Clarkson. What I do not enjoy is people saying a woman marrying a woman will lead to a woman marrying a dog. I do not want to marry a woman. I am very little and she would crush my bones. Humans have human laws and dogs have dog laws, human laws should be equal for all humans and they can be equal for all humans without involving dogs. What is wrong with you people. Love Tinkerbell.
Pages: 1 2 3See entire article on one page