I'm not sure what happened with Charmed.
Going into Sunday night's finale, I didn't have a lot of expectations. I assumed that Macy, the eldest Vera sister, would finally conquer her demon side and turn back to light magic. I took it as a given that Mel, the middle sister and our resident lesbian witch, would come to a romantic ender of her season long arc with her ex-girlfriend, Niko – or at least a conclusion that was emotionally resonant and made sense given the epic tale told between them all season. In my wildest dreams I hoped that Jada, Mel's other ex-girlfriend, would show up in the last battle of the year to help defeat the Source of All Evil and defend her legacy as the last surviving member of the S'Arcana Sisterhood. Jada's unceremonious exit from the series four episodes ago was not only a disservice to her character and the queer love triangle that had been one of Charmed's driving motivations all season, it was also a weak storytelling choice. I'd hoped that the writers would use the Season One finale to remedy that decision.
In the end, only one of those three predictions happened – and it wasn't either of the two gay ones. Macy's struggle to find balance between her witch and demon powers was one of the most engaging and low simmering magic arcs in the back half of the season. In a surprise move during the penultimate episode, she decided to embody the Source of All Evil and use it for good in order to help her sisters fight off the dawning of the apocalypse.
Now, thanks to the Source, Macy's powers are unmatched by any other living magical being. She's become a danger. Mel and Maggie rush to save their sister's soul as the plot moves forward at a dizzying pace. Timelines are crossed back and rewritten over and over again, settings are pushed through with little consequence. Madeleine Mantock delivers a gripping performance as Macy gets lost in her own dark madness, arguably the best of the season, but everything around her feels more than a little slapped together. Perhaps this final episode should have spanned two hours, it certainly could have benefitted from the extra time.
Predictably Macy is saved in just enough time for a classic Vera sisters hug to close out the season, but that didn't solve the most glaring storytelling flaw. Despite being a prominent reoccurring character all season, Mel's lasting love interest, and a key figure in the penultimate episode, Niko Hamada has less than 90 seconds of screen time in the Season One finale. Her absence is keenly felt in part because the other two sisters' straight love interests are weaved throughout the hour, but also because she's been uniquely tied to the entirety of Mel's first season storyline. Without Niko's presence, Mel's arc ends on a mostly hollow note.
Ultimately, watching Macy play with life and death at a whim confirms for Mel that her early season decision (forced upon her by The Elders) to wipe Niko's memory without her consent was wrong. She's known it for a while, especially as it came into sharper focus that the "trusted" Elders had ulterior motives of their own. Then, after confessing the truth to Niko, Mel's forced to deal with the emotional and physical aftermath of her choice. First Niko runs away horrified, then Niko ends up in the hospital hemorrhaging from the brain as her memories start to collide into one another.
The finale doesn't adequately explain how Niko's brain hemorrhaging stops (I presume it happened when Macy's ex-boyfriend, Galvin, originally sacrificed himself to save the world). They don't show us what happens after she's released from the hospital or the fallout of her relationship with her current fiancée, Greta. The only time we see her is when Mel silently visits her from across the street in the finale's last minutes.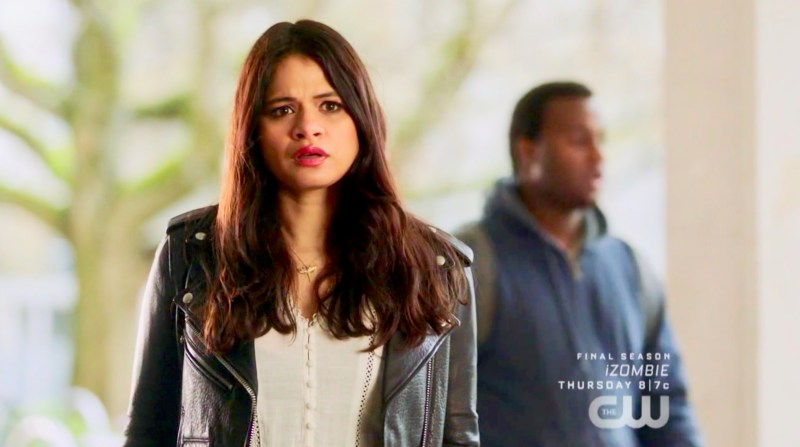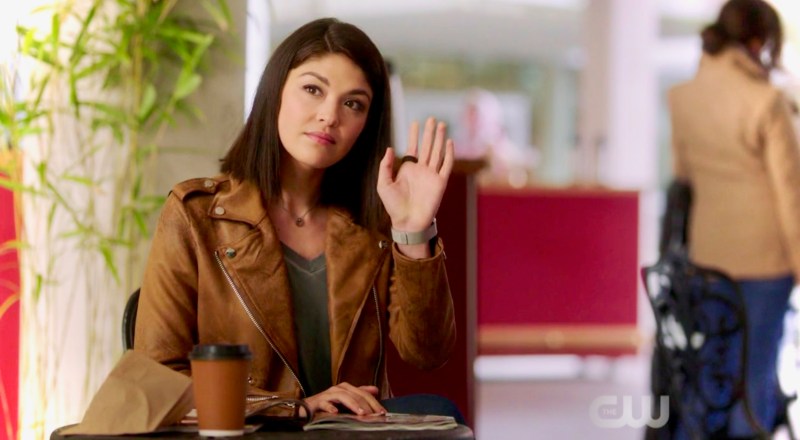 Niko is sitting by herself outside a coffee house, reading a book, when she looks up to see her ex-girlfriend. Mel stops time, but Niko keeps moving – a sign that she's still wearing her protection ring. Niko waves, but Mel releases her spell just in time for a truck to move in between them. When the truck passes, Mel is gone.
It's poignant, sweet even, that Mel only wanted to make sure that Niko had protection before walking out of her life completely. She told her sisters that she'd wreaked enough havoc in Niko's life. The best thing she could do at this point was to leave her alone. The real problem is that once again, she makes this life altering decision for Niko without talking to her about it. By only including Niko in the episode's final moments, the writers rob Mel of a chance to demonstrate real character growth. It's disappointing.
Charmed began its first season as a stand out. In a relatively crowded fall for lesbian and bisexual television, Charmed promised not only a lesbian Latina lead character, but placed her romantic life at the center of the show starting directly from its pilot episode. Mel's decision to erase Niko's memories was one of the first emotional catalysts propelling the show forward. Returning from its winter hiatus, Charmed doubled down on its commitment to queer women of color representation on screen by placing Mel in the middle of a love triangle between Niko and Jada! It was fun and silly, but somehow also evocative and mature. For most of 2019, every Sunday viewers could watch three women of color, each with their own fully developed personalities and motivations, circle around each other in believable, grounded tension despite all the witchcraft. I personally lauded the storyline for those very reasons. It was a spark. I suppose, like all sparks, that means it would eventually have to end.
The decision to write Jada out of the show as a nothing more than a mere afterthought was the first signal to me that Charmed was heading in a direction I doubted. Still, I held faith. Mel and Niko have always been star-crossed lovers, the tropes of television had long prescribed them as destined for each other. Choosing to treat Niko with such carelessness in the finale episode cemented the growing unease in my stomach.
Charmed has already been renewed for a second season, however with a new showrunner and promise to "to lean harder into its supernatural storylines and less into the family dynamic." Given what's happened over the last batch of episodes, and particularly the finale, it's hard not to read "less into the family dynamic" as less time with the Vera's personal lives – and for Mel, less gay. I hope my predictions are incorrect, but its nonetheless worrisome. Charmed decided to get serious about its magic, and along the way it has already forgotten to have fun. It's forgotten everything that began the season as campy, addictive, feminist, silly and yes – the greatness of centering queer women of color in the middle of all. I hope they remember their roots before September rolls around.