See All Holigays 2019 Content
---
Is there a more satisfying feeling than giving someone a gift you know they would really really dig? That moment when an item leaps out at you— you can picture the person it is destined for, and you are it's guide to a happy and loving home? Whew, I've gotta stop, I'm giving myself chills. Think of me as your friendly Autostraddle Store Elf, guiding you through the kickass new merch we've added to store so you can support your favorite website and find that bone deep gift giving satisfaction. Are you ready? Great, let's roll.
---
For Your Bestie Who You Love So Much it Makes Your Heart Explode, Despite the Fact That You'd Tear a Hole In Space and Time If You Ever Even Tried to Date
What better way to pledge your undying (platonic) love for your best friend than this incredibly cute and delightful GAL PAL sweatshirt? You know they'll look stunning in it, plus, who doesn't want to carry the good vibes of their best gal pal with them in sweatshirt form? Not to mention, if both of you read this guide, you'll end up gifting each other the same sweatshirt!
---
That Hottie You Made Hot Eye Contact With At a Rihanna Concert Three Years Ago & Now You're Friends (??) but Definitely Still Flirt
Ideally this gift exchange happens under very, very low light and also mistletoe!
---
Your Teen Cousin
START. THEM. YOUNG.

---
The Coolest, Boldest Queer You Know, and Kind of Want to Be When You Grow Up
Not for the faint of heart! I suppose if it got too awkward you could pretend you had a deep and abiding love for office supplies, but that isn't really in the spirit of things, is it? You gotta put this on and look folks in the eye like "You know what I mean, gorgeous."

---
Your Friend Who Loves TV Possibly More Than They Love You
You'll be going over to their place to watch the The L Word reboot because they're the one friend in your group with all the streaming channels and Showtime, so show your thanks accordingly!
---
That Non-Binary Babe In Your Book Club Who Always Sits Next To You
Take those book club flirtations to the next level with this sexy tee—and while you're at it, spring for pronoun pins for the group get everyone practicing good pronoun etiquette!

---
Your Friend Who is Constantly Picking Folks Up— Yes, Even At The Gas Station
Make it that much easier for them to get the point whenever they enter a room!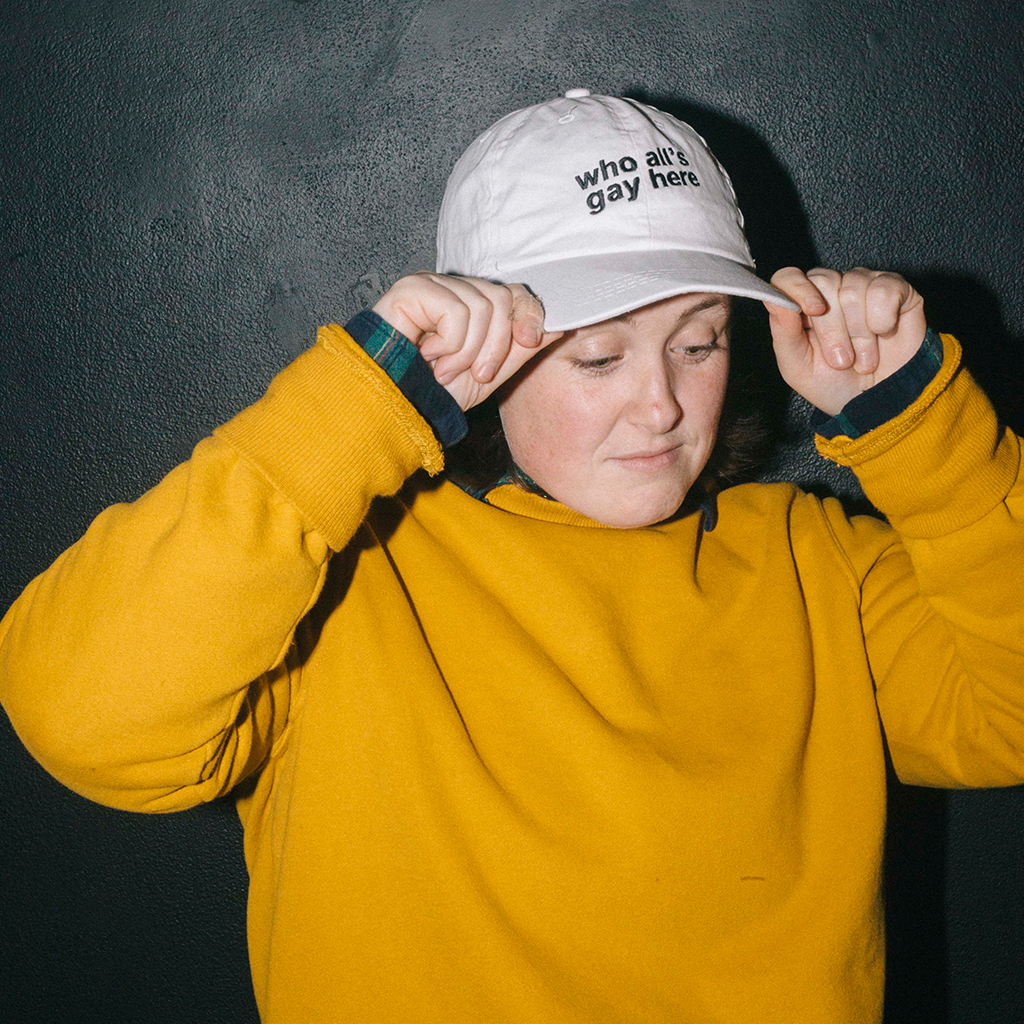 ---
Your Bisexual Buddy Who Somehow Still Has The Energy To Educate People About Bisexual Folks
No good soldier in the war against biphobia should go unarmed!

---
That Friend That Effortlessly Hosts Queer Brunch Every Month
It is not easy to keep everyone's dietary restrictions memorized! But it is Queer as Fuck so get 'em a t-shirt that respects that!
---
Your Boo Who Makes Hats Look Effortless and Cool, Even Though You Always Feel Like A Dweeb in Them
Your boo deserves this rockin' DYKES hat, and you can make that dream come true!!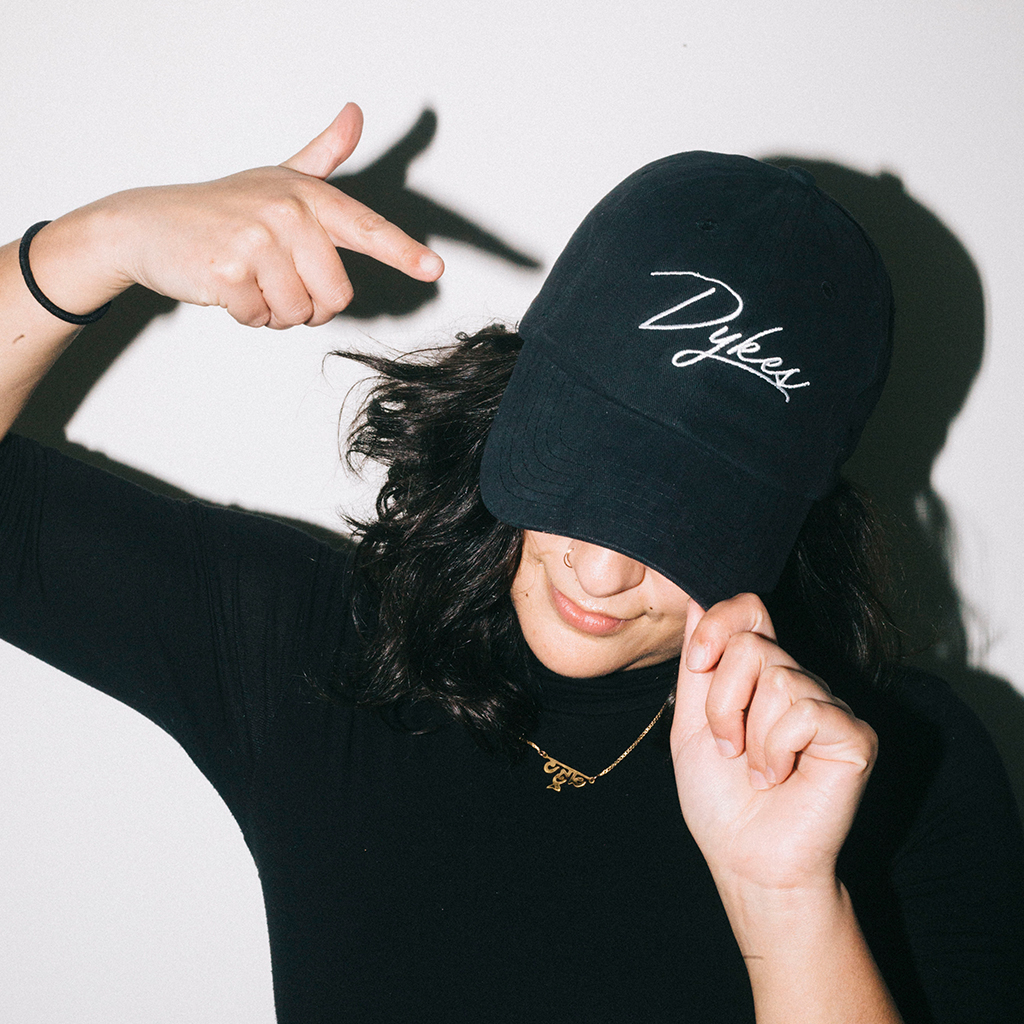 ---
Literally Any Human Being on the Earth
I cannot think of a single person that doesn't need this shirt. This shirt is the smell of air before snow, this shirt is curling up with a book by a fire, this shirt will clear your skin and improve your credit score. Give it to every person in your life, and do it posthaste.
---
Holiday Delivery Deadlines
To get your deliveries in time for the holidays make sure to place your order by
Dec 13th – UPS Mail Innovations
Dec 16th – UPS Ground
Dec 17th – USPS Priority
Dec 20th – UPS Next Day Air
Note: These dates are for domestic orders–we have no guarantee for international orders, so if you're based outside of the US please order sooner rather than later. ♡
---
Photographer / Molly Adams
Conceptual Ideas / Riese + Sarah Sarwar
Designers / Sarah Sarwar, Mika Albornaz, Raisa Yehmen, Betty Turbo, Rory Midhani, Alex Vega
Printing + Production / HelloMerch, Mammoth Printshop, The Pin People, Apollo
Models / Jordan, Chloe, LeahAnn, Sabine, Sai'yda, Julissa, Morgan, Kayla, Lauren, Sarah