Does TV rot your little brain? We don't think so. We can sit ourselves in front of "the idiot box" for hours, and still engage in witty, insightful conversation after — right?
Due to a freak time machine accident, we must say farewell to Tuesday Televisionary. (BUT IT'S OK, Carlytron is still around in spirit, we did not break up, she has not taken the goldfish or her turntables!) In a brave move forward, I have decided to finally confront my own lifelong TV addiction by turning it into my "job" (in the loosest, most unpaid sense of the word). So, hi! I'm Lola, you may know me from Hey Did You See That Comment! Friday and I'm now in charge of all things "boob tube" related (which hopefully will involve actual breasts).
Here's the plan so far:
1. Riese & Crystal will recap the entire fourth season of Skins.
2. "Hot Girl of the Week" will become its own post.
But before we change into our pajamas and have a box set marathon, I want you to tell me your favorite TV shows! (I'm secretly in love with you, so I'm going to watch every show you mention, and then play it cool when I talk to you about it later, as though Felicity has been my favorite show forevs.) If you have any feelings about what teevee coverage you want on Autostraddle, do tell!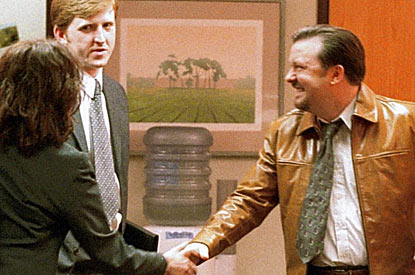 For instance, one of the shows I can't shut up about is Criminal Minds. I want to go all fangirl over the solid writing, discuss how Emily is so obviously a huge lez, and hear everybody's thoughts on the upcoming spin-off series. I want to rave about my newest favorite show White Collar, and how it's convinced me that I want to become a con artist (if only I had even half of Neal's charisma). I want to rally my fellow Gleeks to celebrate the show's total gayness and deserved success. But I said I want you to share any feelings about what Autostraddle should cover. That's right, even about the terrible/AWESOME shows you love to hate. The shows you watch in secret, but are dying to talk about. Own up!
Here, I'll start. I feel only somewhat embarrassed to admit that I watch Hollyoaks. I say "only somewhat" because most Americans have no idea what programme (spelled the European way!) I'm talking about. I got sucked into watching Hollyoaks when I visited England, because they only have like 10 channels, whatevs. Hollyoaks is a soap opera. But you guys! It's not like the terrible America soap operas with the cheesy music and shoddy multi-camera angles. Honestly, Hollyoaks looks even better than some of our prime time shows. And they have a (murderous, obsessive, soap opera) lesbian! So, I'm confident enough to own up to watching it, despite the stigma of 'soap opera'. I track down the latest episode… of a show that runs every day… and doesn't air on any of America's bazillion channels.
OK. It feels so good to get that off my chest. YOUR TURN!