ELLEN DEGENERES: Ellen DeGerenes made her American Idol debut last night. It was pretty much all worth it if just for the moment that she made everyone step forward, step back, step to the side, step back quickly, step up again, etc., as I have been waiting for someone to do that since that ridiculous method of elimination began in the 80s or whenevs:
According to the AP, Andy Dehnart, editor of the popular reality TV blog realityblurred.com and a lecturer at Stetson University, said DeGeneres seemed "more polished and on-point than the people who've been sitting at that table for eight years."
VOGUE: Judging from this leaked blurry shot of the March cover, the styling [for Tina Fey] isn't as innovative: Face-obscuring light + wind machine + Photoshopping already-thin women = Snoozefest. [Blackbook Magazine] (@jezebel)
GLEE: Molly Shannon is set to debut on GLEE, where she'll play the enemy of Sue Sylvester (@ew)
"Her character, Brenda Castle, is described as the busty 45-year-old new astronomy teacher and badminton coach at McKinley High School who is both an alcoholic and a pill-popper.
"She becomes Sue's enemy,wp_postssays a Glee insider."
LOHAN: Lindsay Lohan set the record straight regarding rumors that Samantha Ronson had beat her up. It is always the rumors people spread about you afterwards that you back together… (@us)
LADY GAGA: Lady Gaga would become a go-go dancer again if fame runs out. Sounds good! (@missceleb) Also her Dad allegedly set up a collaboration between Gaga and Britney Spears. Eeek. La-la-la-love Britney, but I hope she's singing backup. (@thesun)
FANGIRLS: PopMatters looks at Rags to Riches, The Fangirl Phenomena, even tracing
Urbandictionary.com defines "fangirlswp_postsas "young fanatical females… (who) suffer an absurd affinity for a randomly chosen object of obsession and base their life/daily schedule around it.wp_postsBut we think of them as the girls who line up for hours and even days before meet and greets, book or CD signings, ticket sales openings, or some such event where their dearly beloveds are involved. Armed with homemade signs, T-Shirts and brain-splitting screams, fangirls can turn critically un-acclaimed albums double platinum and make shakily written fiction into a worldwide phenomenon. I can't help but feel that if these girls gathered at the edge of the Red Sea, it would part.
The article looks at the phenomena historically and how fangirls have been a key element in the careers of many legends like Frank Sinatra and The Beatles.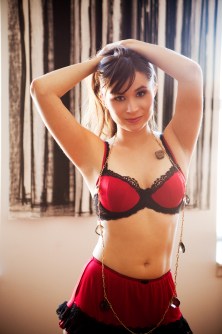 AUTOSTRADDLE: Remember January when we introduced Autostraddle Calendar Girls? Well now it's February. So we've got your brand-new hot talented lesbian girl over on Autofocus, meet Julia she's Miss February.
Also yes Turn Your Televisionary On, We're Back in Business — what kind of TV coverage do you want to see at Autostraddle?
JOHN MAYER: John Mayer, who I've managed to avoid thinking about ever since his first album overtook my college like wildfire, I consequently fell in love with "1984" and "Your Body is a Wonderland" and the song "comfortable" broke my fucking heart right open and still makes me cry to even think about it (srsly my eyes are watering), has been doing a lot of weird things lately, for oh the past few years or so. Since i didn't like his second album too much, I stopped caring.
But this interview is kinda wild. I'm always inclined to defend people no-one else likes, maybe because I appreciate honesty so f*cking much. But I'm also inclined to just agree with whatever jezebel says:
""What's wrong with John Mayer?" we asked last month. A brand new Playboy interview provides a plausible answer: he's stoned and pretentious. Also: not good with racial issues."
While it's tempting to use the new DSM to diagnose Mayer, one commenter has a non-psychiatric explanation for his nonsensical logorrhea: "he is baked off his ass all the time." Mayer's interview with Playboy supports this hypothesis.
I think we all knew this guy in high school: the guy who always wanted to talk about, like, what does "time" really mean? Except that while that guy might have been a little pretentious, he was basically harmless. And Mayer's interview reveals something more fucked up than a little stoner logic. Gossip sites have been salivating over Mayer's claim that Jessica Simpson was like "crack cocaine" and "sexual napalm," but more troubling are Mayer's comments about race and sexuality.
And yes, I believe this independently. Dude says some fucked-up shit. Offensive language, offensive statements, and the most disturbing idea ever of his "David Duke dick."
RIHANNA: Rihanna is all over the place these days. This month, she's covering i-D magazine: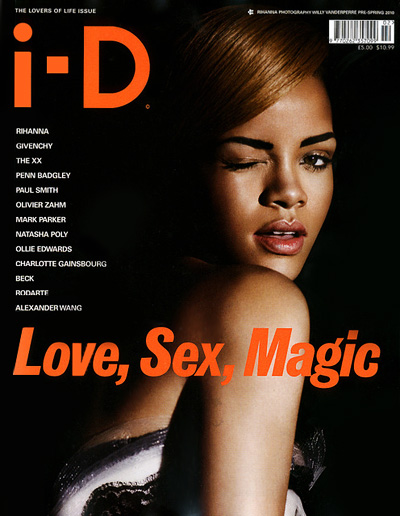 SAME-SEX OFFENSE: Same-Sex Couples in Armani Ad Anger Parent Group: "Armani Exchange came up with a "Share the Love" Valentine's Day campaign, which is unique in that it features same-sex couples. However, the American Family Association's OneMillionMoms.com is upset by the ads. The organization aims to rid our society of the "filth" their children must contend with every day." (@nymag)