SAFE SEX: Oh I dunno just this thing on a popular morning television show about how important it is to have safe sex! Hm. Such a good topic to broach with young women rather than promoting abstinence as the one & only acceptable option as if the reality of STDs do not exist! I wonder who did this wonderful thing oh what do you know it was Cyndi Lauper and Lady Gaga! On Good Morning America to promote MAC's VIVA/Glam lipstick and AIDS awareness for women!
Lady Gaga says, "Mothers and sisters and best friends buy each other this lipstick… say it represents you protecting yourself, having safe sex, having loving monogomous relationships to protect you and those around you."
The anchor dude tries to start talking about how much Lady Gaga has changed since high school, but she wants to stay on topic with the MAC product, talking about how she's admired Cyndi Lauper and what she's done for women in music. Then she launches into, "I don't know if this is too much for morning TV, but…"
Lady Gaga: "Everyone has that… phone call of, "Oh my gosh, you won't believe what I did last night. I was so stupid I didn't use a condom," and there's all this laughter on the phone… I've gotten those phone calls, and it's our job as friends to one another to say, "I don't know why you're laughing because it's very serious. I guess I want to take as much time today as I can to speak out about this… I really don't feel there's enough women who are educated about AIDS, how quickly it's spreading, how dangerous it really is, how many people really have it, and we want to do good jobs as women who represent a sexual community and a strong independent group."
Cyndi Lauper is the cutest, talking about how you have to be prepared like the cute boy scouts. And I love that Lady Gaga is always very conscious of not being heteronormative, like here:
Cyndi Lauper: "Always be prepared. You give this to your kid sister. Tell her about AIDS, tell her you can die from it– the heat of the moment I understand that but it's not worth your life… so be prepared.
Lady Gaga: "Especially in older women who maybe haven't for a while been with a man or been with a woman, and they act out of passion and excitement."
Robin Roberts, the kickass (lesbian) news anchor, assures them, "Bless you both. You're so smart and so talented… be so powerful in how you are there and how you look, but it's what you're both saying, and we really appreciate what you said, and it's okay for morning television. People need to hear that."
UPDATE: Oh, and look, they were on the Today Show promoting the M·A·C campaign, too! It seems like the two loosened up a bit more in this interview. They talk about their friendship, a little more about the Grammys, the feminization of sex, and growing up a weirdo. Plus AIDS awareness, of course:
Aren't they just adorable? I could listen to these two women talk about gender roles and sexual pressure all day. They have all the right ideas. There's a second part that you can watch here where they talk about doing a possible duet as an AIDS benefit.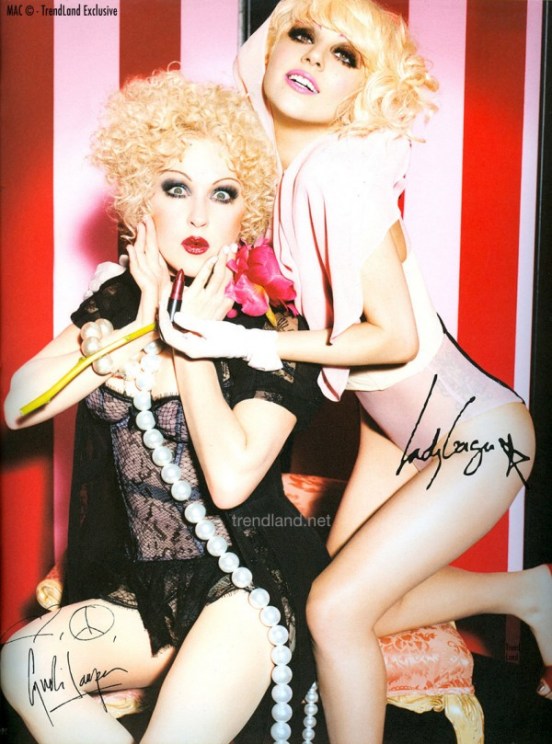 Every cent of the selling price of VIVA GLAM Lipstick and Lipglass is donated to the M·A·C AIDS Fund to support men, women, and children living with HIV and AIDS. Viva Glam Gaga is available via the M·A·C website.
MEDICINE: Hello Mental Health nerds and other probs crazy people! New edits to the eagerly aniticipated DSM V (to debut in 2013) have arrived, which will determine the future of your relationship to Klonopin! Notes that may be of interest to the Autostraddle demographic include the addition of Non-Suicidal Self-Injury, a possible switcharoo with the classification of Obsessive-Compulsive Disorder, as well as the addition of Binge Eating Disorder to eating disorders. There have been no changes to gender identity disorders, which is probably a good thing due to longstanding concern within the transgender community and allies because there were some serious 'phobes on the Deciding Team.
Proposed additions include Skin Picking Disorder and, from the famous A&E Television Show Hoarders, Hoarding Disorder! There seems to be some shake-ups happening over in schizophrenia-land, where potentially it appears a bunch of "types" of schizophrenia are going to be cut or perhaps condensed into one.
They're changing the wording of the "Dependencies," such as 'Alcohol Dependence' to "Use Disorders," like "Alcohol Use-Disorder." I hope that on Intervention they say "Allison has agreed to be in a documentary about use disorders" and she'll be like, "I USE JUST FINE I'M WALKING ON SUNSHINE!" Did you see her follow-up last week? Girl is looking good!
Also would like to note that apparently "Cannabis Withdrawal" is a thing that happens, and you can read about it here. Apparently side effects are worse than "realizing that television is boring." They're also revising all the Personality Disorders so if you think you are Borderline today, who knows what you'll be tomorrow? Ain't that the pits. (@metafilter/dsm)
VOWS: This is the longest wedding announcement of all time. Here's the interesting part (@philly)
[Jessie] She had been married to three men before realizing, in her 30s, that she was attracted to women. "It was a great relief," she said. "I thought, 'I'm a lesbian! No wonder it never worked out!' " She had been single since breaking up with her female partner in 1995. A close friend suggested that maybe she needed to be open to a man or a woman.
SESAME STREET: Would you want to be a sexy Sesame Street character for Halloween? Well now you will have that choice! It seems a bit creepy yes, sexualizing children's toys? I suppose that's always been done. But Sesame Street is on PBS!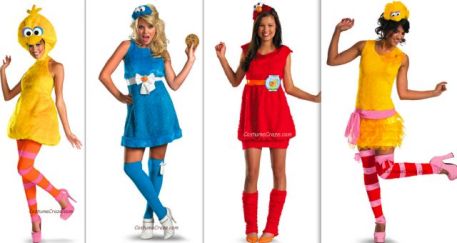 PALIN: Nate Silver has crunched the numbers to discover how Sarah Palin could win the Republican primary in 2012. Seriously if she wins the presidency, I mean it this time, we will have to move to Canada. (@538)
SAME-SEX: Google's cutie Paris ad has been re-done to be about same-sex couples and also to be about ADD. Here's the one about same-sex couples:
EDUCATION: Have you ever wondered why feminism isn't taught in schools? One teacher had her students Write Letters to the President about it. I honestly feel that feminism and gender justice education must be incorporated into education. Every social justice movement deserves to be represented. Issues of gender and feminism must be taught to both girls and boys, young and old. Not only women should learn feminism. (@feminist teacher)
NUN FUN: Nuns Visit Oprah to Talk About Sex! (@jezebel)
ADS: HuffPo rounds up Super Bowl sexism: 30+ pantless dudes marching through a field. A continuation of the theme of the night: bemoaning existence as a male human being in a world of power hungry, castrating females. This ad brought to you by Dockers, the proud authors of the absurdly sexist and bizarre 'Wear the Pants' campaign that caused an outcry earlier this year. (@huffpo)
WORST: Laclede Gas and Exxon Scored the lowest on the HRC's annual survey of workplace environment. Cracker Barrel came in second-lowest which may or may not change your feelings about the cinnamon apples & macaroni + cheese. (@rft)
LOVE: The World's First Grocery Store/Dating Service Opens in Beijing – the concept was inspired by people's need to meet in a safe, friendly and relaxing environment, and by the negative experiences some singles have had using Internet dating services. (@reuters)