Autostraddle has now gone three months without a TV Editor (though we enjoyed one thrilling false start) which means you poor creatures haven't had anyone to talk to about your favorite programs except yourself. We feel bad about that, we really do, and we'd like to make it up to you.
Therefore today, Scribegrrrl (pronounced out loud as "scribegirl. or like, scribeg'rrrrrrl or whatever") an experienced television writer responsible for masterworks like this page of The L Word Episode 311 recap & many other things, is going to cover what we missed. A.k.a., everything except Skins. Without any further ado…
We Like to Watch:
A TV Roundup at a Random Point in the TV Season
by scribegrrrl
+
Is this thing on? Well, no — not if it's a TV. Lately, clicking the brave little TELEVISION link on this site has probably left you feeling empty, alone, bereft. As hollow and abandoned as an Avatar fan on Oscar night. But I'm here to tell you that yes, some of us do still watch TV — and even like it! Come, let us begin to fill the giant TV-shaped hole: here are some flickering highlights of the last couple of months of TV, in no particular order.
---
+
30 Rock
If you haven't been watching 30 Rock, there's not a lot I can say, because this show is so totally insider-y and so quick-wittedly self-referential, it's going to implode someday. And that's why I love it.
Recent highlights include the sleepwalking (and sleep–pizza-ordering) nod to Paranormal Activity; guest star Julianne Moore's crazy Boston accent; and Liz's root canal procedure (and subsequent loopiness). If you didn't see the last few minutes of the root canal/Valentine's Day episode, stop depriving yourself. (In this clip, Liz is flying high on post-surgery meds and mashes up her ex-boyfriends with the Jamaican hygienists at her dental office. But don't try to make sense of that; just watch!)
+
A lot of the jokes on 30 Rock are fleeting and don't make much sense outside the trippy meta-context of the show. But one scene will stay with me, in a scarred-for-life sort of way. Jane Krakowski and guest star Jan Hooks, playing dependent daughter and manipulative mother, did the most awkward duet since "Afternoon Delight" on Arrested Development. They sang "Do That to Me One More Time," made famous by the Captain and Tennille.
+
Do that to me once again!
---
+
Lost
It's the final season, so of course Lost is taking the opportunity to be even more convoluted and confusing. Now there are mind-blowing flashes sideways in addition to the continually cryptic flashes forward and back. Plus after watching Juliet (Elizabeth Mitchell) die in last season's finale, we had to watch her die OVER AND OVER AND OVER again in "previously" clips and flashbacks. Way to overwrite my fond memories of her in her "Motor Pool" jumpsuit!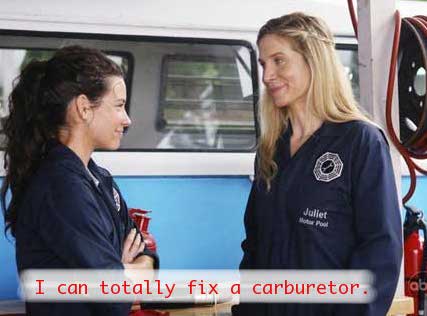 Lately the highlight for me has been mad, murderous Claire — now seemingly possessed by dark smoke-monster forces. Unfortunately, I keep getting the urge to yell, "Maybe the dingo ate your baby!" a la Elaine Benes.
+
Like many, I'm beginning to question my investment in all the years and twists of Lost. Unless they all end up driving a convertible into the sky, accompanied by the sweet strains of "We Go Together," the ending probably isn't going to be very satisfying.
---
+
Desperate Housewives
Mostly I cannot stand this show. The voiceovers are creepy, everything's unnaturally taut or unnaturally manicured or unnaturally shiny (and that's just the electrical wires, the lawns, and the mailboxes, ba dum ching!), and the storylines are usually just boring. But oh, Dana Delany.
There she is kissing her stripper roommate. (How else would two women hook up on Wisteria Lane? I mean, nobody can be expected to resist a STRIPPER.) This is really all you need to see:
Oh, and THIS. (The ol' oops-I-spilled-something-on-my-shirt-and-thus-must-disrobe trick has been working since The Hunger.)
+
The most recent episode was a little less promising, but still good — stripper Robin isn't going to let suburban Katherine wiggle her way out of this attraction with excuses about being drunk or straight or DESPERATE or whatever.
---
+
Nip/Tuck
No way! Long-suffering Lizbian finally got some action! Sure, Liz then stupidly freaked out about her new lady love's special talent (hint: it rhymes with treenail freejackutayshun), which made the lady love freak out about gayness in general — this is Nip/Tuck, after all, where women can never be happy and often can't even be human. But hey, it was hot for a minute there.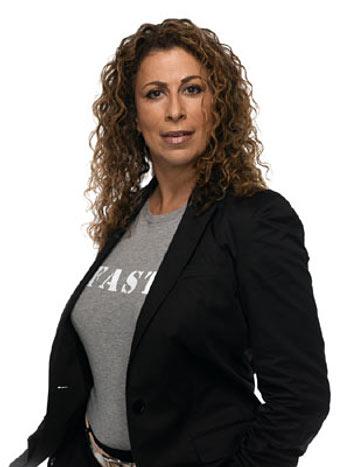 Then, in the very last episode ever ever ever, fucked-up Sean and egomaniac Christian finally made Liz a partner in the plastic surgery biz. She may never be happy personally, but professionally she's even more of a catch. Meanwhile, Julia (Joely Richardson), the other "lesbian" on the show, ended up married to a dude and brooding about her brood. Touché. And cliché, and fuckyouRyanMurphyché. You've almost redeemed yourself with Glee, but that's really only because Jane Lynch is mighty and cannot be felled by half-assed writing. Never mind that the last hugs-around-the-dinner-table scene of Nip/Tuck actually made me tear up a little. *sniffle* Stupid show.
---
+
Damages
The snoozy second season set the bar pretty low for this season of Damages. But even without that, the storylines have been much more interesting. Of course, I really only watch for Glenn Close generally and flirtatious scenes specifically — like this one, in which Patty drunk-dials Ellen (from the office at 4 in the morning, while eating Oreos and drinking!):
+
Damages: If the preceding clip disappears, try this one. Note: DO NOT SELECT A QUALITY; just press the play button twice!
+
Who can resist a classic cat-and-mouse game? If there's a God, Patty and Ellen will end up in bed together before the show meets its demise — which I fear is probably really soon, so never mind, God.
Oh, but at least we get Lily Tomlin this year, wearing a fright wig and delivering unintentionally campy lines. She's ready for her close-up!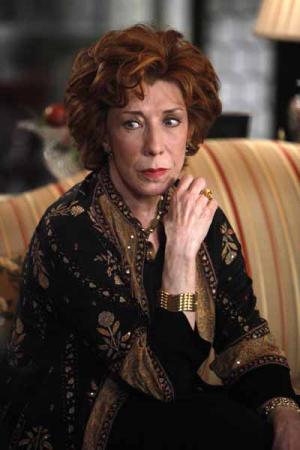 ---
+
NEXT:
Grey's Anatomy, American Idol, Parks & Recreation,
Better Off Ted, Modern Family and more
Grey's Anatomy
Oh, Grey's Anatomy. Why you suck so hard? You give us mere glimpses of Callie and Arizona, and then you fuck it all up by suggesting they might break up because Callie wants kids and Arizona would rather have dogs and chickens.
+
You suck. Hard. We deserve better, and so do the very talented Sara Ramirez and Jessica Capshaw. And if Callie ends up with that sex-tape fuckwit Mark Sloan, I will never ever watch you again. So THERE.
---
+
American Idol
Last week, Lilly Scott got voted off American Idol (wah!). People Who Know These Things say that's partly because the song she sang ("I Fall to Pieces," made famous and amazingly smooth by Patsy Cline) was too "old." That's no surprise, because this show ages everyone. Every time I watch, I can feel my cellular membranes mutating and crumbling and weeping.
That said, pitch-perfect Crystal Bowersox is consistently great. What an ear!
+
Meanwhile, Didi Benami continues to be better than you expect her to be, while Siobhan Magnus continues to be kookier than you thought possible.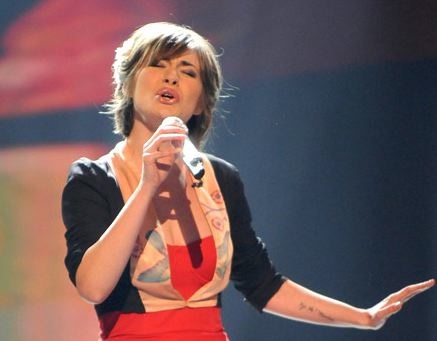 The rest of the ladies are kind of meh, and I've been studiously avoiding the boys. I used to dream of the day that we'd have a real-life lesbian (maybe even a riot grrrl type) on American Idol, but now I'm too busy dreaming it's over. Hey now! (Yes, I just made an '80s song reference, because I wish Idol still did '80s and '70s and '60s and Broadway nights — you know, I wish it actually focused on music.)
At least we have Ellen DeGeneres. The woman knows how to wear a tie. Her judging is less exciting, but it's miles better — more genuine, more English — than everything Kara DioGuardi has ever uttered.
---
+
Dollhouse
I tried, really and truly, to get caught up in the plight of "dolls" and their postmodern, post-individual, post-everything world, but, well, I was terrified of dolls as a kid, so the whole idea played on my childhood nightmares of dolls turning into people and smothering me in my sleep with their frilly petticoats. Different kind of dolls, yes, but still horrifying.
Anyway. I do appreciate Eliza Dushku, especially when she gets all badass (and bonus: she never wears petticoats. Er, does she?).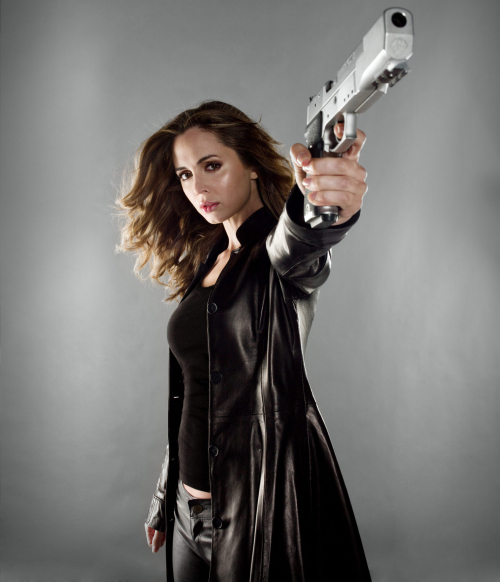 I promise to try again to watch this show. And then I'll start all over with Buffy again, just for the joy of more Dushku and more scary things that turn out to be amazing. Well, except that it's canceled now, so… never mind!
+
Parks and Recreation
If I could choose my own boss, I would choose Leslie Knope (Amy Poehler). She is dedicated and efficient, yet she is fully off her rocker. Talk about an ideal working environment.
+
Meanwhile, Ron Swanson (Nick Offerman, aka Mr. Megan Mullally) has begun to grow on me — that's why he won "woman of the year" in a recent episode. And April is hilarious, even though her flirtation with Andy is too similar to the Pam and Jim thing (and simultaneously not half as sweet as the Pam and Jim thing). Even the bit players are terrific, like the sassy Donna. The only thing that would improve Parks and Recreation is the departure of Aziz Ansari, but Mark Brendanawicz (Paul Schneider) is leaving instead. No, Paul: don't do this! You've already failed John Keats; must you fail me too?!
---
+
Better Off Ted
This is the sort of show you can half-watch at work and still feel entertained, as long as you fully watch the Veronica (Portia de Rossi) parts. She's acerbic! She's gorgeous! She's probably a card-carrying member of No Kidding!
And how great was the competitive bagel-tossing game called Linda (because it was invented by assistant Linda)? if you watch The Ellen DeGeneres Show, you know that Portia herself is really competitive, so it was like being in her backyard. But without the F-bombs.
+
Actually, scratch that thing about watching Better Off Ted at work. Because the last time I did that, I started thinking I was actually employed at Veridian Dynamics, which is not as fun as it sounds. Especially without Veronica and Linda and bagels.
---
+
+
Law & Order: Special Victims Unit
I don't watch this show, despite the hotness of Mariska Hargitay, Stephanie March, and Tamara Tunie. They can't balance out the ick factor for me — this is an entire SHOW about women as victims. That would be fine if the show sought to educate and enlighten, but it offers up a lot of comic relief for things that just aren't funny.
However, there was that one episode recently where Kathy Griffin showed up and twisted the comic relief into camp. And that actually was kinda funny! Griffin played a wacko named Babs Duffy, the leader of an activist group called LezBeStrong.com (yes, the domain is available if you feel inspired). The episode was chock-full of quippy, quotable lines — and she even said "dominant heteronormative paradigm."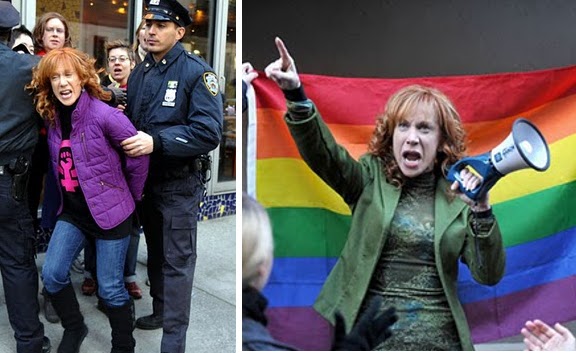 The other lesbian characters were reasonably realistic, with one ridiculously ragey exception who was rightly described as "psycho" and seemed right out of Beebo Brinker. There were also many Broadway vets in the episode (including Sutton Foster), and what looked like a lot of actual NY lesbians in the crowd (if you were among them, regale us with your SVU experience!).
And, of course, Babs tried to kiss Olivia Benson and was rebuffed — "I'm straight," mumbled Olivia. But every lesbian in the audience shouted "Amen" when Babs explained her motivation: "Come on, I mean: the job, the gun, the attitude. You're like Ellen, Joan Crawford, and Calamity Jane all rolled into one. You can balance a checkbook, I'll thrown in Suze Orman!"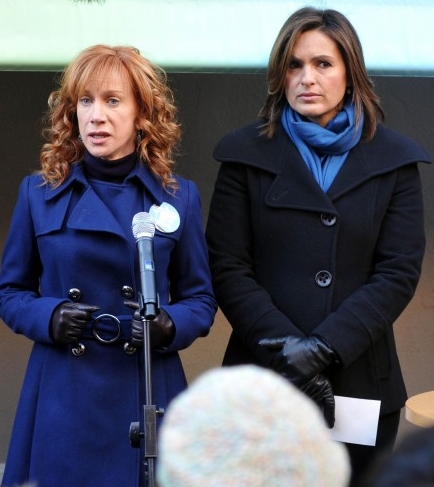 Olivia even pretended to be gay at one point, and the whole thing was a nice nod to the wealth of SVU fan fic on the web. But the idea of a series of "attacks, murders, and rapes" of lesbians … again, just not funny, and an appalling premise for a show.
+
Spartacus
Watching Spartacus is like falling asleep in history class and having an R-rated dream about Xena. And then you wake up, and BAM! It's all real! Well, not real, but certainly realistic, what with all the gore and fornicating. There have been lots of naughty scenes, featuring every combination of body parts imaginable. I'll drink to that!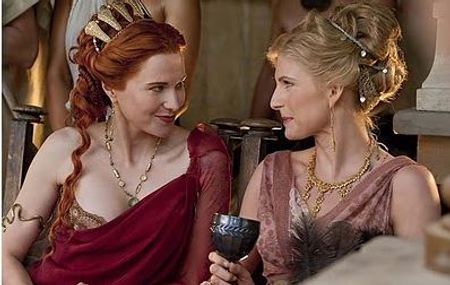 But maybe the best (and possibly even the gayest) part of Spartacus is the way Lucy Lawless is often exactly like Xena. There are always women chanting and ululating in the background as she gazes out over her kingdom.
It's like we're still happily ensconced in the '90s and The L Word never happened!
---
+
Modern Family
I resisted Modern Family for a while — what a hype-o-rama — but now I find it irresistible. It also makes me feel a little like a gay man trapped in a lesbian's body, because every time Cameron is on the screen, I want to raise an Asian baby with him.
Fave recent moments: Gloria helping Claire when her trenchcoat got caught in the escalator; Lily's first word and the mention of her lesbian godmothers; everything involving Manny the mini man (and mini lesbian, somehow).
+
There aren't enough women on the show, but Julie Bowen brings the funny every week — and she's brainy, too, as evidenced by her recent almost-as-smart-as-Jane-Kaczmarek appearance on Celebrity Jeopardy. (Dana Delany competed too; Bowen and Delany should start a MENSA for hotties! And speaking of hotties, seriously, in what universe would Sofia Vergara be with Ed O'Neill? Ugh.)
---
Soooooo that's how I've been frittering away my time over the last couple of months. And I'm soon to be even more glued to the set: The United States of Tara, Nurse Jackie, V and Glee are all coming back! Those are all way way better than most of the shows I just rambled on about, so see: you're all caught up and can just get to the good stuff.
You should also give us your own good stuff, aka a scintillating survey of your recent tube viewing: commence commenting.
Pages: 1 2See entire article on one page