Hey, there's that theme song again. I'm not sure I'll miss it. But I'll miss the mood it puts me in: the feeling that something pretty fascinating is right around the corner. Don't go, Lip Service!
This time the fascinating thing is Sam, washing her face and wetting her hair and staring into the mirror as if she doesn't quite recognize herself.
My girlfriend yells, "Pull yourself together!" — and that will turn out to be the first of many such utterances. I second that; there is no part of me that prefers off-the-rails Sam to on-the-ball Sam. But I don't have a lot of hope for her speedy reassembly, partly because while I was writing this paragraph, I paused the playback in a spot that made this scene look like something out of Black Swan.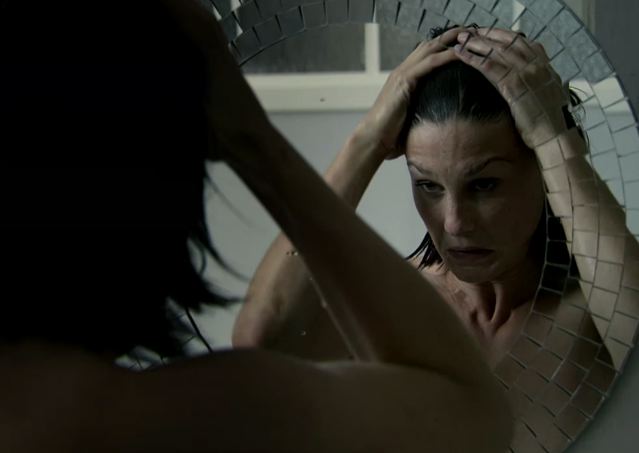 Also, for a minute there I thought this was the mirror against which Sam banged that hapless victim last week, but it's not. So maybe there's some hope after all.
At the TriSexA flat, Sadie and Lexy are having breakfast. There's coffee and yogurt (sorry, yoghurt) and milk and … well, way more smiles than we're used to seeing around this particular gateleg table.
Lexy looks very Archie comics in that screenshot. She's the female Reggie!
Tess emerges from her room, in a typical Tess-y tizzy.
Lexy: Here she is, the actress.
Tess: Don't. I think I'm going to be sick. How could it be opening night already?
Oh, I know this one: it's because there are only six episodes in the season and everything's at warp speed and you go faster and faster until all the faces stretch in that weird plasticky creepy way and you slip through a wormhole into a different universe.
Tess: Last night, I actually had the dream. I was on stage naked —
Sadie: Cheeky Chekhov.
Tess: — and I just … I froze. 450 people staring at my lady garden, waiting for the show to start.
Lexy chuckles and tells Tess she'll be "fine." I don't know, Lexy: I like your steady, laid-back aura, but I think you could have done better than "fine."
Ed shows up with a good-luck card for Tess. Lexy has a gift for Tess too: a "first-night survival kit." Tess is very, very pleased with this. Too pleased. Lexy tells her not to open it until she gets to the theater, and Tess makes another goofy face. Just when you think you've seen every one of Tess's thirty-six expressions, another one pops up.
Tess distributes tickets for the show: one for Ed, one for Sadie, one for Lexy, one for… she pauses as if she's thinking, "Wait, wasn't there someone else here once? Maybe even more than one someone?"
Ed asks whether anyone has spoken to Sam (no one has), and asks Lexy whether she's been running with Sam. After Lexy says no to this question, Tess goes off to take a shower. And then Lexy seems to go into a sort of fugue.
Ed: Anyone you want to bring? It's not like I've got much chance of meeting someone by tonight.
Lexy: (distantly and dreamily) Yeah. Yeah, maybe.
Ed: So there is someone?
Lexy: (still murmuring distantly) Yeah. (suddenly waking up) I mean, no. Er… they won't want a ticket.
Uh, that was weird. And hey, Lexy, you don't need to use the gender-neutral "they" with your friends. Much like Bea's husband, THEY KNOW.
Yeah, I realize the point is that Lexy is considering her options and trying to decide whether to pursue Tess. But who would just mumble that stuff at the breakfast table? Ah, exposition. It's a tricky beast.
Sadie takes the extra ticket because, as she puts it, she's "the only one likely to be gettin' any later." I don't know why, but when Sadie says such wonderfully Sadie-rific things, I feel safe and warm and happy. Sadie snark is a hug!
I guess I haven't said much about the interstitial shots of Glasgow. They're lovely and they make me want to go to there. The light and water are breathtaking sometimes, and the city streets seem to have just the right amount of bustle.
But we're actually still pretty much in the same scene, though perhaps half an hour later. Tess is showing Lexy her potential dress for the after-show party.
Tess: I don't know if I've got the legs.
Lexy: Are you kidding? You have great legs!
Tess somehow manages not to squee at this. Lexy tries to take her leave, but Tess stops her to thank her for being such a supportive friend (and also to ask for a little more support).
Tess: God, I hope I don't make a tit of myself.
Lexy: (fondly) You're always making a tit of yourself.
And then Lexy leans in to kiss Tess on the cheek, but Tess turns ever so slightly to the side and it becomes a squirmy awkward not-lip not-cheek not-meaningless kiss.
Tess saves the moment with her typical adorkableness:
Tess: OK, uh, OK. (thinking, scrambling for something to say) That's a… a really nice lip balm you're wearing. What is it?
Lexy: It's a medicated Chapstick.
Tess: Right. Sexy!
Aww, Tess. Must you have such extreme puppy-dog eyes as you watch Lexy go out the door? Don't break your own heart!
Outside, Lexy stops. She stands in the middle of the pavement, not going left, not going right. It feels like a continuation of that earlier fugue — maybe she's being remote-controlled by someone. It's The Manchurian Candidate, but without all the playing cards and Communists.
Ed and Tess are killing time. Tess worries about the fact that Lexy "actually knows" Vanya. Does anybody really know Vanya? Even though I've read it a few times and seen it a couple of times, I still can't say I "know" it. That's how I feel about all Chekhov plays: they're beautiful, and they move me, but if I try to summarize them, I end up saying vague things about the country vs. the city, the inevitable march of progress, the anguish of unrequited love, the curative power of hard work, and something about forests and farms and orchards. Also, there's always a doctor, a samovar, and that infamous gun.
Ed tries to reassure Tess:
Tess: What if I'm rubbish?
Ed: I'm sure she won't tell you if you are.
Tess: Thanks, Ed.
Heh. I'm sure she wouldn't, though! I speak from experience, because I was in that position last year: we went to a preview of a new off-Broadway show and had to pretend not to hate it because my partner's former co-worker had a fairly sizable role in it. When he asked whether we liked it, we said sideways things, such as "You were the best part!" — which wasn't actually a lie. And anyway, he didn't need us to tell him how abysmal the thing was: it closed after only 7 performances. I'm sure your Sonya won't be that bad, Tess!
Ed's not sure why Tess is so worried. And then it dawns on him.
Ed: Ohhhh. You fancy her!
Tess: No, I don't!
Ed: Yes, you do!
Tess: OK… I just don't know if she likes me or not. I mean, I think she might, but you know what I'm like. I'm just crap at picking up on these things.
Ed: She did mention someone.
Tess: Really? Who?
Ed: Just someone, but they didn't need a ticket to the show.
Tess: Oh, great. So it's someone who's going to the show.
Ed: Or…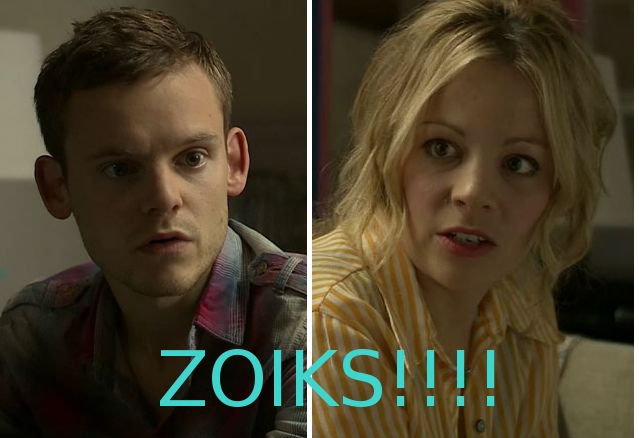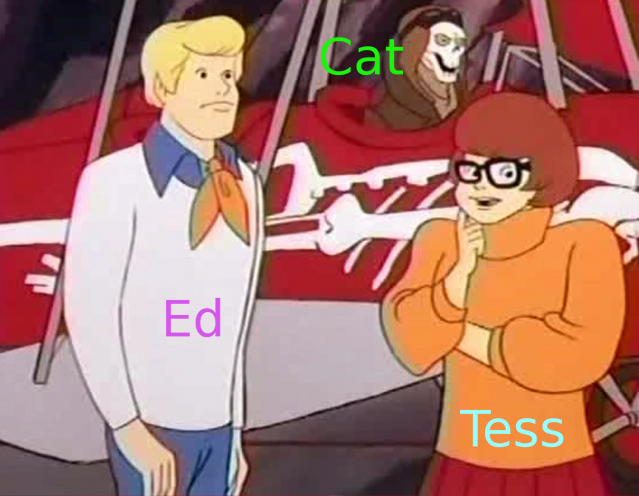 Tess: Or someone who's IN the show. I am someone who's in the show! I mean, do you think she meant me?
Ed: (teasing) Or Nora. (sincerely) Why didn't you tell me that you liked her?
Tess: I just felt weird, carrying on like normal without Cat around.
We all did. Wait, "did"? Are we using past tense already?
Tess decides she can't wait to open her first-night survival kit from Lexy. It's "a little something for before and after the show." The "after" is champagne, and the "before" is Immodium. They giggle. The whole thing is sort of dorky but mostly sweet — just like Ed and Tess themselves.
Sam is on her way to work. And look, now we know which way Lexy decided to go, after her moment of indecision on the pavement: right toward Sam.
Sam: What do you want?
Lexy: Not the warmest welcome I've ever had.
Sam: Well, I'm late.
Lexy: Um, I won't hold you up. Look… I just need you to know that you were wrong.
Sam: (scoffing) There's nothing new there.
Lexy: I really, um… I really didn't know about Cat and Frankie.
Sam: You want an apology? Is that why you're here? (with mock sincerity) I'm very sorry. OK?
Lexy: Might want to work on the whole apology thing. That level of sincerity, it's a bit overpowering. Look, I get it. You want to deal with this on your own. I understand. I'll leave you alone. But if you ever need someone, you've got my number.
It certainly does seem like Sam has Lexy's number. If you catch my drift. But I can't take much more of mean Sam: she's very cold and almost hateful. I guess that could be fully realistic for a cop — they see so much of the worst of human nature all the time — but it still doesn't make a whole lot of sense for the Sam we knew before Cat's death. Even when she was angry, she was honest and careful and tried to make the best of things. Now she's more like Son of Sam than Sam.
At the hospital, Lexy gets a text. She seems sort of irritated when she hears the beep, but then she smiles when she sees it's from Tess: "Bring valium! I'm going in!!!!" Lexy texts back: "You don't need drugs. You'll nail it."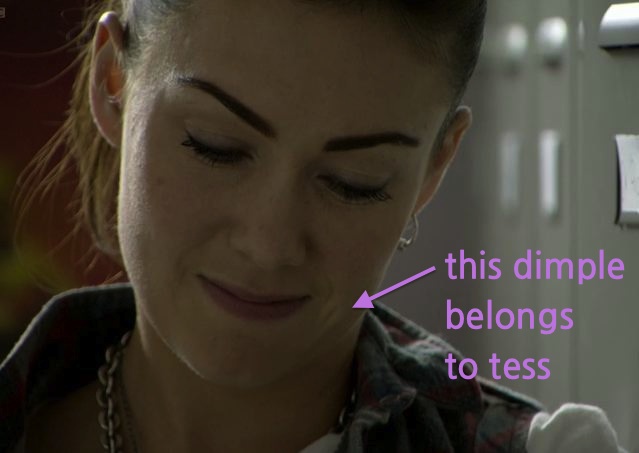 Lexy's smile suggests some real fondness for Tess, and maybe even an awareness that Tess is clearly the better choice in terms of niceness and sweetness and happiness and fun — which may not be the better choice for Lexy at all. And which makes me want to say, "Poop."
At the police station, Sam is late — I guess she wasn't kidding about that part. Ryder asks her to present the details of an imminent raid, the culmination of "Operation Beehive." Surely a raid with that name should be presented by John Waters.
Sam can barely get through the briefing; she's twitchy and her voice is shaking. At one point she seems to freeze, so Ryder takes over.
Ryder finds Sam afterward and wonders whether she's all right. She shrugs and insists she's fine.
Meanwhile, at The Space, Sadie pretends to work while Jo and Lauren argue. It seems Lauren has forgotten about something Jo told her about weeks ago. Sadie, you're far too delighted by this marital discord.
As Lauren leaves, she squeezes Sadie's hand and delivers a message.
Lauren: I'll be there about 3-ish.
Sadie: The eagle has landed?
This phrase can be used in lots of ways; I think Sadie is mocking Lauren's cloak-and-dagger manner. Let's think up some fun code phrases based on Lip Service! "The begonias have been delivered"; "The bracelet has been inscribed"; "The daughter has been disowned"; "The ketamine has been snorted"; "The cheese has been pilfered"; "The mortuary greeter has been Frankied"; "The lady-mound has been rubbed."
Jo is right on Lauren's heels, and she takes the hand that so recently held Sadie's. This is a mess, and I'm starting to worry about Sadie's not-so-hardened heart.
At the theater, the Vanya cast is making final preparations for the big night. Tess is startled to see Nora sitting smugly in the front row, as if she's Simon Cowell — or, better yet, Zach or Mr. Granziger.
I wonder which theater that is? The candyfloss color scheme is very striking.
Nora goes up to the stage to have a heart-to-heart with Tess: she wants to "clear the air" about Ed. You'd expect her to say something about the "self-centered bitch" comment from last week, but no, she's not even going to acknowledge that. Instead, Nora explains to Tess that Ed is so caught up in his geekery, he doesn't understand "real women." Tess gives her the most hilarious fake sympathy look.
The geekery thing is why Nora "just had to finish it with him." Yes, Nora is saying that she broke up with Ed, when it was very clearly the other way around. Tess, who is drinking water as Nora says this, almost does a spit take in response to the poppycock. Actually, why didn't she? More physical comedy from Tess next season! (I am pretending it's going to happen. Don't take that away from me just yet.)
Tess goes right to Hugh's dressing room to tell him about Nora's delusions, and of course to get some support for her Lexy lust. But Hugh is drowning his own sorrows: his wife wants a divorce. Tess tries to shore him up (and take away his flask), but he's despondent. Hugh's storyline hasn't been much fun. Remember when he was the sadder-but-wiser aging actor, rather than the desperate, drunken cuckold? Sigh.
At the hospital, Lexy tells Declan she went to see Sam.
Lexy: Why do I always do it? Why do I let myself get sucked in?
Declan: 'Cause you're too nice.
Lexy: What was I thinking? I was imagining there was some kind of connection between us — when her girlfriend just died.
I'm sure I wasn't supposed to giggle at that, but Lexy's sarcasm and self-mockery made me do it.
Declan tells her not to waste any more energy on Sam.
Declan: Go for Tess. She's funny, she's hot, and the two of you get on great.
Lexy: Maybe I will. I'm sick of falling into the same old patterns. I find someone who's a bit damaged, I put them back together, and when they're all mended…
Declan: They fuck off.
Lexy: How about someone actually wanting me, for a change?
Arrrggh. Now we know it's not going to happen: it seems that on Lip Service, a character must never choose a happy, healthy partner when a dark, dramatic one is available.
Pages: 1 2 3See entire article on one page