On a much happier note, Lauren and Sadie are meeting for an afternoon delight.
Lauren: If anyone I know sees us, you're my niece, or something like that. OK?
Sadie: That's weirdly hot.
They are holding hands! Why does this make me happy? This show needs a happy-go-lucky relationship, stat. Dr. Lexy, are you on call?
Oh, there's Dr. Lexy now. Declan is apologizing for being a "superficial prick." He gives Lexy a hug. Lexy's face doesn't show any kind of comfort or reassurance. She might be thinking about where she can actually get those things, with a side of carbs.
Back to Lauren and Sadie: they're at a sex shop! Sadie doesn't think anything's "proper pervy" anymore. She and Lauren soon correct that.
What is Lauren wearing? Some sort of Little Bo Peep thing? Sadie is in classic leather cop/daddy gear.
Sadie: Take it, bitch. Or your arse gets the fairy wand.
OMG YES! Er, isn't that enjoyable? We all need more laughy sexy times in sex-shop dressing rooms.
Ed and Nora are at a cafe. Ed is, understandably, having a hard time with the new information about Cat's infidelity. Nora dispenses some flat platitudes about Cat being a grownup or something, and then gets back to her own troubles: she's forgotten to pick up her dress for the book signing. She asks Ed to pick it up for her; he tries to resist, but Nora doesn't take no for an answer.
Meanwhile, Sadie and Lauren are having lunch or tea at a different restaurant.
Sadie: This morning, why did you call me?
Lauren: Because I fancied being fingered in a changing room.
Sadie looks more and more smitten. Lauren tries to pay the bill, but Sadie takes over. Lauren doesn't think she can afford it. Sadie hands the waiter a card, then leans forward conspiratorially.
Sadie: There's a huge limit on that library card. After you: walk, don't run.
Ah, the old dine-and-dash! Forget Sadie as Spike: she's more like Sadie as this girl I knew in junior high who was always stealing things and smoking cigarettes and slicking back her hair and shooting craps in Sunday school. Sadie is a juvenile delinquent — call Officer Krupke! Better yet, call the governor of G-Wing.
It's time for the sci-fi book signing thing. Nora says, "Remember, teeth and tits, all right?" as she and Ed and Tess enter the room. That's kind of great in a Chorus Line way.
Tess asks Ed whether everything's all right with him and Nora; he lies and says yes. He changes the subject to Sam and Cat and Frankie. Tess tries to apologize for keeping the secret, but that's not what concerns Ed.
Ed: That's fine. I totally get why you didn't tell me. I just… I hope she was happy.
Tess: Me too.
Aw, great. Now I have to think about all the ways in which Cat was happy or not happy and out of her mind and just not a coherent character. No! I won't do it!
A fan interrupts. That's right, a fan: it seems Ed has many of them already. It's very sweet to watch him sign autographs and smile as Tess looks on.
Lexy arrives and flashes the Vulcan "live long and prosper" sign. Ah, now the eyebrows make so much more sense!
Lexy has brought Declan along with her. Great. But never mind; he goes off to get drinks. Lexy suddenly says "Klingon on the starboard bow!" because she's spotted Meg. She sends Tess off to somewhere, wherever, and says hello to Meg.
How much more awesome is Lexy now that we know she has at least a passing familiarity with Star Trek?
Tess finds herself up on the roof. And Lexy soon joins her. She has brought along a cutout of some sort of amphibian that I'm sure I should be able to identify — as well as a pitcher of "Cheeky Vulcan" cocktails.
Tess talks about how ridiculous it is that she has a "stalker" after one date. She immediately feels terrible for using that term, but Lexy's not bothered.
Lexy: Oh, no no. It's … you've been fantastic. And last night was great. Totally took my mind off it. It was, um… great.
I'll forgive the limited vocabulary. Meaningful gazes everywhere you look!
Tess says "Umm… listen…" but before we can listen — and I really really want to listen to it, whatever it is — her phone rings. Hugh is outside and needs rescuing. Dammit, Jim!
Tess: Look, um, two minutes. Don't move.
Don't go, Tess! You were totally about to lock onto her with your tractor beam.
But Tess goes. A drunken Hugh is waiting for her; he's on a mission of some sort. She tries to say no — "I'm on a balcony with Lexy and loads of booze!" — but a Shakespearean fool is difficult to resist. She reluctantly agrees to drive him to his ex-wife's house (not quite yet "ex," I guess?), which he swears is extremely close by.
It turns out Hugh really wants to drop off a birthday present for his dog Ronald. This would actually make it a more defensible mission for me, not less, if it weren't for the fact that Lexy seemed very very amenable just before Tess left. Tess must be thinking the same thing; she texts Lexy: "Dog wars back in ten. Don't move!"
The locks have been changed, so Hugh tries the back door. But of course that lock has been changed too, so Hugh grabs a shovel and prepares to break in. Oh, look: the police have arrived. (But not Sam, which would be sorta funny. Or entirely terrifying. One of those.)
The police reveal that Hugh has an ASBO, which sounds like a growth or something but is an "antisocial behavior order." It seems to be about the same as a restraining order. Tess doesn't believe this at first, but Hugh admits he "posted some sausages through the letterbox." For Ronald, of course.
Hugh's wife Maggie is quite lovely, and of course her new man is dashing. Maggie tells it like it is.
Maggie: I cannot tell you what a relief it is to live with a man who doesn't throw pizza at the television every time Colin Firth comes on.
Hugh: I had Darcy in the bag!
Snicker. I wish I were enjoying this more, because it's pretty entertaining. But it's just that I know Lexy is waiting up on that balcony/roof!
And then more truth comes spilling out: it seems Hugh has been doing a little more than throwing pizza at the TV. He's been throwing himself at understudies and stage managers. Tess, you totally backed the wrong horse on this particular evening.
So did Ed: at the book signing, Nora is stealing his thunder. She gets all the attention by claiming she once worked with Peter Jackson. I think Ed's finally beginning to see her as she really is. It's like he's putting on the magic glasses in that movie They Live.
Sam is spending her evening with a bottle of scotch. The label says "Glen Sheil," which is either an intentional move to avoid a product placement, or a bit of misspelling on the part of the props department. (I assume it's supposed to be Glen Shiel, but my knowledge of single-malts is the equivalent of a single-cell amoeba's.) She looks at her phone and appears to think about calling Ed, but then goes back to the bottle. Ugh.
She looks at that group photo again. And then she takes the evidence bag full of drugs out of her pocket and stares at it. Wait, what? You brought the drugs home? And you're thinking about using some of them? Who are you and what have you done with Sam?
Back at the scene of the almost-crime, Hugh is admitting defeat. He tells Tess not to turn out like him.
Hugh: Grab happiness where you can and cling onto it.
Tess: Well, that was the plan.
Yeah, Hugh: you messed up the plan! And for what? It's all over now; the charges will be dropped and everyone's free to go. Oh, except they can't drive away because the tax disc on Hugh's car has expired. Of course. What's next? A road closure? Maybe Hurricane Bea is about to hit and Lexy and Tess will be stranded just across a wave from each other. Bah.
Back at the book event, Ed and Nora are coming apart. Lexy, slightly sozzled, is leaving, cardboard amphibian tucked under her arm.
Ed: You gonna be all right?
Lexy: Yeah. (nodding to the cutout) I've pulled! 15 fingers — what's not to like?
Hee! Lexy almost reminded me of Zoe on Nurse Jackie for a minute there — just in the way she delivered that line, I mean. And I mean that as a huge compliment.
Nora and Ed talk about the Peter Jackson incident.
Ed: That was a lie, wasn't it? You haven't met him at all.
Nora: Who cares? Give 'em what they want, that's what I say. I never really got that whole Lord of the Flies thing anyway. Gnomes in tights.
Ed: Um, it's Lord of the Rings.
Nora: What?
Ed: (stridently) It's Lord of the Rings!

This is just about the worst mistake you could make with Ed, Nora. He's about to blow a gasket, or whatever the elf equivalent of that is. But Nora doesn't even care.
Speaking of terrible mistakes, Sam is about to snort some coke. Right off the photo of Cat. Like, the line of coke is right on Cat's face.
That is super dark.
But wait. Hold up. This is how DS Murray goes off the rails? Really? I know very well that grief can make you do things that are completely out of character, but this is so far out of character, it's a different encoding scheme. (Geek joke!)
Here are some believable ways for Sam to express her rage and misery: (1) go to the gym and wail on a heavy bag until she breaks her own hand or punches a wall instead; (2) go to the shooting range and perforate a ream of paper targets; (3) drive way too fast on a dark, foggy highway. These are all aggressive and violent and (at least the last one) slightly self-destructive, but they're also all about grasping at some kind of control, of muscles, machines, mind. It just doesn't make sense to me that someone who values discipline and strength and structure would willingly toss those things aside. Not yet. After doing all that other stuff, sure, but not right away. I guess this is the 6-episode acceleration effect?
Tess has finally made her way back to the bookstore, but it's closed and everyone's gone home, except for Ed and Nora, who are fighting outside. Tess slips out of sight and eavesdrops.
Ed decides he and Nora are done.
Ed: Tess was right about you. You're a self-centered bitch.
Nora makes one last lame attempt to keep Ed; she figures he's just upset about Cat. Ed says, "Cat would've hated you." Eeek. Nora gets the hint and walks away. Tess can only wince and wonder what happened to the evening.
You know what else Cat would've hated? The fact that Sam is at a club right now. She's super hot and super scary and it's all so messed up.
Before we can watch that spin out of control, we see Sadie and Lauren on a boat, a holiday rental. Sadie used to "do a bit of cleaning for the company." I suspect Sadie has been fired by half the employers in town by now.
They talk about strings and commitment and the past.
Lauren: I wasn't always this flash.
Sadie: Get with Jo for her money, did you?
Lauren: No. I made that long, long before I met her. She never knew me back in the bad old days. I guess that means, in a way, she still doesn't.
They're both being open and sweet and downright romantic.
Maybe this doesn't have to end terribly? Maybe, instead of getting her heart broken, Sadie can become the third in a polyamorous arrangement? Yeah, that's crazy talk. I'd just settle for a ménage à trois at this point — some glimmer of happiness before it all falls apart.
At the club, Sam zeroes in on her target. The woman looks maybe a teeny bit like Lexy, crossed with Dana Fairbanks, crossed with … nope, she looks nothing like Cat, actually. Which is a relief.
They go back to Sam's place. The sex is really uncomfortable. Sam's fully clothed and the club girl is fully naked and I think she's sitting on Cat's dressing table, which is seriously fucked up. Sam ends up covering the woman's mouth so she doesn't have to hear the voice that isn't Cat's.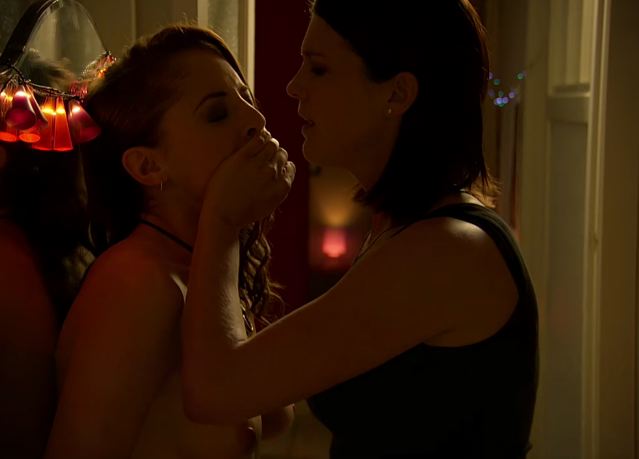 Could you also cover my eyes, please? This is all too brutal.
Tess arrives home. Lexy is asleep on the couch and Sadie is there to offer some sympathy — some genuine kindness — that the evening didn't quite go as planned.
Tess: How was your night with Lauren?
Sadie: Yeah, really good.
These two are becoming friends, which is very nice. Sadie even says, "Night, babes."
And the opposite of that sweetness is Sam and her conquest. The hapless victim is trying to make small talk, but Sam just says, "You need to go."
Hapless victim: What did I do?
Sam: You're just wrong.
All of this is just wrong.
Tess finds a blanket and tucks Lexy in. Lexy wakes up just long enough to grab Tess's hands and sleepily say, "You're lovely."
Kiss her, dammit! But no, that's clearly more of a season finale thing. Tess goes off to bed, carried on a cloud.
This show is back to its maddening, wonderful ways: romances begun and thwarted, friendships tested and strengthened, hearts worn on sleeves and crushed by circumstances, and all of it stirred up in a carefully crafted concoction of sex and laughs and better-than-it-needs-to-be acting and cardboard cutouts of 15-fingered amphibian aliens. I love it!
Pages: 1 2 3See entire article on one page