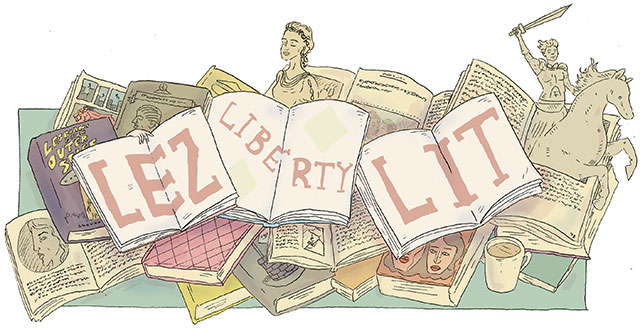 Hi and welcome to this week's Lez Liberty Lit!
Things About Queer Books (And Other Books Relevant To Your Interests)
Mental health zines can't replace therapy, but they're a great resource for alternative narratives, debate and further reading. Dazed has a roundup of some of the best, noting, "Zines and other independent outlets are necessary to expand coverage of lesser known realities, and promote a more inclusive approach to mental health care and survival."
Kim & Kim is a new comic about queer intergalactic bounty hunters (and best friends!).
Libraries have political power, and a refusal to acknowledge the role they play can be socially and politically harmful:
"The public library is considered a bipartisan environment, and many library systems have explicit policies to that effect. But there are many types of political statements beyond partisanship, and it would be a mistake to equate bipartisanship with neutrality. In a public institution, even minor actions can have widespread consequences. This means that libraries have the potential to effect tremendous social good, or to tacitly support a harmful status quo. It's important that library users recognize that a library is more than just books, and even more important that librarians use their power consciously and carefully."
Who decides what counts as a diverse book? What if writers just don't want the burden of representation today? At LitHub, Rumaan Alam writes about how there are always chairs at the table for another "universal" story about white straight men but not many for anyone else: "Any writer with skin like mine is aware of the paucity of chairs at that table. Writers like us are meant to shoulder the responsibility of representation, and do it well, and hope one of those chairs opens up. I'm all for the hashtag activism of our time—#weneeddiversebooks to be sure, but what, precisely, is a diverse book, and who is deciding what meets the criteria?"
Book Riot recommends a reading list on living with the effects of racism and discrimination, including The New Jim Crow, Citizen, Between The World And Me and moe.
Calvin and Hobbes is great literature, argues Gabrielle Bellot at LitHub. She notes: "The comic's freedom is confined—it's not totally random—yet the depths it can go to feel fathomless all the same. Few other strips allow themselves such vastness."
Reminder: Objectivity is a myth.
What happens when you save too much paper? Melissa Mesku writes: "I don't think of myself as a particularly sentimental person. Everything I save is rationalized. I mean, it's just paper, and paper hardly takes up any space at all. Plus the things I've saved are irreplaceable, which means they're intrinsically valuable. Right?"
These picture books feature queer parents just being parents.
More novels about work and bitterness please.
At Bookforum, Sarah Nicole Prickett reviewed Jade Sharma's Problems.
Book Things To Do In Person
23 July, Brisbane, Australia: #EnbyLife, a zine about non-binary experiences and stories with submissions from Australian and international writers, artists and creatives, will launch at Junky Comics (93 Vulture St., West End), 5 pm, with an after party at The End.
8 August, New York: Contributors to Sinister Wisdom 101: Variations, a "special volume of the 40-year old lesbian art and literary journal Sinister Wisdom, explores the varied meanings of lesbian feminism in today's world," will read at the Dixon Place Lounge (161 Chrystie Place), 7:30 p.m. to 9 p.m.
19 August, Ottawa: Ottawa Capital Pride is holding a one day comic convention with entirely queer content (101 Lyon St. N), 11 am to 11 pm.
Know of a queer event with literary merit? Send it to us! The Liberty Lit is bi-weekly.
---
Books! They are really great. You just won't believe how great they are. You may think that the Internet's great, but that's just peanuts compared to books. In Lez Liberty Lit, we talk about queer books and literary shit that's happening that you should probably care about.
The name "Liberty Lit" was inspired by the short-lived literary journal produced by Angela Chase at Liberty High School in 1994.