This past week in trying to live forever, I've been doing lots of stress relieving activities. Since fucking up my toe trampolining I haven't been able to do much else. So, I've been focussing on short meditations and getting lots of nutritious foods and doing outdoorsy human interactions, which has all been making me feel pretty swell.
What's really not working right now is that I've been stress-smoking a lot. It's bumming me out in a big way. I want to be someone who's stronger than that. I want to move to Chicago in two months as a non-smoker and really mean it. Unsurprisingly, beating myself up doesn't help the situation, it just makes me feel helpless and like a total failure and I get more stressed and smoke more.
On a happier note, my toe is getting better. I'm back to walking now, after spending the week taking the bus. And while higher impact exercises are still out, I've been doing whatever parts of the 30 Day Yoga Challenge that I can. Have you been doing it? How's that going?
This week I thought we'd talk about the best ways to stay active if you spend most of your day sitting, whether it be because you're studying or working a desk job or in another profession that requires lots of bum time. If this doesn't apply to you, this week's article might be a bit dull, I'm sorry! Take comfort in the thought that you'll probably out-live us all.
Earlier this year, all kinds of concerning research said that sitting down for 4+ hours a day increases the risk of cancer, cardiovascular disease and diabetes, even among people who exercise regularly. I sit down for roughly 10 hours a day and that's not likely to change in the future. So, in addition to quitting smoking permanently, spending less time on my ass while at work has become a recent goal of mine.
---
Here are a few little things that have been working for me:
Using a Desktop Timer
For me, remembering to stand up at regular intervals is most of the battle. Activity Timer really helps with that. Every 30 minutes it prompts me to stand up and do something good for my body, like stretching or stair-climbing or sneaking into the meeting room for a cheeky plank. I've made sure to add plenty of liquid-related activities so that I can improve my hydration while improving my lifespan. Two birds, etc. Plus I figured out that by refilling my water bottle in the kitchen instead of the bathroom, I'll be doubling my # of business hour steps.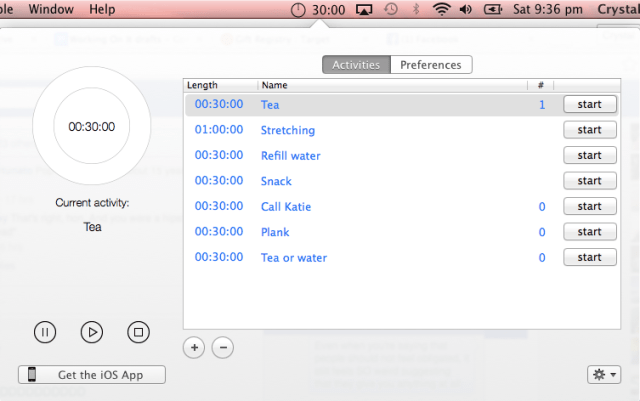 ---
Phone a Pal
I spend most lunch breaks standing outside my office, chatting to my gal pal in Chicago. For whatever reason, it never crossed my mind that I could be talking and walking. Wild, I know. I guess my brain is still learning how to see the healthier alternative to everyday things. So, I've started strolling around the block during those calls and my legs and body are a lot happier for it. If you have a convenient person to call then give it a go.
---
But Don't Phone Colleagues
I work on the top level of a 3-story townhouse, which means there are 15-30 steps separating me from the majority of my co-workers. I figured out that by walking to their desks instead of using the phone or email, I can probably climb about 400 steps per day. At first the idea of approaching colleagues directly felt a little disruptive but thankfully everyone has been chill about it. If your colleagues are less receptive to face-to-face interactions, maybe you could just stand up whenever you're on the phone.
---
Make Everyone a Hot Beverage
Offering to make tea/coffee for every team member in the vicinity will put you on the fast track for promotion. But more than that, it's a pretty safe excuse to leave your desk for a while. No-one will accuse you of slacking if you're always bringing them green tea, trust. My office has 8 people in it which buys me about ~10 minutes of movement.
---
Volunteer to Run Errands
I've started looking for little jobs around the office that will take me away from my desk. In the past week I've been taking out the trash, buying the communal milk, cleaning the kitchen and stocking the bathrooms. Basically all the chores that my co-workers pretend not to notice need doing. The downside is that I need to get my hands dirty. The upside is that I'm one step closer to immortality.
---
Ask For Standing Space
I've asked my boss if he'd buy a standing desk for everyone in the office to use when they needed a break from sitting. A handful of co-workers backed up my request and he agreed to install one when we move to a new space. I won't be there to benefit but still, it's nice that asking for healthier workspace worked out. Maybe y'all could try it out on your bosses.
So that's what's been working for me so far, in terms of getting off my ass more often during the day. Is this something you've struggled with? Do you have any neat tips? Let us know in the comments! Especially if you work in another types of environments; I can only speak to what's been effective in an office.
Coming up next week: Our playlist!