Hello and welcome to the 11th recap of the second season of "Faking It," a 90-minute animated musical radio drama from the same network that brought you Yo Momma.
It's been many months in real time and two weeks in TV-land-time since we last caught up with everybody's favorite emotional eaters and the white men who steal screen time away from them. I've already told you ten things to expect from this season, which you can check out if you're in a spoilery mood. Now let's get cracking on the recap!
---
We open in a vehicle in the smack-dab early morning dawn of the day, where Karma's autostraddling Liam in her bra because that's a good way to keep your hookup on the down-low: do it in a car in broad daylight with the windows rolled down.
Liam exhales, "I love you," and she's like "look, if I wanted premature and/or inappropriately early love declarations, I'd be dating women." Just kidding, she's annoyed 'cause they're just supposed to be friends who have sex, not friends who have sex and tell each other that they love each other. Tomato, toMAHto.
---
Meanwhile or erstwhile, Lauren's dealing with her Theo-related stress by aggressively smashing a spoon into her cereal bowl. It's a good thing Farrah doesn't have misophonia!
---
Don't worry, it's not gonna be weird for Karma to give Amy a ride to school. They've spent the last two weeks talking everything out, Karma totally forgives her and everything is completely normal and not even remarkably awkward. The degree to which this is totally normal and okay is evidenced by the hearse-like silence in the carpool.
It's definitely not awkward when Reagan texts Amy a cute pic from their camping trip and Karma says that's not "how she pictured it," which means, of course, that she was picturing it.
It's also absolutely not awkward when Karma jokes that at least this carpool situation enables her to keep an eye on Liam and Amy! It's certainly not awkward at all when Amy asks why Karma's discarded her best friends necklace. Those things don't grow on trees you know, if you want one you'll have to find a parking spot at the mall and go to Claire's. Nobody wants to go to Claire's. Unless you're 12, in which case you're probably already at Claire's, right now, reading this on your mobile phone. (Real talk: I love Claire's.)
---
Back on the sprawling campus of Liberal Oasis Purple High School High, Shane and his boyfriend the MMA fighter are strolling along like two homosexual peas in a pod, holding hands. When Shane suggests that maybe the dude who outed Duke did him a favor, Duke suggests that maybe the best favor he could do this anonymous scoundrel would be to punch him in the throat.
Shane feels awkward about being a liar but Duke thinks Shane's discomfort is a side effect of losing the student council election to Lauren. "She played the intersex card," Sean insists. "The school will turn on her when they see her radical agenda." But before Duke can continue emotionally probing his boyfriend, the winsome twosome come face-to-face with Hester Hippie High School's latest work of performance art: metal detectors and a guard demanding ID.
Shane: "He's not a student, this is my professional MMA fighter boyfriend."
Guard: "Now I've seen everything."
Principal Penelope Delia Fisher wants to make one thing very clear: none of this was her idea.
---
We then swing wildly cross-campus into the cheery cafeteria, where Wendy's imploring Lauren to be a more inspirational leader and maybe talk about being intersex some more, or like how Theo broke her heart or whatnot.
Lauren: "We discussed this. Public figure, private person."
Wendy: "Okay, then your only other option is to stand up to this new principal. Rally the school behind you."
Lauren cuts the convo short to tell Shane he's sitting at her table.
---
Amy runs to catch up with Liam to chit-chat about how Karma's version of forgiveness looks a lot like a lack-of-forgiveness.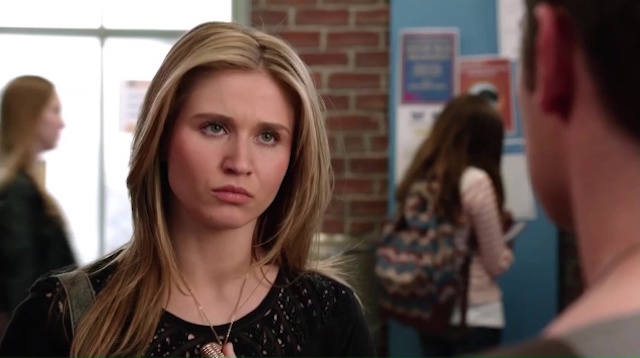 But before they can wade too deep into those dangerous waters, the student body is summoned to the grassy knoll for an announcement: they've got a new principal! Penelope has been demoted to vice-principal because her entire student body is on dope.
Principal Dickwad: I am not an inspirational leader. I am not here to tell you to dream big or reach for the stars or any of that bullcrap. The recent drug bust exposed a school with dangerously lose academic standards and a complete disregard for how things are done in the real world. I am here to fix that. Trust that it's for your own good.
The student body responds with booing, except Lauren, who wants to take a walk with the principal and chat, fascist-to-fascist. Meanwhile, Shane wants to plan a protest after school but Liam has to "go to the dentist." He's obviously lying, maybe he's sleeping with the dentist. Shane yells at Penelope but she's like duddeeee…
Shane: That guy is gonna destroy everything this school stands for!
Penelope: You don't think I know that? But I barely kept my job and I have three cats to feed. I'm sorry, there's nothing I can do… but if a certain student leader were to rally the school in protest…
Shane: Okay, I'm blushing, I'll do it.
Penelope: You're gonna talk to Lauren? Thank you! I gotta keep my hands clean.
Karma's bummed that the school's got a new reason to think she sucks, besides that her hair always looks better than everybody else's. First Fake Lesbianism, then "being The Daughter of the Drug Dealers Who Destroyed The School."
Karma rebuffs Amy's invitation to go eat their feelings together this fine evening, which I imagine would be only the first item on the agenda for a typical Karmy evening, probably followed by busting out the Disney Karaoke, marrying all their paper dolls and prank-calling the public library to ask if their mini-fridge is still running.
---
Cut to Skwerkl, where Liam's shooting the shit with the shitheads and is decidedly not at the dentist. He meets the new intern, Baked Zita…
…who you may recall from Pretty Little Liars…
…and reveals to her and to us that he too is an intern. Apparently Zita's got this position 'cause she got stoned and fucked her Dad's Tesla. This is really taking the "only kids with well-connected Dads get good internships" situation to the next level: not only are uninterested fashionistas snagging coveted internships due to family connections, they're snagging internships due to family connections as punishments. 
---
Back at Hester Horton Hears A Hoo School, Lauren laments Hester's history of controversially excellent decisions, such as replacing their football field with an organic garden, a.k.a. Buddy Garrety's worst nightmare.
The principal wants to know how Lauren got elected, considering that her views veer so dramatically from the majority of the voting population. Well, Lauren is amazing, to begin with. But Lauren explains that she's learned how to manipulate idiots, which means she's got a prosperous career as a Tea Party politician ahead of her!
---
Cut to Karma's room, where she's deciding which hangers and which tunics she'll bestow upon the good people of Goodwill and which she'll keep in a "keep" box when Amy shows up. She's gotta return Karma's copy of 50 Shades, which took her four years to read. Probably because it's terrible.
But WHAT IN GODDESS'S NAME IS GOING ON IN HERE.
Amy: "Where are all your things? You love things?"
Karma says something bullshitty about spring cleaning when suddenly Felix pops in. Who's Felix?
Karma: "Uhhh Felix here is my new GBF. He's helping me take my wardrobe from drab to fab. Isn't that right, Felix?"
Felix: "Yes, it is? And not only am I gay but I'm also a walking stereotype!"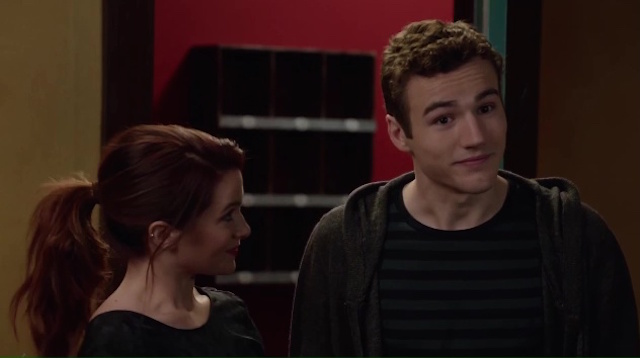 Amy sees herself out, horrified (I imagine) that Faking It has added a new main character to the cast and that character is not being played by Brittani Nichols, while Felix expresses his horror that Karma just told Amy he's gay 'cause you know what, he's not gay. Karma is like, oh trust me, being fake gay is the best.
---
Pages: 1 2See entire article on one page