At the hospital, Lexy is learning something about the consequences of being free and easy. Angry ginger guy finally catches up with her.
Lexy: I don't know you.
Ginger Man: But I know you. Your name is Lexy Price and you've been working here for 18 months.
Lexy: It's you, isn't it?
Ginger Man: Stay away from my wife.
Uh-oh.
Ginger man has one of Lexy's shirts. "You gave it to her," he says. Lexy thinks and thinks — it's taking her a bit too long, but I guess that's supposed to build suspense or something — and realizes this guy is Bea's husband. And then a kid shows up, maybe 7 years old or so. Lexy, you've just met the husband and daughter of the "puddle of sanity in your life." What are you going to do next?
Lexy is quite shaken up, understandably. She goes right to Bea and confronts her. She says "What the actual fuck?" which is another phrase I want to adopt.
Lexy: You told me you were in an open relationship. You told me you were gay.
Bea: Please don't be mad.
Please don't be mad? That's what you came up with? That's more like something your kid would say. I guess that says something about your maturity level.
Bea: I can't leave them. Evie's too young. She's not going to understand.
Lexy: What? Understand what? That her mum's a lesbian? No one needs to know as long as good old Lexy's on tap whenever you fancy a change from some cock.
Bea: It's not like that.
Lexy: Yeah? It sure as fuck seems like it!
It sure as fuck does. Anna Skellern is doing a great job in this scene; she's furious, but somehow also very clear-headed. Lexy's a woman who knows her own mind.
I'm glad this stalker storyline is over. It was never as scary or as suspenseful as it should have been. I guess because it was never really about Lexy; she just got caught up in someone else's drama.
At the police station, a drug dealer has been brought in. Sam wants to let him sit for a while: "He's a junkie. He'll agree to anything when he's been without his stash for a couple of hours." Her cop-partner looks concerned about the cruel, cold look on Sam's face.
And it only gets colder when Sam's phone rings. It's Lexy calling again, probably seeking some comfort this time, as well as offering it. Sam just picks up the phone, says "stop calling me," and slams it back down. Mean Sam is making me sad.
Cut back to the hospital, where Declan is giving a random guy a hand job. I was going to skip this scene entirely, because it annoys me to no end that shows about gay ladies always seem to give screen time to penises (not that there's an actual full-monty shot or anything). I realized I couldn't express that annoyance without actually mentioning the scene. Consider it expressed.
At the gallery, Sadie has a customer. She pretends to know what she's talking about. Just when it looks like she's losing the guy, she mentions a new piece that's not for everyone but might appeal to "the canny investor." Yes, it's the coffee-stained square!
The guy actually buys it. I think Sadie could sell the proverbial bridge.
At this point I got a little peckish, so I took a break for some paprika crisps. I got them at the London Candy Company, which is a delightful place. Turns out paprika crisps are pretty tasty, although my better half insists they're really just barbecue flavor. But I don't like barbecue chips, so that can't be right. Where's Tess when I need to discuss crisp flavors?
In the hospital cafeteria, Lexy is talking about the Bea shituation, but Declan's not really listening. Surprise. And he makes yet another offensive remark:
Declan: How could you not tell? Wasn't her fanny, like… (spreading his hands wide)
Lexy: Ah, jeez, Declan. You're a great mate, you know that?
She leaves. Can we leave him for good, Lexy? Please?
Back at the police station, DS Murray and DS Ryder are questioning the suspect. Sam shows the kid an evidence bag containing cocaine, heroin, and amphetamines. She tries to get him to talk some "warehouse deal" and some other dealers, but this isn't The Wire so I'm not paying too much attention to the details.
And then she loses her cool and calls the suspect a piece of shit and pushes him to the floor.
I guess I can't say "Hold me, Heather Peace" when Sam herself is the one who's making me need a hug.
Ryder pulls Sam off the guy and escorts her out. She doesn't apologize.
Sam: I was under the impression he's a piece of junkie scum.
Junkie scum? That's almost comical. You could at least call him a shitbird or something.
Ryder points out that "junkie scum" aren't the only ones feeling Sam's wrath lately.
Ryder: You're going off at everyone these days.
Sam: Well, if they've got a problem, they can say it to my face.
Ryder: They can't. Because you've lost it.
Ryder tells Sam that he found the CCTV footage of Cat. He took care of it, but he can't be there every time she screws up.
Ryder: You need to take some time off. Go home.
Sam: To what?
Fair point. Sadness!
Tess is checking her email. Let's have a look, shall we?
The From column is blurry, but if you look at the subject line of the fourth message, you can see that we're talking about gaydargirls.com, which apparently is a real thing. And then Tess has quite a few messages from people want to go out or go to the cinema or get drunk. As she would.
But the subject line that really interests me is "Fiona loves Fubu," near the bottom. Is this Fiona Button's personal email, at least partly? And I bet there's no deal with gaydargirls.com either — if this were an American show, there would be 18 contracts in place just for a single mention of a website. I much prefer it this way, even if Fiona has just inadvertently shown us her digital knickers. (Apparently she's not too tech-savvy.)
Erm. Moving on! The point is that Meg keeps trying to contact Tess.
Tess: Is there a medical condition that makes you unable to take a hint?
Lexy's not really in the mood for playful banter. Tess notices this — 'cause she's good like that — and ask what's wrong. Lexy tells her about Bea.
Lexy: I think it's safe to say I'm feeling pretty stupid right now. Why didn't I suss?
Tess: (closing her laptop decisively) OK, we need pizza.
Lexy tries to beg off and go hide in her room, but Tess won't let her be on her own: "Only refined carbohydrates is gonna fix this." Lexy considers, then confesses that she's kind of starving. Yay! Girls' night with potential to be a girl-on-girl night!
At the gallery, Jo is working while Sadie stands around and mopes about her lack of text messages from Lauren. Jo tells her she can "get off" now.
Sadie: Fat chance.
I have no jokes left to make because Sadie is making them all!
Back at the flat, the carbohydrate party is commencing. Lexy is still calling herself "dumb," but Tess says she's just trusting, which is a good thing. Is it? Well, I guess it's a good thing for an actress who has to submit to trust-fall exercises. Not so much for an ER doc who needs to keep her wits about her.
Lexy: You know the irony? Out of everyone I've ever been with, I thought Bea was the most sorted. Turns out she's right up there with the rest of the users. And given my back catalog, that's quite an achievement.
Tess is looking at her as if she wants to say, "I'd love to be the next page of your catalog. Maybe in a swimsuit or something, if that'll help you notice me."
Luckily, despite her generally bumbling nature, Tess doesn't usually babble. She usually comes up with an adorably funny comment instead:
Lexy: Do you think it's this complicated when you're straight?
Tess: Yeah. But the sex is crap.
Lexy: See? That's why I like you.
They clink bottles. Hey, it's a step in the right direction. I mean, in terms of touching things to other things.
Wha! I think I've just switched from Team Sam to Team Tess, where Lexy is concerned. Except what is their couple name? Texy? Less? Gah.
Sadie is up to no good again. She's at Jo and Lauren's house, which is quite swanky. She rings the doorbell, and a startled Lauren answers the door.
Sadie: Nice place! Well, invite me in, before the neighbors see.
You have to invite her in! Because she's a vampire, get it?
And Lauren does, or she at least stands aside to let Sadie pass. Sadie strolls in and tosses her bag on the couch as if she owns the place. But Lauren's not happy to see her. Sadie seems to think she's well within her rights to drop by, because Lauren has been ignoring her.
Lauren: So, what: I don't text you for a couple of hours and you come round my house? I'm trying to work here.
Sadie: Have you always been like this?
Lauren: What?
Sadie: Boring.
Lauren: It's called being a grownup.
Sadie: Fuck that.
And she does.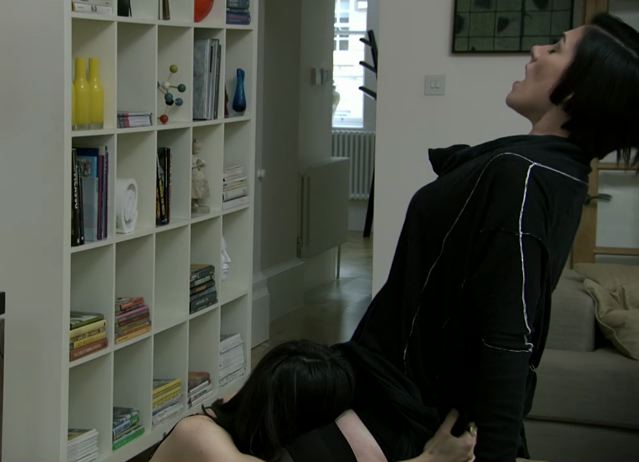 Let me back up a sec: before they got to that point, Sadie told Lauren to meet her tomorrow afternoon; just make up an excuse about the dentist or something. Of course Lauren said no. That appears to be the only thing she's saying no to right now though.
Just as things are starting to get good, Jo arrives home. Lauren points Sadie toward a loo. SADIE! YOUR BAG IS ON THE COUCH!
Lauren greets Jo in an alacritous everything's-fine way and gives her a kiss. Lauren asks Jo how her day was.
Jo: Great. It helped that Sadie flogged a Monica McCarthy. Can you believe it? On her first day! She's such a star.
Jo notices the bag on the couch and asks whether they've got company. Right on cue, Sadie emerges with a nonchalant "Hi," as if it's the most natural thing in the world for her to be hanging out at her boss's home on her first day at work. I half-expect Lauren to puke.
Jo naturally inquires as to Sadie's reason for being there. Sadie offers up an almost believable explanation: that she "short-changed the till" when she took cash out for coffee, and she didn't want Jo thinking she was helping herself.
Lauren, you are cracking me up!
Jo: Thanks, Sadie, but, um, there was no need. It woulda kept until morning.
Sadie shows herself out. She gives Lauren a look, and Lauren almost seems amused, if it's possible to be entertained and panicked at the same time.
That was fun! I love these little caper-ific sexcapades. More!
Back at the pizza party, Lexy and Tess are listing the things they do not want in a partner.
I love that no. 3 originally said "Isn't a bloke" and then became "Isn't with a bloke." Check and double-check.
Here's the list:
No issues with (their) sexuality
Not a control freak
Isn't (with) a bloke
Not at war with family (And isn't too close to family)
Is open to sexual experimentation
Doesn't listen to Coldplay 24/7
Not so uncomplicated they're boring
Is "wears cute socks" there anywhere? Because Lexy is totally meeting that requirement.
Lexy: Where do you even start to find someone like that?
Turn to the right, Lexy!
She does! They have a moment, a very brief one, in which their eyes lock and they're smiling and it looks like it wouldn't be so difficult to lean in and seal the deal. After all, they're both perfect on paper.
But Sadie clomps in and ruins it. Poor Tess! How many times am I going to have to type that?
Lexy takes herself off to bed and Tess is left to watch TV with Sadie and ponder her fate.
Before we leave that scene, I want to clarify the "boring" thing. I agree that it's nice to have a few complications, but let's not judge people for staying home on a Saturday night. Some of us recap and eat paprika crisps, while others watch reruns of Titanic.
The next day at rehearsal, Tess is giddy with potential. But she doesn't know whether Lexy was just being friendly. I don't know either! But I know I'm not really enjoying watching Hugh trim his nose hair.
Tess invites Hugh to the book launch thing she's going to with Ed. But Hugh has an extra fitting with the buxom costumer.
At the Minus 21 offices, Lauren doesn't have any text messages. Doesn't feel good, does it, Lauren? She silences a rambling staffer, dismisses a robotic assistant, and cancels everything on her schedule. She's says she's off to the dentist, just as Sadie instructed her to.
Meanwhile, Ed is visiting Sam. He's trying to reach out and be supportive.
Sam: Hey, now that's nice. I'm fine. You can go.
OK, now you're just beating up defenseless Eeyores, and I won't have it.
Sam tells Ed to go find Frankie and comfort her, "'cause she was the one that Cat was fucking the day she died." Oh, no no no. That is not worth it. I'm pretty sure Ed would prefer a boot in the face to that little divulgence. I don't understand why Sam has become downright sadistic. Maybe her parents need to come back do an intervention. Let's invite Cat's mother too, and the entire cast of Downton Abbey!
Pages: 1 2 3See entire article on one page