Yesterday Lt. Dan Choi and five other veterans, including his previous co-civil disobeyer Lt. Jim Pietrangelo and blogger and Transgender Chair of DOD Fed Globe's Board of Directors Autumn Sandeen, chained themselves to the White House fence and were subsequently arrested. Their actions were in connection with the group of protesters from GetEqual who heckled President Obama during his speech at a fundraiser for Senator Barbara Boxer, criticizing him for a lack of action towards repealing "Don't Ask Don't Tell."
There are so many issues at stake here! Are Obama and his administration allies of the queer community? What's the best way to pressure them to effect change? And what changes should we be working for – what are our priorities? What if we have different priorities? What if we have different ideas about how to make them realities? What if everyone has a lot of really strong feelings? Luckily, Autostraddle has never been one to shy away from feelings just because they were numerous or complicated. Let the processing begin!
---
+
Dan Choi & Gay Activists Scream So Loud
The White House Called the Police On Them
+
To a certain extent, this is an escalation of the debate that began when Choi and Pietrangelo first chained themselves to government property almost exactly a month ago. At that point, it was a radical act of civil disobedience that contrasted wildly with the relatively more sedate HRC rally that was happening simultaneously. Depending on how you looked at it, it was an unapologetic demonstration of the difference between rhetoric and action or a childish upstaging of a legitimate political organization. This week's incidents have pushed many to pick a side in that debate, to take a position on the "right" way to effect change. Was heckling the President a step too far? Or a step that was inevitable if we're ever actually going to make serious gains towards equality?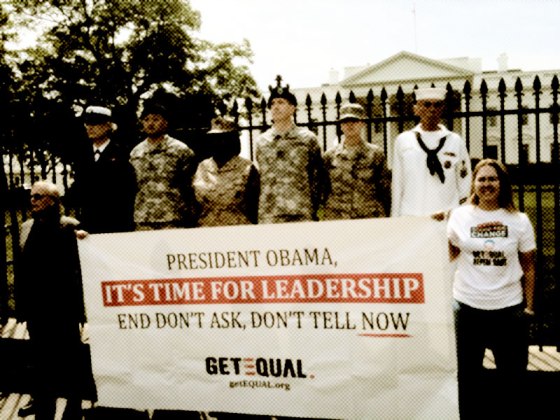 Obama's reaction to the GetEqual protesters in the crowd – which was necessarily unstudied and unprepared – was to call himself an ally, and ask "why you have to holler, because we already hear you." The Obama administration has been criticized for evasive and suspiciously vague language surrounding the DADT repeal, but this seems pretty unequivocal. It's no small thing to have a president who announces himself as an ally; it's no small thing to be heard. He was frustrated, and understandably so – the protest had an unmistakable Joe Wilson feel, and he's got to be wondering who's next in line to shout at him like he's a subpar minor league hockey player while he's trying to run the country. Because even if no one actually yelled "You lie!", isn't that more or less what was being said? Obama really has committed himself to ending DADT and extended himself to our community more than any other president in American history. At this point, isn't calling his stance into question tantamount to calling him a liar?
---
+
Are all Obama's promises out the window once we're gone?
+
At the same time, though, Obama's not the only one who's frustrated. And the frustration of watching powerful people who don't care about you as a person quibble over your rights as a citizen might trump the irritation of demanding constituents. Immediately after the GetEqual protest (and apparently while chained to a fence? I know, we're impressed too) Choi tweeted: "Why holler?" WHY? Your SILENCE and refusal to repeal DADT… is outrageous moral [dereliction.] Now, we are lesbians on the internet, and we know a thing or two about decoding an enraged tweet. Choi's incredulity is clear: how could anyone not get why this is a big deal? How could anyone be asking "What's all the fuss about?"
---
+
Dan Choi: Living His Activist Life as an Army of One
+
Choi doesn't have a background in organizing, in agitating, in negotiation or campaigns for visibility. Choi was trained by the US military to use the tools at hand to get a job done as quickly and efficiently as possible.
I think, when we consider what kinds of political action are "appropriate," it's important to consider the actual real people involved. In this case, remember that Choi is not an activist in the traditional sense. Choi doesn't have a background in organizing, in agitating, in negotiation or campaigns for visibility. Choi was trained by the US military to use the tools at hand to get a job done as quickly and efficiently as possible. And maybe more importantly than that, Choi is a victim of a grossly unfair policy that deprived him of a job he loves and a chance to help a country he's devoted to. He and the five other veterans who chained themselves to the White House fence are hurt and angry at a government that denies their full humanity when all they wanted to do was serve it to the best of their ability. Of course he's going to feel like he needs to "holler" at someone. Nothing else he or anyone else has done has worked, and I suspect he's beginning to feel like he's at the end of his rope.
Lt. Dan Choi probably isn't trying to bring all of gay America into a new era of equality and peace by firing off angry tweets while getting arrested in our nation's capital; he's trying to get someone to pay attention so he can finally be treated like an actual f*cking military serviceman. It's true that he was un-discharged a few months ago, but hundreds of others haven't been, and it's hard to be satisfied with what feels at best like placation and at worst an attempt to shut him up. Choi wants more than to be handed his job back with an "Oops, sorry bro, our bad"; he wants to be apologized to, he wants the indignities he's suffered to be addressed. Really, is that an unreasonable thing to ask?
---
+
We Said Silence to Everyone; Dan Choi Said, "I'm Still Talking"
+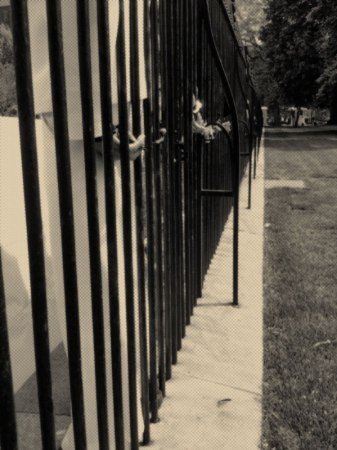 When I think about DADT as an actual issue, it only affects me in the most theoretical of ways – to me, it means another modicum of dignity and respect granted to me and people like me, it means one small step for gaykind towards somewhere over the rainbow. To Dan Choi and other servicemen and women discharged under DADT, it means their livelihood, it means their community, it means validation of what they do.
Comparisons to the Tea Partiers or to Joe Wilson are understandable, but perhaps ultimately unfair — their attention-grabbing campaigns aren't based around concrete issues so much as a general resentment of the administration and of Obama personally, as well as a healthy dose of tacit racism. It's worth asking ourselves what the difference is between just yelling at Obama and yelling about a very specific issue that's emblematic of systematic discrimination — one that's deeply personal for the hundreds of queers discharged every year.  Even if I personally would rather Lt. Choi had comported himself differently, I'd feel like kind of a dick lecturing him about it under the circumstances.
---
+
Are We Fifty Years Ago?
+
I really, truly don't want to be one of those people who presents the LGBT movement for equality as "the new civil rights movement," but I'm going to talk about this for one second because I think the lessons we can learn from the heroes of that movement are virtually infinite.
Most of the people we now understand to be the best and brightest stars of American history were vilified as violent criminals.
It's much easier for us now to use that word, heroes, and to talk excitedly about the Black Panthers and for Shepard Fairey to make a wall mural of Angela Davis that's bigger than my house. But at the time, most of the people we now understand to be the best and brightest stars of American history were vilified as violent criminals whose risky agitation was a liability to the movement, and even people within the movement were sometimes in great conflict on the right way to go about things. The followers of Dr. Martin Luther King Jr. were diametrically opposed on the issue of nonviolent resistance to the Black Panthers, who despised James Baldwin, who disapproved of the Nation of Islam, whose one-time spokesman Malcolm X was talked about in the press as basically no better than a violent felon at large. But you know, even with wildly different ideas about the basic concepts of social change, those people managed to accomplish an incredible amount.
---
+
Everyone We Love, We Need You Now
+
I'd argue that without any one of them, we'd see a radically different (and worse) America than we have today. Cohesive movements are a beautiful thing, but they're not always realistic. I don't think any of us can prove the "right" way to go about making our future, because there is no one right way. There's only the way you know, the way that calls to you.
There's no need to panic that if we're not all on board with the same plan, the big gay Ship of Change is going to sink. There's never been a social movement where everyone was with the same program in the history of human society. That's okay. Maybe it's even good.
This means we can all relax a little and focus on our own personal acts of saving the world – whether it's organizing a Day of Silence, spray-painting a rainbow onto your local homophobe's car, giving money to the HRC, chaining yourself outside your ex's house until she gives you your plaid shirt back – you know, whatever you feel is necessary to make the world safer for the gays. And we can trust that others are doing their work too, that we're lurching forward one day at a time, that the future is bright.
+
---
+