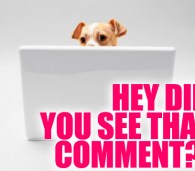 Congratulations, funny people. This week you got me kicked out of my university's computer lab because I was laughing too loudly. Keep in mind that it's not uncommon for people to make out/rap/have phone conversations for hours on end in there, so I was doing some serious laughing. Maybe I should be upset, but I'm so blindly in love with yinz that I don't even care.
The "Lammy's" [aka the Lambda Literary Awards] are coming up, and we've got 12 queer books you'll love. Audiostraddle gave away tickets to see Hailey Wojcik in New York! Jess interviewed funny Jewish gay mum, Julie Gold, and our new writer Glennisha talked to lesbian hip-hop duo Kin4Life. As per usual, we had our weekly techno fix and music fix. By the way, did you watch Janelle Monáe dance? That girl is dreamy.
Perhaps, like me, you are not familiar with technogeekery and are enjoying your vicarious forays into that world through Taylor. This week, I learned more about World of Warcraft than what I knew before (which was making my fingers into "W"s and my mouth into an "O" to spell "WOW"), why The X Files is so gay, and that the HTC Evo 4G is not the same as a G5. Rachel had an absolutely stellar article that grappled with the "right" way to do activism and Julie and Brandy have a PSA up about No Homo Jokes. Finally, Miss Natalie Garcia took to the red carpet at the 2010 GLAAD Awards and brought you hilarity behind the scenes of Dinah Shore, which included Nicol Paone and Erin Foley's list of the kinds of people who like Autostraddle. Czech it out.
---
On NSFW Sunday: What Does a Lesbian Sex Magazine Look Like?:
The Thank You For Your Kindness Award to dot: "Oi, I was concerned enough about the resemblance that I was wary of posting for fear of accidentally uncovering a dark corner of Rachel Maddow's past and causing a huge stir that ends up with Gland Back somehow forcing her to step down from her post at Ms. Newsy But Commentary-er.
After writing this comment, I have decided to scramble other keywords that might somehow lead to such a terrible end."
The Look, I Went To Fashion School Award to wasteunit: "If you love the Roflbot, you'll cream over the amazing graphic design know-how I'm about to send your way. Really study this site because it's bursting with information that will help make Autostraddle the site we all know it can be. http://www.hosanna1.com/AAAWWW/
PS – I love you. Don't hurt me."
On Come Play Gay World of Warcraft With Us! Auto + WoW = Win!:
The Award for Outstanding Foreign Language Comments to Rockets and TSwizzle: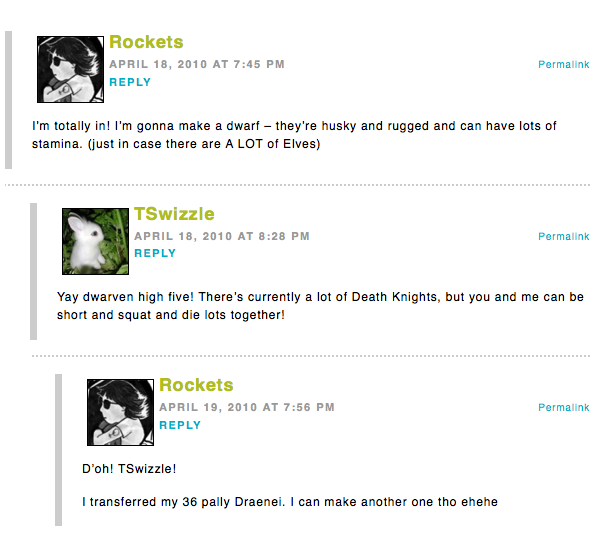 The Enabler Award to Beck: "Oh man. I've been clean + sober for nearly 2 years now but this might push me off the wagon. I think my install disks are buried in the backyard brb"
On Leaked iPhone 4G Lost Then Found and Hipster Time Travel:
The Oh, Lesbians Award to Shanz: "Really? I cant believe this. I cancel my Wow subscription because it made my girlfriend feel like "we weren't connecting anymore" and now this happens!"
On Conservatives Fear Gay "Amerophobe" Supreme Court Takeover, Elena Kagan:
The My Mum Says I'm Special Award to Ziggy Hreins: "If America is exceptional why do they have to remind themself of it all the time?"
On Glaad Awards 2010 Photos: Nat Garcia Meets Homostars on Red Carpet:
The Acceptably Distracted Award to Tina: "There are so many fantastic, gay, fantastically gay things I want to comment on here. But to be complete honest I'm too damn mesmerized by Adam's hair. This guy is like if Elvis was a peacock. It's fascinating."
On Ruby Rose (UPDATE: IS MAYBE NOT) Engaged to Lady Model! Baio's Lesbian Twitter Wars! Weed! Big Macs!:
The I Wish I Were A Derivative… Award to Sally: "Well Ziggy, this is an interesting question! Fortunately it's possible to show this, using radical lesbian algebra!
The basic radical lesbian symbol is: √lesbian
However, you can also get:
√lesbian √lesbian
I believe that √2lesbian might be an irrational radical lesbian, which would also definitely come in handy when doing lesbian algebra."
On Lesbian Prom Update: Constance Suing for Damages & Westboro's Coming to Graduation:
The Society of Friends Award to Stace: "p.s.also hip to the 'no proselytizing': Quakers. Holla to the inner light yo!"
The Acceptably Distracted Award, Part 2 to Eve: "So my favorite too!! My first thought was damn I hope this doesn't happen to me. Then I giggled. Then I kinda felt sorry for the lady. Then I realized I had mad Chinese food cravings. Then I realized I hope that lady got some CT Scans because she could have more serious problems. Then I started thinking about cats."
On Who's Coming Out in People Magazine May 5?:
The bcw Award for bcw, re: Oprah to bcw: "She should just put pussy on her list of favourite things this year."
The Lance Bass Award to Dr. H Anonymous: That's exactly the way I came out, actually. I photoshopped a People en Español cover and glued it to a magazine that sat atop my parents' pile of toilet literature (toilit?).
I really thought that taking a morning dump while staring at your daughter saying "¿Hetero, yo? ¡No!" was a cute, not to mention classy, way to find out.
My bad.
On Jess G.'s Team Pick: Tree Porn On Earth Day:
The What Goes Around Comes Around Award to HeyItsMegan: "Wow. I'm sending this to my mom; for all those times she sent me Fwd emails of the Virgin Mary in trees, cereal bowls and clouds…"
On What Does a Lesbian Sex Magazine Look Like?:
The Starfucker Award to queermo: "If Doing It Ourselves is based in SF like Pink & White is, then I'm 95% certain that I've hooked up with the woman on the cover of DIO. Ahhh, the San Francisco Bay Area. Where you're friends with porn stars, and your friends become porn stars. I love "