JANELLE MONAE:

Janelle Monáe — the Kansas-born, 24-year old, androgynous, tuxedo-sporting, queer-supporting, soul-oriented, alternative singer/songwriter, dancer & performer — graces the cover of HONEY Magazine this month. I read Monáe's interview directly after reading Hortense (of Jezebel)'s "It's not easy being a mainstream pop star in a Lady Gaga world," published yesterday in response to Ke$ha's empty trainwreck of a performance on Saturday Night Live. I suggest you adopt the same reading order, as the Monáe piece functions quite well as an antidote to The Ke$ha Situation.
See, Ke$ha's becoming our first example of what happens when record execs try to impose what they perceive as Gaga's 'Gimmick' onto an arbitrarily selected pretty girl with a pretty good voice. Background is irrelevant (Ke$ha's story has more shades of Jewel than of Gaga or Lambert), as is former musical style (Katy Perry & Avril Lavigne are both repackaged Christian singers). And though Lady Gaga's act is hardly original, Gaga's presently our most famous example of the Warhol-endorsed Artist as Separate Character prototype, making her the obvious inspiration for Ke$ha's act. But Gaga's so fucking good at it that no one else is in danger of eclipsing her, let alone succeeding at their own Performance Art. Ke$ha hasn't even come close. Yet this haphazard image is threatening Dollar Sign's future, as its sloppy application is squandering her potential as a creator of dumb, commercially viable pop songs.
To be clear, we're not debating musical quality here or considering genre — for starters, Quality is an impossibly subjective debate, despite its reputation as a worthwhile one, and we wouldn't have the background to judge that debate anyhow. And genre is only relevant insofar as it relates to the possibility for commercial success/"pop"ularity. So it's the overall package we're going to talk about.
Janelle Monáe, with her Motown-y, exuberant Outkast-meets-Grace-Jones-meets-Judy-Garland style and her theatrically-rooted story-based productions, has the Artist as Separate Character act down pat. Because like Gaga — and unlike Ke$ha — Monáe means it. And that's why this is the perfect moment for Monáe to break out. And Monáe breaking out is a very, very good thing for queers and perhaps a defining moment for music as well.
Janelle Monáe has that something extra needed to be a real star. Even more fascinating, especially when considering the consciously sexualized (for better or for worse) images of 2010's most visible female solo artists — Gaga, Taylor Swift, Ke$ha, Rihanna, Beyonce, Nicki Minaj, Christina Aguilera — is that despite her impeccable physical beauty, Monáe's managed to extract & reject traditional ideas about sex from her overall package. Her androgyny is too sweet to be a rebellion, yet too fancy/classic to be coincidental or even trendy.
If you don't know Monáe yet, it's time you get acquainted. We highlighted her tuxedo uniform and trademarked bouffant in our recent article 10 Fashion Icons in Music: Women Rocking Homosexy Style list, but there's a lot more to know about her than the fact that she considers The Tux to be "a lifestyle [she] enjoys" that keeps her "balanced" because, as an artist, she looks at herself "as a canvas. I don't want to cloud myself with too many colors or I'll go crazy. It's an experiment I'm doing. I think I want to be in the Guinness Book of World Records."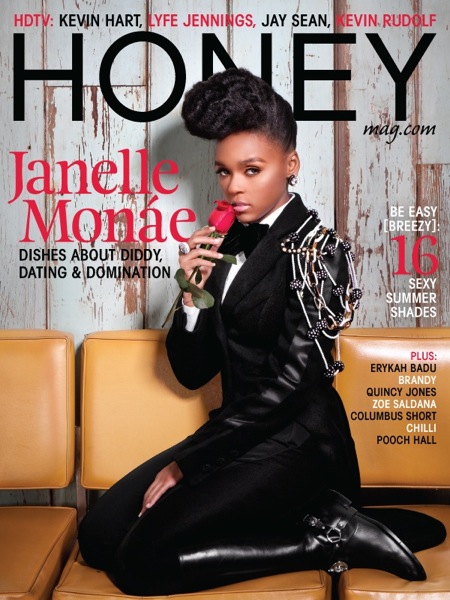 Monáe put out her first album, Metropolis, in 2007. It was introduced as the first of a four-part concept album and was released via her own website and mp3 download sites. By the end of the year, she was signed by Bad Boy Records, and in 2008, they released a physical version of Metropolis with bonus tracks, titled Metropolis: The Chase Suite (Special Edition). Her next album, ArchAndroid, debuts next month from Bad Boy and her own label, Wondaland Records. She cites David Bowie, Stevie Wonder and Tim Burton as inspirations for her work.
We want Monáe to be a lesbian, mostly 'cause we're attracted to her. But the most she'll cop to is thinking gender roles are useless/meaningless and only being attracted to androids, and that's actually fine with us. Bisexual, ambisexual, heteroflexible — you don't want those words? It's okay. We are buying what you're selling.
From an April 7 Interview with from The New Gay:
The New Gay: What are you attracted to in people?
Janelle Monáe: I love when I'm surrounded by very fearless individuals that don't worry too much about how others may perceive them, their artistic vision or sexual orientation. I like people who are aware of stereotypes but they don't care too much about it and they live their life very free. I like givers, lovers, imaginative minds. I just really like artists.
The New Gay: How do you identify in terms of sexual orientation?
Janelle Monáe: I'm actually attracted to androids.
In her Honey Magazine article, Janelle Monáe offers this:
Honey: Do you find time to date?
Janelle Monáe: I do. I think that love is very beautiful and it's an energy that I love having. I do date and I do have someone that I love. Someone that understands me very well and encourages me to be the best person and artist I can be. I couldn't ask for a better android.
Janelle Monáe's got her own Factory called Wondaland, which she explains thusly to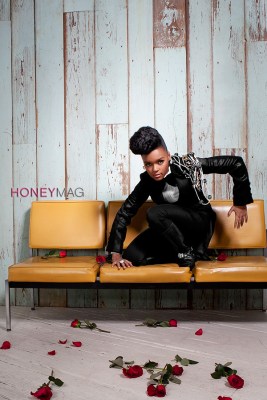 Honey Magazine:
My creative space is the headquarters for The Wonderland Arts Society. We have floating bookshelves, green grass, very beautiful pianos that we write songs on. We have lots of fish mounted on the wall, more importantly we just have really interesting people. It's a headquarters for artists, who have super powers. We come up and try ideas. We wear black and white and we try to lead by example and try to change the world. It's a very peaceful environment. Sometimes when we create music it gets very rowdy, it feels like an African tribe. When your artist, you don't go home, you stay and you create all day and night…
'The Wonderland Arts Society' are very smart thinkers, forward thinkers, survivals, artists — from visual art to performance art. We try to help preserve that and come with new content and ideas. We look to the past for inspirations but really focus on the future, using our super powers for good. We all sit at round tables and discuss ways to reintroduce music to the world, transforming music and experiences. We like to think of what we do not just as one event. We want people to experience and be moved, so they can remember that experience for the rest of their lives. We think of the album as an emotional adventure for the mind, just coining new terminology and allowing the listener to be taken on a journey. As artists, it's our responsibility to take people on a journey. We have the opportunity to see things that the everyday person cannot see. We see beauty and we see art in so many things and we have the opportunity to share in it in a thought provoking and clever way and hopefully they can be more inspired.
Here's the music video for Tightrope, with Big Boi:
More from The New Gay Interview:
The New Gay: As someone interested in doing things differently, do you find you have a big queer following?
JM: Absolutely, those are the cool people I love being around and that's awesome. I haven't really thought about it, i look at people as people, not "Oh, he's queer." What is queer, what does that mean? I don't believe in categories. I respect people for who they are, I'm attracted to that more than anything.
Janelle is also a big supporter of the GLBT community and even made an appearance at 2008's Atlanta Black Gay Pride.
And now, back to the aforementioned Jezebel piece about Ke$ha:
It's not easy being a mainstream pop star in a Lady Gaga world: "There was a moment during last night's Saturday Night Live when my disdain for Ke$ha morphed into a kind of distanced pity, and that moment, I believe, was the exact moment that Ke$ha herself was questioning her career's direction… [her reaction to the crowd's unenthusiastic response was] a look coming from someone who doesn't seem to buy the shit they're selling."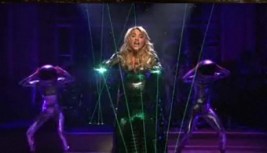 Like the wannabees packaged to imitate Britney Spears' alluring product in the early '00s (Jessica Simpson, Mandy Moore, Willa Ford), Ke$ha, Hortense argues, is merely a dumb man's Lady Gaga. And what's more: the act is falling to sloppy pieces. Even Ke$ha's bisexuality feels more boring than it does artificial, titillating or even strategic.
Is it possible that Kesha the person is, in fact, smart, and that's precisely why she's failing so epically at acting so blah-blah-blah-dumb? Her music is dumb, but it's popular, so it's succeeding in that respect. But by trying to take that party-girl persona to the level of epic Gaga-inspired performances, Ke$ha ends up looking like a more-or-less "nice" girl still wearing her Halloween costume on November 1. Hortense:
Ke$ha: singer, who brushes her teeth with Jack and stays out until the police shut her down, wouldn't have shot a nervous look off stage. She would have yelled "Fuck all of you, y'all don't even know," and would have rocked out with the confidence she attempts to pass off in her records. But Ke$ha, actual human being, reacted the way most of us, I expect, would have reacted, with an "Oh, crap" glance and an attempt to keep going, despite the unenthusiastic audience response.
For Ke$ha's second act of the night, she added war paint and feathers to a concept used by Sia in a 2008 performance, because what's better than a shitty song? A shitty song with a little "native" cultural appropriation!
Ke$ha's best bet at this point is to peel back the glitter and refuse to be a constructed symbol of "weird" when honestly she seems really quite normal, not unlike Mandy Moore or Avril Lavigne. But regardless, she'll ultimately be forgettable.
There's plenty of room for more female artists to make it big, and even if Monáe doesn't aspire to be any part of "The Lady Gaga World," she has the power to exist within it, even though she got started way beforehand and ultimately is doing something very different musically. The future, mark our words, just may belong to Monáe.

KRISTEN STEWART:
Kristen Stewart is at Coachella, looking fantastically hot. I mean, just really, really, really, really good looking. Also, like Shane: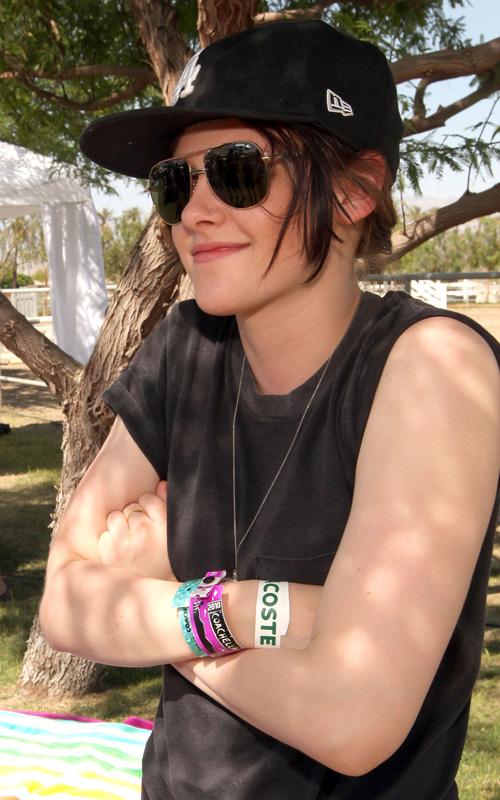 VH1:
VH1 is "revamping" and will show more music, less dumb reality shows. Allegedly. (@thp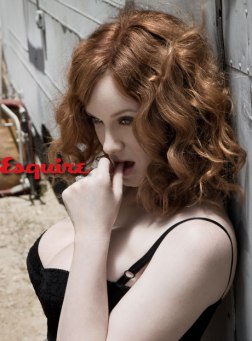 )
LOVELORN:
Melissa Etheridge and Tammy Lynn Michaels: Inside Their Split. Thanks, People Magazine. (@people)
HAILEY WOJCIK:
This is your last chance to win tickets to see Hailey Wojcik in New York City! (@autostraddle)
LADY GAGA:
Lady Gaga will appear on American Idol on May 5.
CHRISTINA HENDRICKS:
Is Christina Hendricks the sexiest woman alive? Esquire puts Christina Hendricks on the cover of Esquire's "WOMEN" issue. (@esquire)
MO'NIQUE:
Mo'Nique's brother admitted he molested her on Oprah today. It happened when they were children, and he wants to apologize to her. (@yahoo)