Once upon a time, Karmen from our music blog Audiostraddle was like, hey, we should probably co-write a piece about trendsetting female musicians. She said it just like that, too. So WHAM BAM, THANK YOU MA'AM, we did.
So! Here's an overview of some fashionable artists who are /aren't/ we often pretend for the validity of our liquid dreams are, queer.
Also, do you guys remember liquid dreams? No? That's okay, I just got really distracted, so we're even. LET'S GET TO IT.
1. Ladyhawke
KARMEN: You know, usually I would be the first person to complain about straight girls wearing flannel, army boots, loose t-shirts or any of that other lesbian-approved attire. Ladyhawke, however, is just one of those people that makes everything she wears into something all her own. Much like her music, Ladyhawke isn't just one thing – she tries to be everything at once. And she is pretty excellent at it. She mixes grunge with hipster and recessionista (what?? You haven't heard of that term yet? It's so fetch!). She is nostalgic and modern, yet somehow remains mysterious. She is undeniably sexy and makes us feel funny things in our pants.
BECKY: Vintage t-shirts the likes of which you'd pick up in souvenir shops when abroad in the '90s, top hats, big sunglasses, and of course, flannel. They're also selling top hats at Hot Topic now for pretty cheap in celebration of the new Alice In Wonderland movie. Maybe top hats will become a thing, which I would be pretty down with.
2. Janelle Monae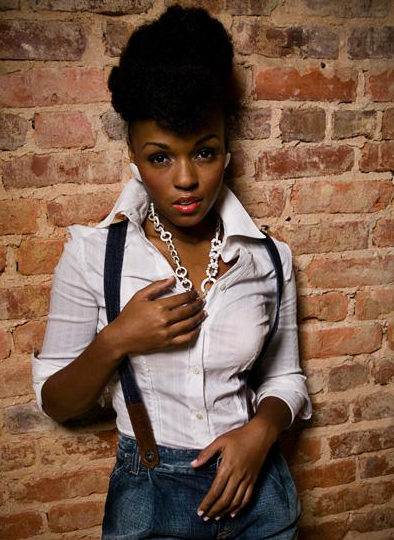 To speak on behalf of Janelle Monae's awesomeness, we've brought in fabulous Editorial Assistant Katrina to share her feelings, which is super good and convenient because I'm speechless by her hotness.
KATRINA: Janelle Monae is so cool. Oft hailed as the lady version of Andre 3000, Monae is super cute, super tiny, super talented, and super. duper. fly. Diddy says she's the most important artist he's ever signed to his record label. I say she's the greatest living reason to bring back the saddle shoe. And the only reason I have ever thought androids could be in any way appealing. But Monae does it.
Her second album, The ArchAndroid, is dropping this year as part of the projected four-piece afro-punk, dance hall, funk-rock, soul-pop suite that is to be her discography, a concept based in the fictional city of Metropolis in the year 2719. Outrageously original with an intellectual twist, Monae's suite carries a message about social stratification and big brother governments. Music, she believes, is an art form that has the potential to change the world, and for a girl like Janelle, living up to this shouldn't be any big feat.
Speaking of top-ish hats:
3. Uh Huh Her
KARMEN: Forget about the fact that one of the members of this band was Alice Pieszecki on The L Word. Ignore that the other has played bass and keyboards for bona-fide gangstas the likes of Dr. Dre and Busta Rhymes. Uh Huh Her isn't interested in being anything besides what they are. Maybe that's what makes Leisha Hailey and Camilla Grey so heart-stoppingly hot.

BECKY: Leisha Hailey has done quite a bit for queer fashion already by being the "girlie" lesbian on The L- Word. Off screen, her style, as well as Camilla's, is a pretty sweet mix of edgy/glam I can definitely get behind. These girls love designer clothes, dark colors mixed with primary colors, spiky shoes, skinny jeans, and are known to rock a lot of Marc Jacobs and Zac Posen.
KARMEN: Aside from making ridiculously catchy electropop music that dares you to keep your feet from moving, these two women have the sort of fashion that is so cool it makes me feel like the awkward girl at the middle school dance all over again. They're the girls I'll always be too shy to approach and secretly always wish to be… or do. Same thing.
Watch them be awesome and hot with a miniature unicorn (!!!)
4. Le Tigre
KARMEN: Le Tigre (Kathleen Hanna, Johanna Fateman, and JD Samson)'s music has been the soundtrack for the riot grrrl movement for over a decade and, through their music, has helped put LGBT issues in the spotlight for just as long. So these girls are smart. Very smart. They also have opinions, strong ones. On top of that, they have a knack for making amazing music that just begs to be rioted to. Are they more than that? You bet! Basically everything they do has people questioning their own preconceived notions. This includes their clothes.
BECKY: What I like about Le Tigre, besides their uncanny ability to rock variations-on-a-theme-matching outfits, is the way they can do so much with so little. Their style reminds me of punk/new wave in the Devo/B52s sense of the word(s). What they wear is unique and varied. Personally, this is my favorite way to dress, like: "Hey, I think I'll wear my Romanian blouse with combat boots and those yellow shorts I found at Goodwill today." Basically what I'm trying to say is, they mix it up with a kind of "it don't matter what you wear" fierceness.
KARMEN: Sometimes femme, sometimes butch, sometimes androgynous. Le Tigre refuses to let themselves be pigeon-holed. "Get out of your fucking box!!wp_postshas never looked so very good.
---
+
Next: Brody Dalle, Sia, and more!
Pages: 1 2See entire article on one page