5. Brody Dalle
BECKY: Brody Dalle makes me cream my pants maybe just a little. You may know her from The Distillers or maybe even her current project Spinnerette (btw, in this music collage thing, she's totally wearing a top hat. Just sayin'). Her style is straight up (gay up) rocker sheek, and she loves wearing low-cut shirts, which I really appreciate for various reasons.
Often seen wearing Lolita-esque sun glasses and band t-shirts, she's the girl-all-the-bad-guys-want kind of badass. Lots of hoodies, patterned pants, black leather, and tank tops — the majority of which you can find over at Karma Loop. Also, our friends there have a message for you:
1. You can get 15% OFF on orders over $75 with code: MADNESS, good until 3-31-2010.
2. When customers spend over $25 with the code, they can get free shipping* by using code 3LEAF
. (*Outside USA, get $8 OFF on shipping instead.)
These offers are valid now through March 31.
Complete the look with extra high high tops and tattoos. Sure, she's not, you know, gay, but with lyrics like "Marilyn Monroe's cum I'll swallow," it's kinda easy to forget that, you know?
6. M.I.A.
BECKY: I was once told by a queer boy that I looked like a combination M.I.A. and Santigold. That was back when I had long hair (though less neon clothing). Anyway I took it as a compliment then, and I would take it as a compliment now. Regardless of how you feel about her music, this girl rocks what she wears — which is mostly extra large t-shirts and bright patterned leggings. Really, this girl was wearing awesome tights long before American Apparel caught on (and she's been repping sneakers way before Taylor Swift sang about them and then didn't wear them). Her Sunshowers video is a glimpse of what my life is going to be like when I move into the trees with my monkey.
7. Sia Furler
BECKY: Sia's style is modern with a healthy dose of whimsical. She wears dirty sneakers and bright colors and one-piece outfits that she probably found on sale somewhere (everywhere) because not many people are brave enough to wear one piece outfits. This beautiful Aussie has such a soulful voice, she makes me want to go out and do something really random and artistic and cool.
KARMEN: Sia has sang most of us through some of our toughest breakups. She was right there next to us (/me) as we (/I) sat in the dark, crying, while eating pint after pint of Ben & Jerry's Cherry Garcia. Sia is as beautiful and talented as she is playful and quirky. She never apologizes for who she is, and that is why I love her style so much. She mixes thrift store finds with whatever else is lying around in her closet to create a look that she has dubbed "Original Bag Lady." All I have to say is, homeless-chic or not, this is one girl I wouldn't mind sitting next to on the bus.
8. The Kills
KARMEN: Even if you've never seen them, you can probably assume they're hip just by listening to their music. And hey you're right! They are. A friend of mine once described Alison Mosshart (of The Kills) as having "more coolness in one skin cell than I have in my whole body". Having perfected the kind of "I don't give a fuck" look, Alison Mosshart and Jamie Hince are comfortable smoking cigarettes in their leather jackets and black jeans as you look on and wonder "how the hell did you get to be so cool?" Lesbians, take note – this is probably what you'll be wearing in 6 months.

BECKY: It's true, Alison has perfected the illusion of dressing like she just kind of rolled out of bed and then rolled around on her closet floor for a while and then went on stage. How? We see pants and opened button-downs thrown over t-shirts and think "casual," but those are actually some sick pieces she's put together.
Wanna dress like her for cheaper? Here's a zip sweater jacket from Amazon, Diesel colored pants, and hey remember when we did that great interview on Dani Campbell? You should probably get an intricately designed tee from pinkboybluegirl. Now just don't brush your hair for awhile, and you're golden!
9. Beth Ditto
Fact: More rock stars should wear hot dresses. Beth Ditto, lead singer of the Gossip, has a lot going for her beyond her super fun electro-pop rock 'n' roll sound. She's got style, she's got heart, and she isn't afraid to be who she is. And she is one of Autostraddle's Top Queer Fashion Icons.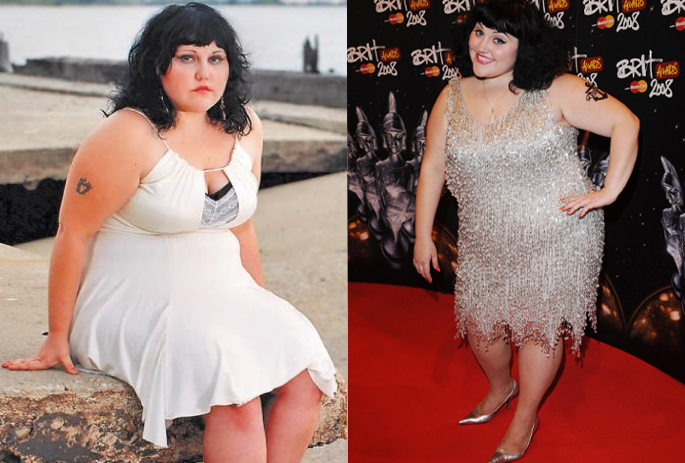 Yes, it has long been known that Beth Ditto gives no fuck, and because a lot has already been said about her, feel free to take advantage of that and check out her gallery over at Vogue.co.uk and her video over at Style.com !
10. Feist
BECKY: Feist wears clothes that exude her famed sweetheart personality. She doesn't need to do much, and is quite happy with her button downs, light sweaters, and simple black dresses. What makes her such a fashion icon in the music world is just that: simple, clean, accessible, and often tomboyish style. It's like saying hey, you don't have to wear designer clothes or have a mohawk to party like/be a rock star.

KARMEN: Lets face it. No matter how much we hope or how many stars we may wish upon, Feist will just never love the ladies in the same way we do. I know, I know, she did wear a vest and tie to her interview with Stephen Colbert (which, by the way, you have to see if you missed it. I swooned.), and she has repeatedly spoken out in favor of gay marriage. But that doesn't make her gay – that just makes her awesome. Whether she's in a tie and a button-down shirt or a loose sun dress, Feist always looks beautiful and dapper all at the same time. As Tyra would say, "work it, girl."
Are you downloading some new music? Are you thinking of buying some cool tank tops? Great, I think our work here is done!
Pages: 1 2 See entire article on one page