Let's be clear and honest right from the start: Brody Dalle is a badass woman.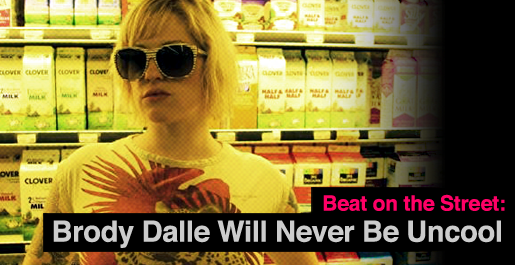 Brody Dalle is the frontwoman of Spinnerette, and she was clearly the only thing the kids came to see at their recent Bowery Ballroom gig.  Tall, dark and brooding, with a gravelly howl that could shatter concrete, Ms. Dalle is best known for her work as the frontwoman for self-destructive punk saviours The Distillers.
When I first saw the Distillers open for Garbage and No Doubt in 2002, Ms. Dalle (then Mrs. Armstrong, as she was married to punk rock prince Tim Armstrong of Rancid) had no trouble holding her own against legendary frontwomen Shirley Manson and Gwen Stefani.  With her soul-scraping voice and more-than-admirable guitar skills, Brody was a commanding presence in any size room, and her particular brand of stripped-down, no-bullshit punk was tailor made for misunderstood teenagers.
The song "The Young Crazed Peeling" described Brody's difficult adolescence, culminating in a happy marriage and stable-enough adulthood.  When she sang "I love a man from California / He's the prettiest thing, we got the same disorder," she seemed to promise similar things to the legions of tattooed-and-pierced weirdos out there.
The Distillers were a truly special band, and every record they made was better than their last.  With every passing day, they seemed to inch closer and closer to actually saving punk rock – and then things got weird.
Brody left Tim Armstrong, and suddenly she was pictured in Rolling Stone making out with giant ginger Josh Homme of Queens of the Stone Age.  The Distillers' next album Coral Fang's cover art featured a naked woman with a blood-spurting razor for a head, and the songs were titled things like "Drain the Blood," "Beat Your Heart Out" and "The Gallow is God." It was an overproduced hot mess of amazing songwriting and terrible/awesome conflicting emotions.  The band took off for a series of whirlwind tours – their July 2003 gig at New York's CBGB remains one of my favourite concert memories of all time – and then the band simply ceased to exist.  Loyal fans of Brody and the Distillers were left wondering what the hell happened to one of the most promising new bands of the last decade. Brody and Josh got married, had a baby, moved on.  I did not.
See, here's the thing.  I want to love Brody Dalle, and I mean, I DO love Brody Dalle – but something's missing.  Spinnerette are OK, and I have no real problems with them, but their debut record isn't GREAT.  Save for the catchy, bottom-heavy "Ghetto Love," the album has very few stand-outs, and one can't help but feel short-changed.  Part of me wonders if I'd judge this music differently if Brody didn't come with so much backstory baggage, and I can't help but be annoyed that any female rock star's career could be defined so strangely by the men she's slept with (paging Courtney Love).  Like Courtney, Brody's new direction seems directly influenced by the man in her life – Spinnerette's swaggering stoner rock is notably more mature than the Distillers' barely-contained rage, certainly borrowing something from Queens of the Stone Age.  The melodies are more accessible and lend themselves to sing-alongs – which the kids did dutifully, though I suspect Brody could've sung the phone book and they'd respond in kind.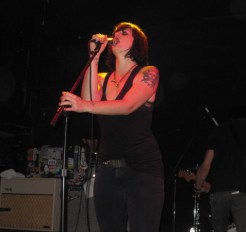 The crowd was mixed, with startlingly few of the mohawked, lip-ringed proto-Brodys I remembered from Distillers shows past.  Maybe we've all grown up and changed since then…?   [A vicious, hair-pulling girlfight that broke out in the pit and subsequently ended in a passionate makeout reminded me that we have not.]  Brody was subdued, in a black tank top and jeans – less abrasive than we all remembered, and certainly very different on stage.  She rarely played guitar, relying instead on the anonymous black-clad dudes in the background, and although her voice was strong, the songs were less than memorable.  If I take a step back and look at this show as if I'd never heard of Brody Dalle, never seen a Distillers show or witnessed Josh Homme's giant tongue covering half of her makeup-smeared face, then I think I'd still find the material lacking – but Brody's voice enormously appealing.  Certainly this is not the best she could do.
To be fair, nobody should begrudge Ms. Dalle a stable relationship or a new direction – we all like her happy, healthy and creatively inspired – but uh, we also liked her when she was kind of a lunatic. Having seen the enormous potential of the Distillers, it's hard not to feel let down by Spinnerette.  Here's hoping Brody can find a way for her new band to tap into that previous energy, because there are not enough heroes in rock'n'roll.