Once upon a time, Karmen from our music blog Audiostraddle was like, hey, we should probably co-write a piece about trendsetting female musicians. She said it just like that, too. So WHAM BAM, THANK YOU MA'AM, we did.
So! Here's an overview of some fashionable artists who are /aren't/ we often pretend for the validity of our liquid dreams are, queer.
Also, do you guys remember liquid dreams? No? That's okay, I just got really distracted, so we're even. LET'S GET TO IT.
1. Ladyhawke
KARMEN: You know, usually I would be the first person to complain about straight girls wearing flannel, army boots, loose t-shirts or any of that other lesbian-approved attire. Ladyhawke, however, is just one of those people that makes everything she wears into something all her own. Much like her music, Ladyhawke isn't just one thing – she tries to be everything at once. And she is pretty excellent at it. She mixes grunge with hipster and recessionista (what?? You haven't heard of that term yet? It's so fetch!). She is nostalgic and modern, yet somehow remains mysterious. She is undeniably sexy and makes us feel funny things in our pants.
BECKY: Vintage t-shirts the likes of which you'd pick up in souvenir shops when abroad in the '90s, top hats, big sunglasses, and of course, flannel. They're also selling top hats at Hot Topic now for pretty cheap in celebration of the new Alice In Wonderland movie. Maybe top hats will become a thing, which I would be pretty down with.
2. Janelle Monae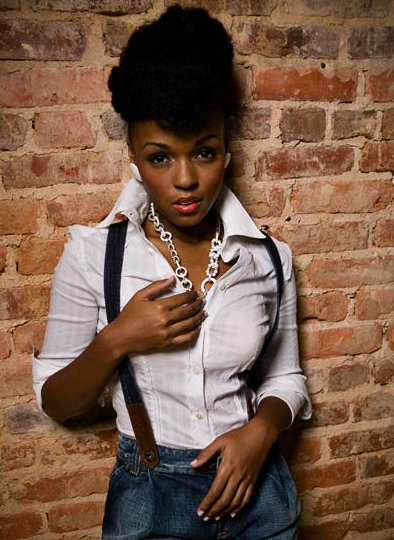 To speak on behalf of Janelle Monae's awesomeness, we've brought in fabulous Editorial Assistant Katrina to share her feelings, which is super good and convenient because I'm speechless by her hotness.
KATRINA: Janelle Monae is so cool. Oft hailed as the lady version of Andre 3000, Monae is super cute, super tiny, super talented, and super. duper. fly. Diddy says she's the most important artist he's ever signed to his record label. I say she's the greatest living reason to bring back the saddle shoe. And the only reason I have ever thought androids could be in any way appealing. But Monae does it.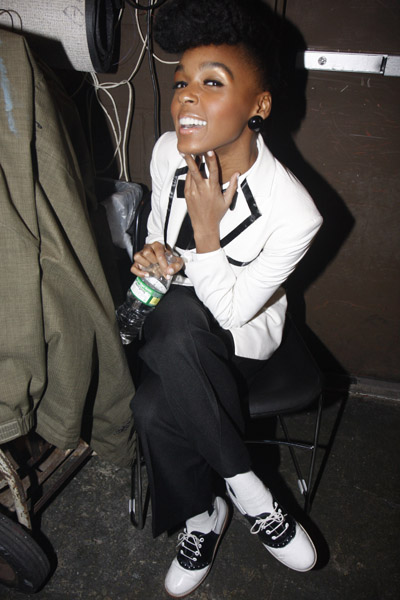 Her second album, The ArchAndroid, is dropping this year as part of the projected four-piece afro-punk, dance hall, funk-rock, soul-pop suite that is to be her discography, a concept based in the fictional city of Metropolis in the year 2719. Outrageously original with an intellectual twist, Monae's suite carries a message about social stratification and big brother governments. Music, she believes, is an art form that has the potential to change the world, and for a girl like Janelle, living up to this shouldn't be any big feat.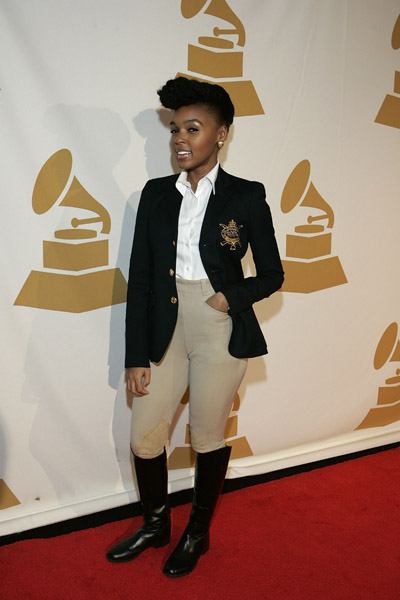 Speaking of top-ish hats:
3. Uh Huh Her
KARMEN: Forget about the fact that one of the members of this band was Alice Pieszecki on The L Word. Ignore that the other has played bass and keyboards for bona-fide gangstas the likes of Dr. Dre and Busta Rhymes. Uh Huh Her isn't interested in being anything besides what they are. Maybe that's what makes Leisha Hailey and Camilla Grey so heart-stoppingly hot.

BECKY: Leisha Hailey has done quite a bit for queer fashion already by being the "girlie" lesbian on The L- Word. Off screen, her style, as well as Camilla's, is a pretty sweet mix of edgy/glam I can definitely get behind. These girls love designer clothes, dark colors mixed with primary colors, spiky shoes, skinny jeans, and are known to rock a lot of Marc Jacobs and Zac Posen.
KARMEN: Aside from making ridiculously catchy electropop music that dares you to keep your feet from moving, these two women have the sort of fashion that is so cool it makes me feel like the awkward girl at the middle school dance all over again. They're the girls I'll always be too shy to approach and secretly always wish to be… or do. Same thing.
Watch them be awesome and hot with a miniature unicorn (!!!)
4. Le Tigre
KARMEN: Le Tigre (Kathleen Hanna, Johanna Fateman, and JD Samson)'s music has been the soundtrack for the riot grrrl movement for over a decade and, through their music, has helped put LGBT issues in the spotlight for just as long. So these girls are smart. Very smart. They also have opinions, strong ones. On top of that, they have a knack for making amazing music that just begs to be rioted to. Are they more than that? You bet! Basically everything they do has people questioning their own preconceived notions. This includes their clothes.
BECKY: What I like about Le Tigre, besides their uncanny ability to rock variations-on-a-theme-matching outfits, is the way they can do so much with so little. Their style reminds me of punk/new wave in the Devo/B52s sense of the word(s). What they wear is unique and varied. Personally, this is my favorite way to dress, like: "Hey, I think I'll wear my Romanian blouse with combat boots and those yellow shorts I found at Goodwill today." Basically what I'm trying to say is, they mix it up with a kind of "it don't matter what you wear" fierceness.
KARMEN: Sometimes femme, sometimes butch, sometimes androgynous. Le Tigre refuses to let themselves be pigeon-holed. "Get out of your fucking box!!" has never looked so very good.
---
+
Next: Brody Dalle, Sia, and more!

5. Brody Dalle
BECKY: Brody Dalle makes me cream my pants maybe just a little. You may know her from The Distillers or maybe even her current project Spinnerette (btw, in this music collage thing, she's totally wearing a top hat. Just sayin'). Her style is straight up (gay up) rocker sheek, and she loves wearing low-cut shirts, which I really appreciate for various reasons.
Often seen wearing Lolita-esque sun glasses and band t-shirts, she's the girl-all-the-bad-guys-want kind of badass. Lots of hoodies, patterned pants, black leather, and tank tops — the majority of which you can find over at Karma Loop. Also, our friends there have a message for you:
1. You can get 15% OFF on orders over $75 with code: MADNESS, good until 3-31-2010.
2. When customers spend over $25 with the code, they can get free shipping* by using code 3LEAF
. (*Outside USA, get $8 OFF on shipping instead.)
These offers are valid now through March 31.
Complete the look with extra high high tops and tattoos. Sure, she's not, you know, gay, but with lyrics like "Marilyn Monroe's cum I'll swallow," it's kinda easy to forget that, you know?
6. M.I.A.
BECKY: I was once told by a queer boy that I looked like a combination M.I.A. and Santigold. That was back when I had long hair (though less neon clothing). Anyway I took it as a compliment then, and I would take it as a compliment now. Regardless of how you feel about her music, this girl rocks what she wears — which is mostly extra large t-shirts and bright patterned leggings. Really, this girl was wearing awesome tights long before American Apparel caught on (and she's been repping sneakers way before Taylor Swift sang about them and then didn't wear them). Her Sunshowers video is a glimpse of what my life is going to be like when I move into the trees with my monkey.
7. Sia Furler
BECKY: Sia's style is modern with a healthy dose of whimsical. She wears dirty sneakers and bright colors and one-piece outfits that she probably found on sale somewhere (everywhere) because not many people are brave enough to wear one piece outfits. This beautiful Aussie has such a soulful voice, she makes me want to go out and do something really random and artistic and cool.
KARMEN: Sia has sang most of us through some of our toughest breakups. She was right there next to us (/me) as we (/I) sat in the dark, crying, while eating pint after pint of Ben & Jerry's Cherry Garcia. Sia is as beautiful and talented as she is playful and quirky. She never apologizes for who she is, and that is why I love her style so much. She mixes thrift store finds with whatever else is lying around in her closet to create a look that she has dubbed "Original Bag Lady." All I have to say is, homeless-chic or not, this is one girl I wouldn't mind sitting next to on the bus.
8. The Kills
KARMEN: Even if you've never seen them, you can probably assume they're hip just by listening to their music. And hey you're right! They are. A friend of mine once described Alison Mosshart (of The Kills) as having "more coolness in one skin cell than I have in my whole body". Having perfected the kind of "I don't give a fuck" look, Alison Mosshart and Jamie Hince are comfortable smoking cigarettes in their leather jackets and black jeans as you look on and wonder "how the hell did you get to be so cool?" Lesbians, take note – this is probably what you'll be wearing in 6 months.

BECKY: It's true, Alison has perfected the illusion of dressing like she just kind of rolled out of bed and then rolled around on her closet floor for a while and then went on stage. How? We see pants and opened button-downs thrown over t-shirts and think "casual," but those are actually some sick pieces she's put together.
Wanna dress like her for cheaper? Here's a zip sweater jacket from Amazon, Diesel colored pants, and hey remember when we did that great interview on Dani Campbell? You should probably get an intricately designed tee from pinkboybluegirl. Now just don't brush your hair for awhile, and you're golden!
9. Beth Ditto
Fact: More rock stars should wear hot dresses. Beth Ditto, lead singer of the Gossip, has a lot going for her beyond her super fun electro-pop rock 'n' roll sound. She's got style, she's got heart, and she isn't afraid to be who she is. And she is one of Autostraddle's Top Queer Fashion Icons.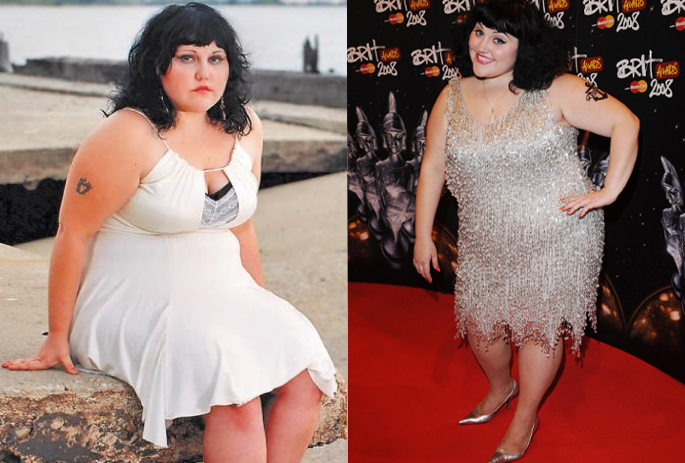 Yes, it has long been known that Beth Ditto gives no fuck, and because a lot has already been said about her, feel free to take advantage of that and check out her gallery over at Vogue.co.uk and her video over at Style.com !
10. Feist
BECKY: Feist wears clothes that exude her famed sweetheart personality. She doesn't need to do much, and is quite happy with her button downs, light sweaters, and simple black dresses. What makes her such a fashion icon in the music world is just that: simple, clean, accessible, and often tomboyish style. It's like saying hey, you don't have to wear designer clothes or have a mohawk to party like/be a rock star.

KARMEN: Lets face it. No matter how much we hope or how many stars we may wish upon, Feist will just never love the ladies in the same way we do. I know, I know, she did wear a vest and tie to her interview with Stephen Colbert (which, by the way, you have to see if you missed it. I swooned.), and she has repeatedly spoken out in favor of gay marriage. But that doesn't make her gay – that just makes her awesome. Whether she's in a tie and a button-down shirt or a loose sun dress, Feist always looks beautiful and dapper all at the same time. As Tyra would say, "work it, girl."
Are you downloading some new music? Are you thinking of buying some cool tank tops? Great, I think our work here is done!
Pages: 1 2 See entire article on one page