iPhone 4G:
If the insider masterminds at Apple have taught us anything, I'd say this weekend's lesson sets the conventional wisdom bar pretty high. Over the weekend one of Cupertino's finest (and presumably drunkest) left their phone behind in a bar. Problem is, it wasn't just any any old phone- it's the unreleased iPhone 4G.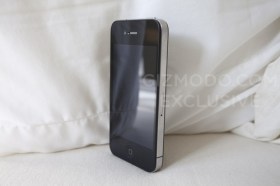 Gizmodo got their paws on it this morning and published a thorough analysis and physical dissection of the thing, confirming that the phone left behind is in fact a prototype of the upcoming iPhone 4G. How much they paid for it, how this will all play out legally and how many brutal lashings the careless Apple employee will received are all yet to be determined.
I think there's probably a special circle in hell for people who leak Apple products, and I think Steve Jobs had that shit installed for circumstances just like this. Unless it's an insider job meant to get the buzz going around Apple's newest phone, which would be kind of disappointing considering how zany this story's been so far. We'll see how it plays out.
If Gizmodo's hot little piece of evidence is any indication (it is), the iPhone 4G will have both a front and a back facing camera, an indeterminately higher resolution and an industrial new design. The design opts for a more squared-off look over the current iPhone's sleek curvature which resembles the handsome HTC Evo 4G.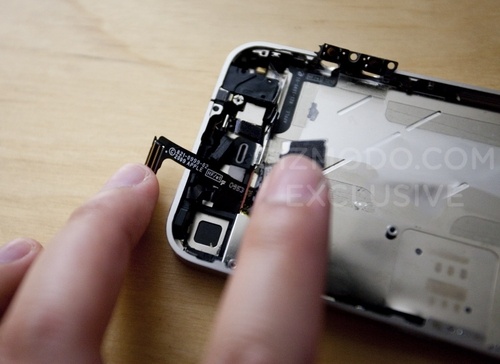 But the coolest, most James Bondesque part of the story is this: when the unsuspecting bar-goer found the phone it was disguised as an iPhone 3G, rounded edges of the old design and all. But when they popped off the case, the phone's clearly shaped differently than its housing would suggest! The case camoflauge even had custom-made little holes for the newly designed 4G camera, headphone jack and buttons. How sweet is that?!
Time Traveling Hipster:
This image of an apparently anachronistic hipster fellow in my mind incontrovertibly proves the existence of time travelers. No really. This is a real photograph. And, assuming maybe he's not actually a time traveler, the in-depth analysis of how his outfit is actually suited to the time period may be even more interesting. This is the coolest thing ever. No really.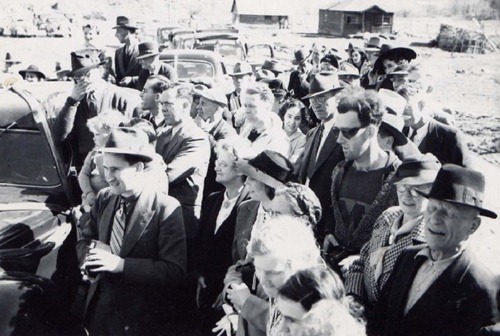 Octopus Attack!:
Clearly this octopus has cinematic aspirations. The kind of beautiful kind of terrible sea beast grappled a diver's video camera out of his hands before setting off to make his own home movie. Happily, we get to see the Octopus' short film as well as the man vs. cephalopod showdown. Look how strong that thing is! And my, how fast!
Kick Ass:
If you're like me and still haven't seen Kick Ass and actually don't really understand what it's about, this comic drawn in crayon could very well suffice in lieu of an actual movie-going experience.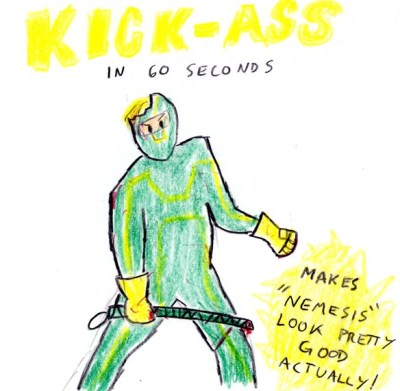 iPad Suicides:
If you're down in the dumps about your distinct lack of a tablet shaped shiny thing to have and to hold, this human rights alert about Foxconn, the Chinese iPad manufacturer, and their suspicious epidemic of suicides should make you feel all warm and self-righteous again. Except, unfortunately, most of our other shit gets made by Foxconn too: the iPad, the iPhone, Intel-branded motherboards, the PlayStation 3, the Wii and the Xbox 360 among them.
Infographic Fix:
Can you tell we like infographics? All of us go wild for 'em around here. And this typographical choose your own adventure image is no exception.
Dear Mr. Jobs:
One of the creators of Wired Magazine (My #1 Feeling) issued an open letter to the Apple demi-god himself, asking him to come down from on high. And you know, deign to interact with us. Hear Hear!
Once upon a time, back before you got real popular, you used to take part in the public square. You may have been less forthcoming than most, but at least your employees would speak at industry events, have unscripted conversations with journalists, and engage in the world a bit here and there.

But over the past few years, things seem to have changed. You pulled out of MacWorld and began hosting your own strictly scripted events. You forbid any of your executives from speaking at any public conferences (save one victory lap with Bill Gates a few years ago). Employees blogging, posting to social networks, or offering academic papers for public comment is actively discouraged.
Gayest WoW Ever:
If you missed it yesterday, we've got our own brand new Autostraddle guild in World of Warcraft! C'mon…like you don't want to pretend you're an elf. Check the link for the lowdown!