Last night, Saturday April 17th, all the gaystars & allies came out for the 2010 21st annual GLAAD Media Awards in Los Angeles, California, hosted by Rickie Vasquez and Candis Cayne. Adam Lambert performed. Autostraddle.com sent Nat Garcia & Wingspan Pictures to the star-studded event and we'll have their red carpet report for you later this week. In the meantime, we have web scavenger hunt coverage!
Drew Barrymore won the Vanguard Award for her secret relationship with Ellen Page I MEAN HER CONTRIBUTIONS TO THE GLBT COMMUNITY and her award was presented by openly lesbian Iron Chef Cat Cora: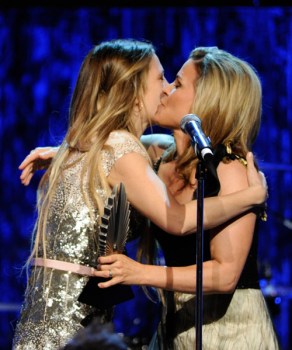 The Stephen F. Kolzak Award was given to Wanda Sykes and presented by Constance McMillen. Other winners included A Single Man (Outstanding Film – Wide Release), GLEE (Outstanding Comedy Series), RuPaul's Drag Race (Outstanding Reality Program), "Polémicas Adopciones" Noticiero Telemundo (Outstanding Spanish-Language TV Journalism Segment) and Lydia by Octavio Solis (Outstanding Los Angeles Theater).
Adam Lambert closed the show with his performances of "Music Again" and "Fever." Via the intrepid fans of Planet Fierce we have located this so-so video of the performance. PF reports that Adam was introduced by Judas Priest lead singer (gay) Rob Halford who said; "Thank God for Adam Lambert, we need someone like him in the community."
Also Zap2Zit has this video of interviewing Adam Lambert about American Idol and being a gay in the industry. His thoughts:
"From what I've been told I'm the only gay artist to be signed to a major label who was gay at the time — at the start of it, it's risky I think for record companies or movie studios, the reality is … it is a business, that we call show business, I'm glad that things are progressing, we're making our steps,we're moving forward, and hopefully it won't always be this way."
Here's our gallery, with captions:
Did Constance McMillen's "guest" look familiar to you? Well, she's another headline-grabber — back in October, Ceara Sturgis shook up her high school's administration when she dared to wear a tuxedo for her yearbook photo instead of the mandated female "drape."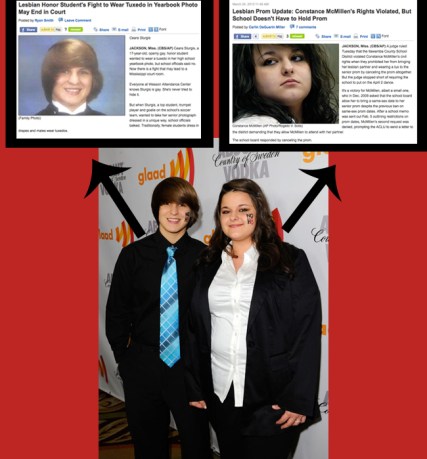 Wanda Sykes's wife, Alex Sykes, has always kept a low profile. Wanda explained that unlike her, Alex didn't ever choose to be in the spotlight or enter show business. But last night she came out with Wanda for the Awards and hot damn, Wanda's got herself a smokin' hot wife. Also, Wanda, thumbs up on the corset.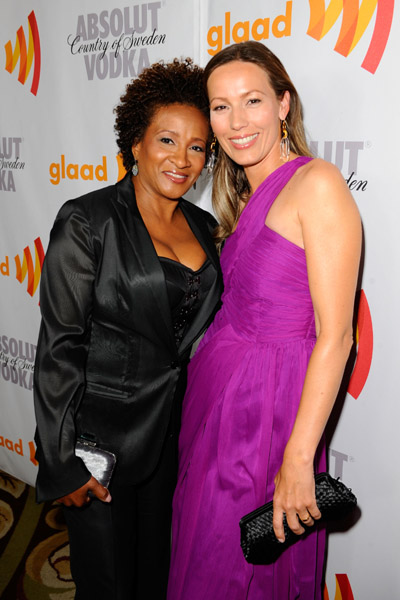 Chaz Bono brought his hottie girlfriend Jennifer Elia: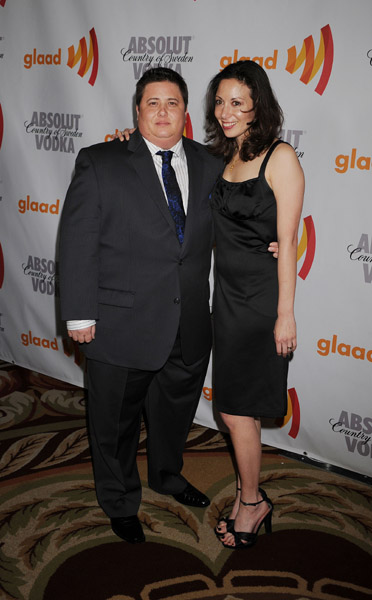 I really wish Adam Lambert would bring a date to one of these events, how the hell are we supposed to know who he's playing tonsil hockey with. [ETA: According to the Adam Lambert Expert Squad, Adam brought his ex-boyfriend, performer Brad Bell, to the glaad awards, who you may remember from photos that surfaced of the two of them together last year. Brad isn't in any of the photos of the event we've found online.]
Johnny Weir, Benjamin Bratt, Jason Lewis, Rebecca Gayheart (GLAAD Award Winner for Gayest Last Name) Dustin Lance Black, Holly Robinson and the hottest woman in the world Sofia Vergara were also in attendance.
No word yet on the whereabouts of Ilene Chaiken and her trashbag dress.