The uber-wise Angela Chase once declared that "there's something about Sunday night that makes you want to kill yourself." Here at Autostraddle, we're not into suicide, so from now on Sunday will be a day of happiness where we'll only tell you about happy things, just like Jesus would've wanted.
Speaking of Jesus and the gays who love him — BONUS! Tonight this post starts early (it's 2:44 A.M. EST) so we can bring you super-fast coverage of the 20th Annual GLAAD Media Awards in Los Angeles, California. This will be one of those evolving posts — check in today, check in tomorrow, you never know what'll show up. Let's begin. (UPDATE: The passionate people of Tibette.com have uploaded a bootleg vid of The L Word's part — if you want to witness the Chaiken Awkwardness in all its glory!)

Our super-secret GLAAD Awards inside scooper reports: "I was just at the VIP Room at the 20th Annual GLAAD Media Awards after-party with such Celesbians as Ilene Chaiken –"
Okay pause. Ilene Chaiken. Here's your Open Caption of the night: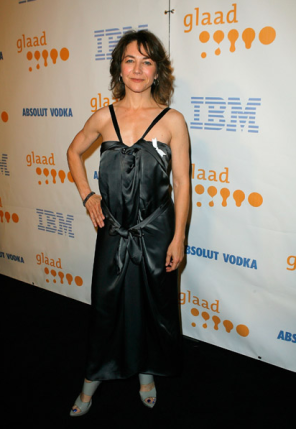 +
I believe Ilene created this dress using leftover fabric from the Season Six promo shoot and possibly borrowed the shoes from her roommate? The white ribbon is for a cause, I'm guessing The Pregnant Man Fund or Narcissistic Personality Disorder Awareness. UPDATE: A lot of guests are wearing this ribbon, therefore it's probs for something important so I apologize in advance for offending. Maybe it's Poor Blogger Awareness, then I'll really wanna stick one of those striking feet in my mouth. UPDATE: It's for White Knot Campaign for marriage equality. Love it, I want one, it's perfect, for my favorite wedding photographer Robin, 'cause she was linked by whiteknot.org!
+
Secret Correspondent Report Ctd.: "I was backstage with Jennifer Beals –"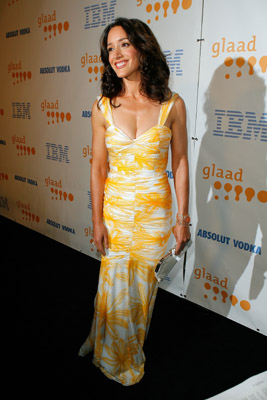 +
"… Leisha Hailey, Kate Moennig —
+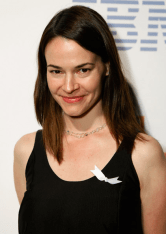 +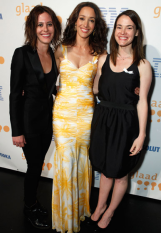 Happy and Comfortable …

+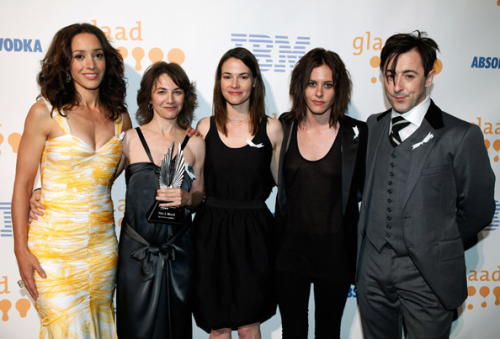 … Awkward Family Photo where Ilene is the grandmother trying too hard. Actually makes me feel sad a little for IFC. ALMOST.
+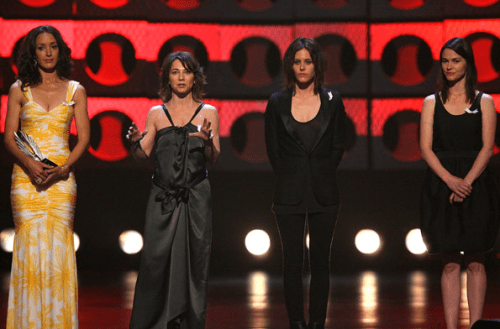 Here we have the L Word Team: Jennifer Beals, Ilene Chaiken, Katherine Moennig (are those LOHAN LEGGINGS?) and Leisha Hailey. I think Ilene is explaining how on the sixth day, she created Phyllis, Papi and Jodi and she said, it was good. And on the seventh day, she rested and she said it was good. And everyone else said it was bad, and she was like "F*ck you guys, I'm the Lord your G-d."
Our special reporter reports: "Ilene Chaiken was wearing something weird, it was like a dress but it had been altered weirdly? She was really awkward on stage and she talked for like twenty minutes and everyone backstage was like IS SHE STILL TALKING?"
The ladies were accepting a Special Recognition Award for the following reason: "When the final episode airs this year, The L Word will leave a lasting impact for bringing new visibility to issues faced by lesbian, bisexual, and transgender people to primetime drama, and, in turn, to an appreciative and devoted audience of fans worldwide, gay and straight alike …"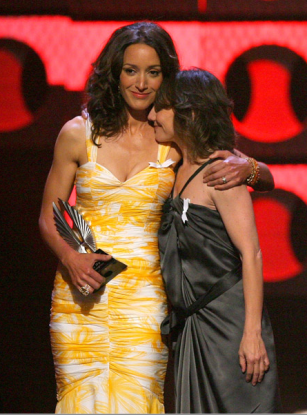 Clearly Ilene wants a little bit more Bette Porter, just as we all do. Or perhaps she is hoping to divine the secret of greatness from Jennifer's amazing tits. Who knows? One cannot question The Chaik.

+
"Alan Cumming looked so f*cking gorgeous I can't even tell you –"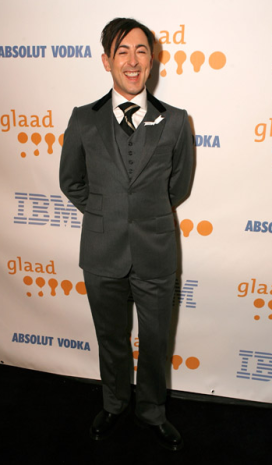 +
"Kathy Griffin paraded around backstage in her robe barefoot and then came out in a bikini and everyone clapped 'cause she looked so f*cking hot–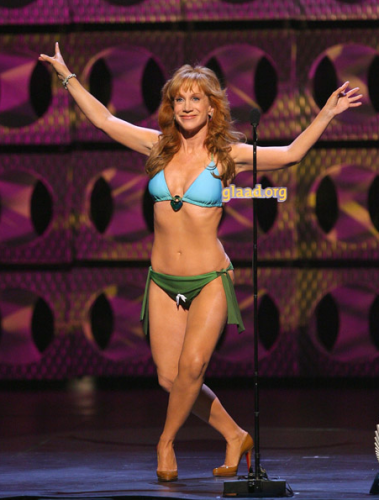 Kathy Griffin — looking forward to the episode where she goes home after the awards and eats two pineapple pizzas.
Kathy was given the Vanguard Award for "media professionals who, through their work, have increased the visibility and understanding of the lesbian, gay, bisexual and transgender community."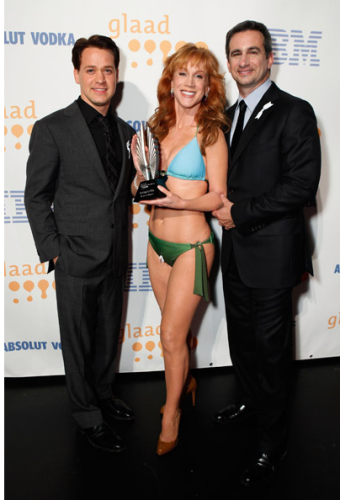 [T.R. Knight, Kathy Griffin, Neil Giuliano]
"There was also a drag queen who was dressed as Kathy Griffin which was confusing to me–"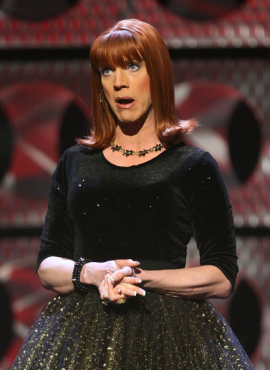 +
"Thea Gill looked really beautiful, she had a really elegant gown on."
+
"Megan Mullally & Julia Louis-Dreyfus, SO HOT!"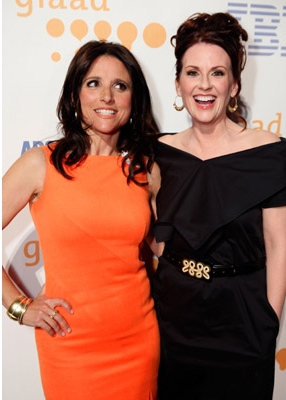 Julia & Megan accepted the award for Outstanding Individual Episode (in a series without an LGBT character): "Unidentified Funk" The New Adventures of Old Christine (CBS).
+
"Cheyenne Jackson sang and he was fucking awesome. He's a very pretty man."
+
Here's Ellen DeGeneres & Portia De Rossi — Ellen was honored for the episode of her show that detailed her wedding to Portia De Rossi.
"Desperate Housewives" was awarded Outstanding Comedy Series and "Milk" for Outstanding film. I have absolutely no freakin' clue how Desperate Housewives earned that award, butttt go MILK!
And here's your gallery of everyone you want to see, including Jane Lynch [She Who Can Do No Wrong], Jessica Alba, Emmet Honeycut and Rickie from My So-Called Life.
In Other News:
Sunday Afternoons, written & directed by Erin Daniels (Dana Fairbanks, The L Word) will premiere at the Newport Film Festival at the crack o'dawn (11:45 AM) on April 26th.
Variety reports that TV has matured in its depiciton of Sexuality: "For Jennifer Beals, the actress who starred in "The L Word," playing gay may have been the best thing to happen to her career: "I'm getting fantastic offers right now, better than before I did the series."
USA Today says "Hollywood Sends Message of Hope at GLAAD Awards." (@usa today)
People Magazine quotes Ellen DeGeneres: "Love comes in lots of different forms. I am flabbergasted by the fact that we're still trying to fight. I am not trying to fight for gay rights – I am trying to fight for equal rights."
Harvey Milk & gay Long Island activists honored at "hometown hero" gala — A;ex was totes there! (@newsday)
[ad#postads]