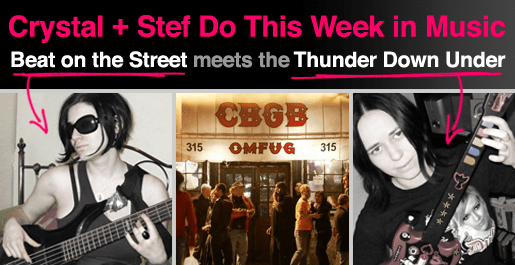 CRYSTAL: Let's talk about music! I'm forever having music-related thoughts & feelings, but I avoid sharing them too often 'cause Beat On The Street seems to have that particular interest area on lockdown. That being said — Stef and I often sit on radically different sides of the musical fence, if you will. For example, Stef enjoys female bassists, while I prefer guitarists. She goes to all the hot shows, I watch them on YouTube. She's on Team Lohan, I'm a hardcore supporter of Team Duff —
STEF: I live in New York City with alligators in the sewers, and Crystal lives in Australia and presumably wrestles crocodiles all the time…
CRYSTAL: Very true. Just this morning I was washing my clothes down at the creek and a crocodile came along and snatched my Sex Pistol and Tool t-shirts right outta my hands!
CRYSTAL: But this week there's been so much happening in the world of music (Susan Boyle! Phil Spector!) … that really you're gonna have to hear it from both of us.
1. Stef Goes Out on the Town: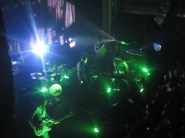 This week I saw the Faint with Ladytron at Webster Hall with Carly and Robin. That lineup was a total dream come true, but it was exactly like every other time I've seen those bands – I knew what I was getting into. To their credit, Ladytron do actually play everything live and they're fun to watch if you're a gearhead, but they're stiff and boring – like they'd rather be anywhere else doing anything else, and they're never quite as much fun as they are on record. The Faint, however, had the crowd's rapt attention despite having slightly weaker material, and they were a total joy to watch – a kick-ass dance explosion.
Oh, I also saw The Tallest Man On Earth by accident – he covered "I Fall to Pieces" by Patsy Cline and it was really upsetting. I don't know why bands do that. Also, he's not that tall.
2. Crystal Plans to Go Out on the Town:
Gossip Girl's Taylor Momsen is becoming a rockstar! Her band, Pretty Reckless, has officially been added to the US tour of Australia's sapphic-friendly pop star sisters, The Veronicas. There are no samples of Pretty Reckless online yet, however Little J lists her influences as Nirvana, Joan Jett, Blondie and Garbage, which sort of makes me envision them to be a mild version of all-girl band Nitocris. Regardless, channeling Joan Jett is fine by me, she looks hot in leather.
[STEF: Isn't she like 15? Are we still allowed to be excited about her music? Was Kurt Cobain alive when this person was born?!?!?]
Did y'all go to Record Store Day? It happened April 18. If you're not aware, this is a special day where Independent record stores join forces with with artists to celebrate music. It's a world-wide event and The Bass was playing at my local store.
3. Stef Thinks You Should Listen To:
4. Crystal Thinks You Should Listen To:
Peaches' new single, Talk To Me, was released on YouTube and has been stuck in my head for days. It's as hooky and punched up as you would expect following Impeach My Bush. Her next record, I Feel Cream, drops on May 7.
Two album releases that I am on the edge of my seat for are from Regina Spektor (Far, June 23) and Tori Amos (Abnormally Addicted To Sin, May 19). Less exciting but still important was the announcement that The Mars Volta are dropping their next record, Octahedron, in June. I don't have an attention span for their music, but appreciate that many people will be amped about this release.
This week one of my favourite Australian acts, Little Birdy, officially released their new single, Summarize. I'm also digging the clip of their new ballad, Brother. The band is fronted by Katy Steele, who is adorable and shares the music genius genes of brother Luke Steele (The Sleepy Jackson, Empire of the Sun). If you haven't heard them before, click on the links and give them a chance.
ALSO: This week Chris Cornell talked to PrideSource.com about his solo album, Scream. The record (a collaboration with Timbaland) sounds like Soundgarden mated with Savage Garden, and listening to it left me with the same awkward and confused feeling I got after watching Jersey Girl last night. Remember Black Hole Sun? That was an awesome song. Regardless, Cornell gave an interview worth reading, including a considered response to the suggestion that his new record 'sounds gay': "If someone says my record sounds gay, it's definitely dating that person. Either that, or they're from a part of the country that's isolated – but I don't know if there's a corner of this country that's isolated enough where someone can be excused for having prejudices like that anymore."
5. Stef's Badly Kept Secret #1:
The Yeah Yeah Yeahs played a secret show at Santos Party House on Easter Sunday. Allegedly it was incredible, but I wouldn't know because I wasn't there. I'm still kicking myself.
6. Crystal's Totally Not Secretive About:
Anyone here play Rock Band? I'm a Guitar Hero girl myself, but now that Guns 'N Roses' Chinese Democracy record has become available as a downloadable addition to Rock Band, I'm seriously considering switching teams. I predict this game will be ace, if you can overlook the fact that the title track sounds like the Beverly Hills 90210 theme song. And you will, because Axl Rose can do no wrong.
7. Stef's Badly Kept Secret #2:
Are Green Day playing at the Bowery Ballroom on May 18? Probs! Nobody official is saying anything. Uh, I don't know, I was short on secrets this week. Regardless, I bet Crystal wants to go!
8. Crystal's Not-At-All-a Secret:
Yes! Yes I do! I heart Green Day. The older I get, the more desperately my inner adolescent tries to clutch at their power chords and 2-minute anthems. I'm only just now recovering from the news that American Idiot is being turned into a musical and I WILL NEVER GET TO SEE IT. But they've redeemed themselves with Know Your Enemy, the first single from their upcoming album 21st Century Breakdown, produced by Butch Vig (Garbage). It's released May 15, and expected to be another hot yet lovable mess of a rock opera.
9. Crystal's Song of the Week!
For me, this week has been all about Bertie Blackman, an Australian singer/songwriter whose new single, Heart, was released online this week to rave reviews. You can hear it here. As the video clip for Heart isn't available yet, I'm signing off with Thump – another killer track from Bertie's upcoming album, Secrets and Lies. Enjoy.
10. Stef Presents This Week in Disappointing Heroes:
Billy Corgan! What a fucking visionary songwriter he was… once! I wish Billy Corgan wasn't so determined to make me hate everything he's ever done. Mr. Personality is currently shilling for Lockdown 2009, which is apparently something that has to do with wrestling, in this ridiculous video:
Billy: Please stop.
[CRYSTAL: Once?? Billy may have had a few lapses in judgment, but as soon as he gets the Smashing Pumpkins back on track he's going to blow us all away with his brilliance. You heard it here first. AND THAT AIN'T NO SECRET, LADIES.]
10a. and in Stef's Disappointing Anti-Heroes:
Crystal Castles vs. EVERYBODY!!!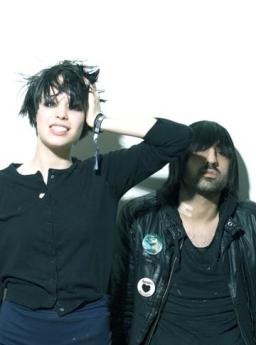 So! From what we can gather, Crystal Castles played in Austin a few days ago with Vega (not Alex) opening. The next day, they were supposed to play at the Granada in Dallas, but the show ended up being cancelled several hours after doors were meant to open – and now, there's a crazy FLAME WAR [@pitchfork] going on between the club, the band and the opener…
VEGA SAYS: Crystal Castles borrowed Vega's guitar, which was no problem; bands do that all the time. When the bands were loading out, some crew member accidentally packed a guitar pedal belonging to Crystal Castles into Vega's stuff. When Vega noticed the error, they contacted Crystal Castles about returning it and were told to bring it to Dallas. Upon arriving, they were informed that Crystal Castles wanted them OFF THE PROPERTY IMMEDIATELY.
THE GRANADA SAYS: Crystal Castles arrived late, changed openers late (claiming Vega stole their gear), soundchecked late, then decided they didn't like the sound of the venue and requested rented gear – an hour past the rental shop's closing hour. The band said they'd rather cancel the show than not have enough kick drum, so at 10 freakin' PM, after much bitching and moaning, they cancelled. The venue is offering refunds.
CRYSTAL CASTLES SAYS: Vega stole their guitar pedal, and the venue wasn't equipped with a sound system of a professional enough caliber to host their band. There is also a rumor they said something about the club being afraid their music would blow their sound system.
WHO'S TELLING THE TRUTH? Probs not Crystal Castles. I've worked at clubs they've played, and I've seen them destroy gear without any regard for the venue… With their piss-poor attitude, it's gonna be hard for them to blame anybody, especially a club with such a solid reputation. I like Crystal Castles' music, but they've definitely got an expiration date.
Moral of the story?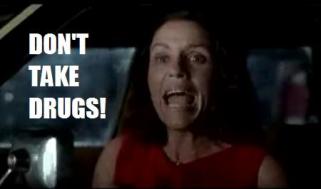 CRYSTAL: And stay in school.