.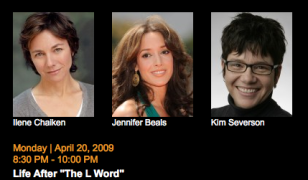 OMG we're only like 12 hours away from our big moment with Mama Chaiken herself. A;ex and I are full of ideas that we'll never actually put into action for the Times Talks Panel tonight. Intern Xandra, however, made the best proposal of all — we'll throw a shoe at her! We're willing to accept the night in jail … but what if the shoe hits J-Beals in the face? We can't have that!  Got any questions for us to ask Ilene while dodging Nerf bullets? Here's what the panel is about, I've added my notes:
Meet the creator and executive producer of Showtime's award-winning lesbian drama, "The L Word" [in case you forgot WTF Ilene did for that show] along with cast member Jennifer Beals. The show, completing its sixth and final season with an intriguing totally dubious and ridiculous "whodunit" plot twist, was the first to portray the lives of gay women characters in an ongoing television series, and then continue for four additional years portraying the lives of bizarre medical anomalies and OurChart ad-salesmen. Hear how it broke new ground [and hymens] for those involved in the show as well as for the lesbian community, its impact on television, media, current events and pop culture – and what's coming next for them all.
New potential problem: Reader Nicole has alerted us that some Tibetters will be arriving six hours early — I hope they have a lot of security at this event … or do I?
Today on Autostraddle: Crystal & Stef team up to bring you The Beat on the Street & The Thunder Down Under — your weekly dosage of musical delights. Also check out our coverage of the 2009 GLAAD Awards for Media in Los Angeles [Ilene Chaiken's dress! Kate & Leisha's bemused expressions! J-Beals' smokin' hot hourglass figure!] — because you know you can always count on us to give you the rawest most slapshot lesbian events coverage anywhere on the internet.
THIS JUST IN – Miss California was asked in last night's competition if she was for gay marriage. (video below)

Firstly, I'd like to say that she is really monumentally stupid. She says she's glad we live in a country where people can "choose" same sex marriage or "opposite marriage" — already my alarm is going off. Vermont is not a country. Iowa is not a country. Those are STATES, woman.
Secondly — what is opposite marriage? That sounds hot. Would that be like me marrying a girl who is the opposite of me, like the Paula Abdul song "Opposites Attract"? Have you seen Hey Paula?
Thirdly – she then said in her family she was raised to believe that marriage is between a man and a woman. I thought Miss USA was about the American spirit of love, acceptance, and equal rights?
Fourthly, she would look really good with Tila Tequila. They could start a Rocket Science Institute.
Katherine Moennig's pilot "Three Rivers" is a "strong contender" for pick-up by CBS. (@thr)
"Home and Away" Producer defends lesbian plot. (@digital spy)
Frank Rich, the Smartest Man in the World, weighs in on The Bigot's Last Hurrah. Interesting factoid: "The Gathering Storm" ad cost $1.5 million to produce. I imagine there's a Massachusetts schoolteacher who could've used those funds a little more wisely — say for pencils, or books. (@nytimes)
Lindsay Lohan will be sitting down with Ellen DeGeneres on Thursday for a game of "Who's Public Lesbian Breakup Was Worse: SamRo & LiLo or Ellen & Anne Heche?" Ellen says "I want to make sure that she's okay and to let her know that she's got a lot of support." That's kinda amazing … maybe Ellen wishes someone had done the same for her back in the more homophobic 90's?  (@perez revenge)
Top Ten Lessons Learned from 80's Sitcom Heroines: We are ethically obligated to include any lists that mention Punky Brewster, Kimmy Gibbler, Claire Huxtable and/or Jan Brady. This has all that and more. (@jezebel)
Guess what? It's National Pot-Smoking Day!  Interesting look at Pot vs. Alcohol by a former police chief at The Huffington Post: "In their five or fifteen or thirty years on the job [my officers] have never had to fight a marijuana user. I then ask: When's the last time you had to fight a drunk? They look at their watches."
The Prop 8 fight in California is gaining momentum — starting with students. (@queerty)
Amanda Palmer gets down to dirty business. (@jezebel)

from Alex: I love Smashing Magazine and all the inspiration they have to offer. Check out The Disturbing Beauty of Oversaturated Pictures and Lomography. And while we're at it, someone please buy me a Diana+ camera. Thank you!

from Carly: Looking for something simple to spruce up your home this spring? Check out Laidback's pillows and other home accessories. They've been featured on the Real World and Ugly Betty. Kinda rock and roll home decor. (@apartmenttherapy)
from Green: I'm currently going crazy for houseplants [more on that later] and today I ran across an interesting idea: wine bottle terrariums. Inspired by the work of Paula Hayes, who also creates other-worldly dry landscapes and living necklaces, wine bottle terrariums basically consist of moss, dirt and rocks shoved into a wine bottle. Simple enough, right? You could make these look minimalistic and artsy or kitchy and sarcastic. Monday afternoon project! (@dr. vino)