Alex's Team Pick
Hey guys! So… I'm in a band.
While ordinarily I wouldn't expect any of you to give a hoot, I mention it now only because we are attempting to raise money for something that is more than just our band and our music. It's about going green and well, it's my birthday today and I co-founded this website dammit, so I'll cry if I want to!
Let me explain a little:
Our singer, Michael, is a crafty dude because he took a old broken-down school bus and converted it into our beloved "Cool Bus" – it has beds, a desk/office area, a kitchenette (running water!), etc. and it's really just quite impressive. It's what we use to tour in! Everything is very DIY in the land of Hell and Lula.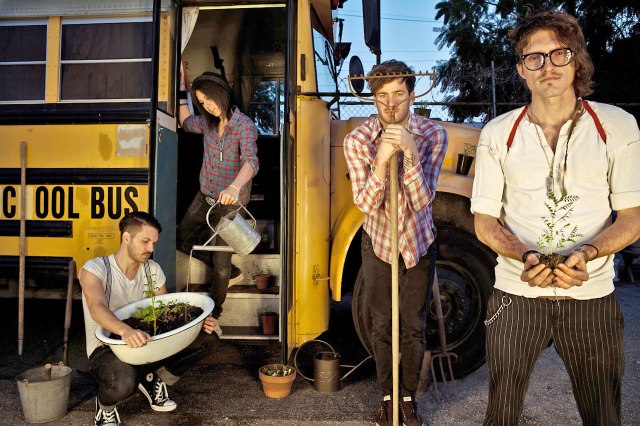 Unfortunately, our beloved Cool Bus runs on diesel fuel. Expensive, shitty diesel fuel.
We've decided to take on the task of converting our engine to run on waste vegetable oil. A task that requires thousands of dollars. But we feel it's worth it to be able to travel around with as low of a carbon footprint as possible. We're DIY-ing it and are doing the conversion ourselves, but the system itself is expensive. And that's where we need help and that's where you come in.
Here's an infographic I made about it:

We have only 8 days left and we're just under 80% of our goal.
If you'd like to support this endeavor, you would not only be contributing to greenify our bus and to Falling Whistles (see below) but you can also get some cool stuff in return, for example:
a whistle from Falling Whistles,
custom screen printed shirts,
music,
and even items made by us like graphic design (from me) or homebrewed kombucha!
Check it out:


Alex's band's 'Green-ify The Cool Bus Campaign' on PledgeMusic.com


Also, this is our official Pledge video… where I may or may not be rapping:

Additionally, our band actively supports Falling Whistles (promotes peace in Congo and rehabilitates women and children affected by the war) at every show by selling whistles and telling their story.
20% of the money we raise after our goal will go straight to Falling Whistles. So there's a lot of shit going on here. I hope you guys can forgive the shameless self-promotion. Both Falling Whistles and greenify-ing our bus are important issues to me and, like I said, it's my birthday… so shhhhh.
And also – thanks in advance to anyone who pledges, passes it along via social media, or is still in fact reading this post.
– – –