It's fucking spring you guys! I woke up this weekend to an actual honest-to-goodness sunbeam and walked outside wearing only two layers. I saw a woman running in a sports bra which was simultaneously thrilling and confusing because it was still barely 4°C out. But hey, who am I to argue?
When the grass starts poking through the snow and I see my back alley feral cats waddling around full of soon-to-be kittens, the urge to fill my apartment with living things ramps up. By living things, I mean plants not cats. I headed down to Homo Depot to buy a new lil guy for Succulent Spring, but as soon as my girlfriend posted a photo, the warnings started flooding in. "DON'T KILL THIS ONE!" "Please, have mercy…" My friends don't have a lot of faith in my ability to keep things alive.
Admittedly I have killed quite a few plants (RIP Deceasey the Basil Plant), but I will tut-tut their concern this time. Succulents are a thing both you and I can do!

Succulents are The Most Thoughtful Houseplants Ever because they want you to ignore them. They store water in their leaves, trunks and roots making them the independent cats of the plant world. In fact, if you give them too much care or attention, they'll freak the fuck out.  So much like your teenaged emo self, give them plenty of space and they'll happily chug through life and possibly even flower.
If you're a Level Eight Gardening Master, you can try your hand at hanging succulent balls or framed succulent gardens while the rest of us will stick to low-lying pots. I usually look to Martha for my basics, but if you want more in depth growing tips, head on over to Cactuslands or the Cactus and Succulent Society of San Jose. You can tell they know what they're doing by the quality of their web design.
Major Tips
Give 'em space. Succulents need airflow for their leaves and roots. Choose a soil mix specifically for cacti or combine botanical grade sand and/or grit with your normal potting soil. You want to make sure that the earth stays loose enough for water to quickly drain.
Keep it dry. Let the soil dry out completely before you give your plants another round. You can get away with watering monthly in the winter and biweekly in the summer.
Keep 'em hungry. Given that succulents are native to areas with poor soil, too much nitrogen will kill them. If you want to use fertilizer use them at 1/4-1/2 the recommended dose.
Don't let them burn. Even though succulents like light, full sun exposure will result in a crispy version of its former self.
If you still have no idea what you're fucking doing, download an app like Koubachi so your iPhone can chastize you for forgetting to water your plants and not calling your mother.
Protip: Add a bit of personality to your plants when you pot! If you fill your containers with shells, knicknacks or souvenirs from your travels, people will be less apt to notice the slowly shrivelling succulents.
If keeping a thing alive makes you secretly (or not so secretly) weep, there are still ways to bring greenery indoors without relying on silk plants from the 1980s. If you do it well, people will applaud your creativity instead of realizing your apartment is a barren wasteland where plants, dust bunnies and heteronormativity go to die.
Crocheted cacti have been on the rise, probably due to all of my fellow Black Thumbs. I told myself I'd learn to crochet this year, but I've only mastered chainstitching "toys" for my roomie's cat. My favourite crocheting Etsy-ers SIXIT and Harvesting Hart both come to the rescue with their Unkillable Plants. If you happen to be friends with your hook, you can crochet a graceful saguaro cactus or some amigurumi cacti with a bit more personality.
If you are made of thumbs, and unfortunately none of them are green, there's a pathway to plant parenthood for you too. Make an immortal cactus from green socks and pompoms, some extra green felt or a moustache and your sewing machine. Plan B made her own fake cacti using nothing more than fabric, leather, cotton batting, yarn, cardboard and a plant pot. While this looks about 8x easier than any of the crocheted patterns I'd seen, I figured I could do it in even fewer steps while making a somewhat useful knicknack.

Cactus Pincushion
Your journey to Cactus Parent stars by cutting a green circle from whichever fabric you have handy. My circle (and my side plate) just so happen to be 7.5″ in diameter. Loosely stitch around the circumference in a similarly toned thread, staying 1/4″ in from the edge.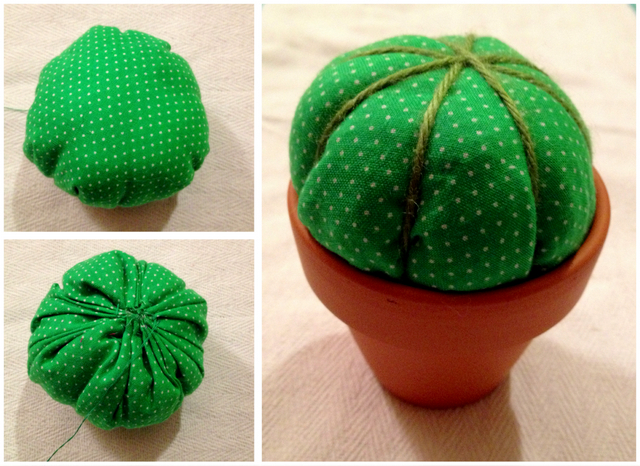 Stuff your soon-to-be-cactus with cotton batting (or in my case, the remnants of a shredded plaid rainbow shirt I found by the side of the road) until it's delightfully plump. Use a few more stitches to sew it shut. Tightly wrap your ball with yarn, forming eight puffed segments. Stuff it into a mini pot and thread the extra yarn through the hole at the base. Pull on the yarn tightly to ensure a snug fit for your cactus. Look, no glue or cardboard necessary!
I wanted to add crocheted flowers, but I realize you can't get that far in life with only a chain stitch. Thankfully Homespun with Heart, proved you could achieve the same effect without ever picking up a hook!  Break out the needle and thread instead of her requested glue and cardstock to make flowers with a bit of dimension.
Braid together three 12″-14″ pieces of embroidery floss or yarn, double knotting both ends and cutting off the excess. Spiral the braid around one knot, pinning as you go. Misalign your spirals so the coil takes on a bowl-like shape. When you have  few inches left, wrap the rest behind the bud to support the "petals." Moving outwards from the central knot, stitch in a radial pattern to connect the chain (think the spokes of a basket.) Before you tie off your thread, pull it tightly to cause the flower to take on a bit of a wavy shape. Stitch on the bud, slap in a few needles and bam! Not safe for children!
Depending on how black your thumb is, and how coordinated your other fingers are, you too can make your house a little bit greener! Or at least for a few weeks.